Below we have provided a guide to all the icons that a player will see in the game, as well as brief descriptions on what they do. If you have any questions about these, please contact our Support team!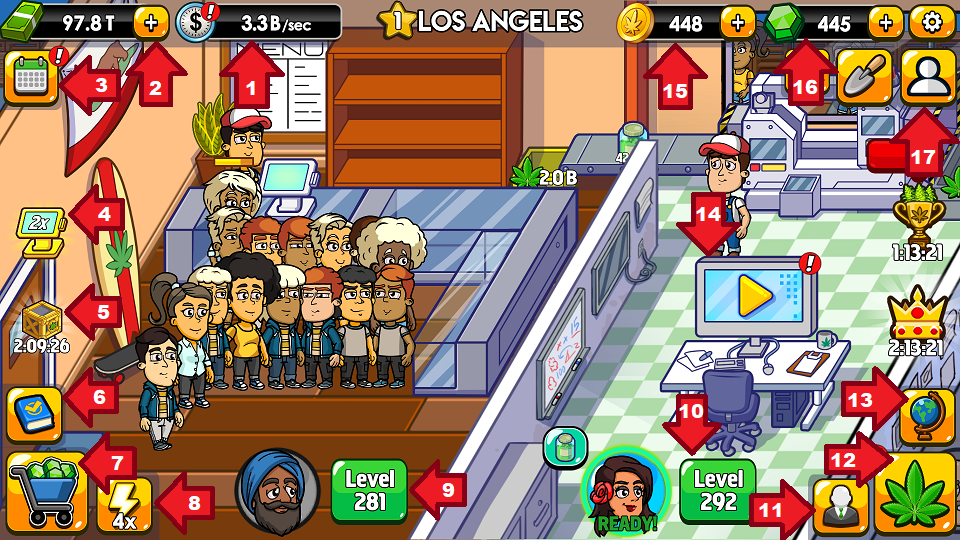 1. Idle Profits: This window displays your profits earned from your Dispensary, Bottler & Grow Room, as well as any boosts or activity multipliers you have applied to your game.
2. Instant Cash: Spend Gems to earn more Cash.
3. Daily Rewards: Collect your Daily Rewards every 24 hours.
4. Gold Sales: Earn 2x the number of Gems on your next Gem purchase.
5. Limited Offer: Receive 3x the amount of items from your next purchase.
6. Goals: Completing Goals will unlock Crates earn you boosts to your production.
7. Shop: Purchase anything from Crates to Gems and Cash.
8. Boosts: Review or add boosts to multiply your Profits.
9. Dispensary Level: Review your Dispensary's profits, upgrade for better sales, and assign a Manager.
10. Bottler Level: Review your Bottler's profits, upgrade for better sales, and assign a Manager.
11. Manager Collection: View and upgrade your Managers.
12. Strain Collection: View and upgrade your Strains - Event Strains can be found at the bottom.
13. World Map: Switch to, or unlock other regions across the world to expand your Dispensary Empire.
14. Ad Boost: Receive a 2x profits boost by watching a short view, or spending Gems.
15. Tokin's: Earn my Tokin's by spending Gems in the Tokin's section of the Store.
16. Gem Offers: Earn free Gems from the Offerwall, or purchase them using real world currency.
17. Friends: View or invite your Friends, and connect to Facebook.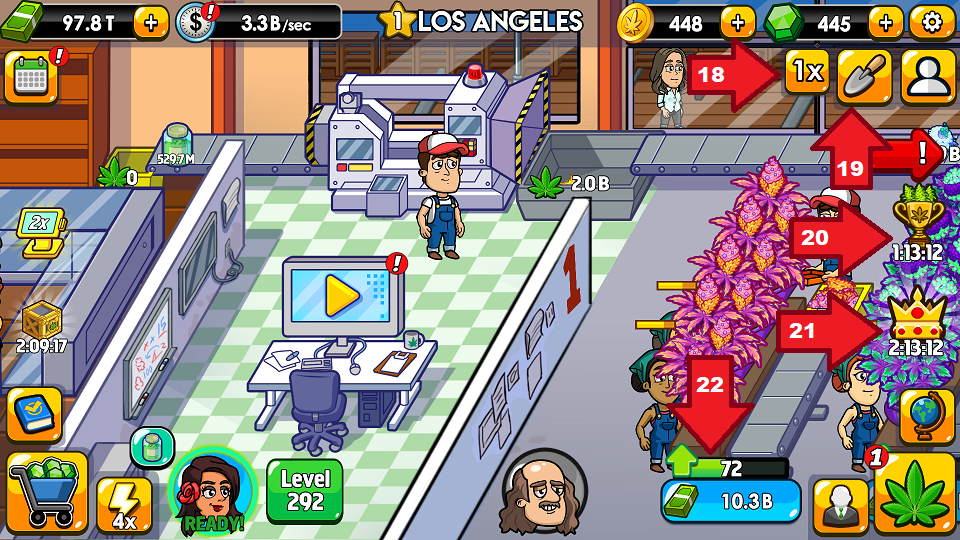 18. Upgrade Toggle: This button determines how much of your in-game currency is spent on upgrades. Click once more to toggle the maximum amount each time something is upgraded.
19. Replanting: If you would like to remove or replant existing Strains, you may do so here.
20. Event: Participate in Events to ear fun prizes.
21. Tournament: Participate in Tournaments for a chance at cool prizes.
22. Plant Upgrade: Plant and upgrade your Strains to recruit more Trimmers and boost production.