Your Profits
Cash, the name of the game! Well, not literally in this case. But it is your main objective. Amass a Cash stockpile by bringing in new and exciting Food trucks into your park. Cash can also be used in the store to purchase helpful items. At the "end of the day" you can cash in all the Gold Coins you collected from selling food for more Cash. Simply click the blue shack with the dollar sign in front to the right of the game screen. If a Cash In is available, you can also click the small Building icon in the bottom left, next to the Goals icon. For more information, visit our Icon Guide page!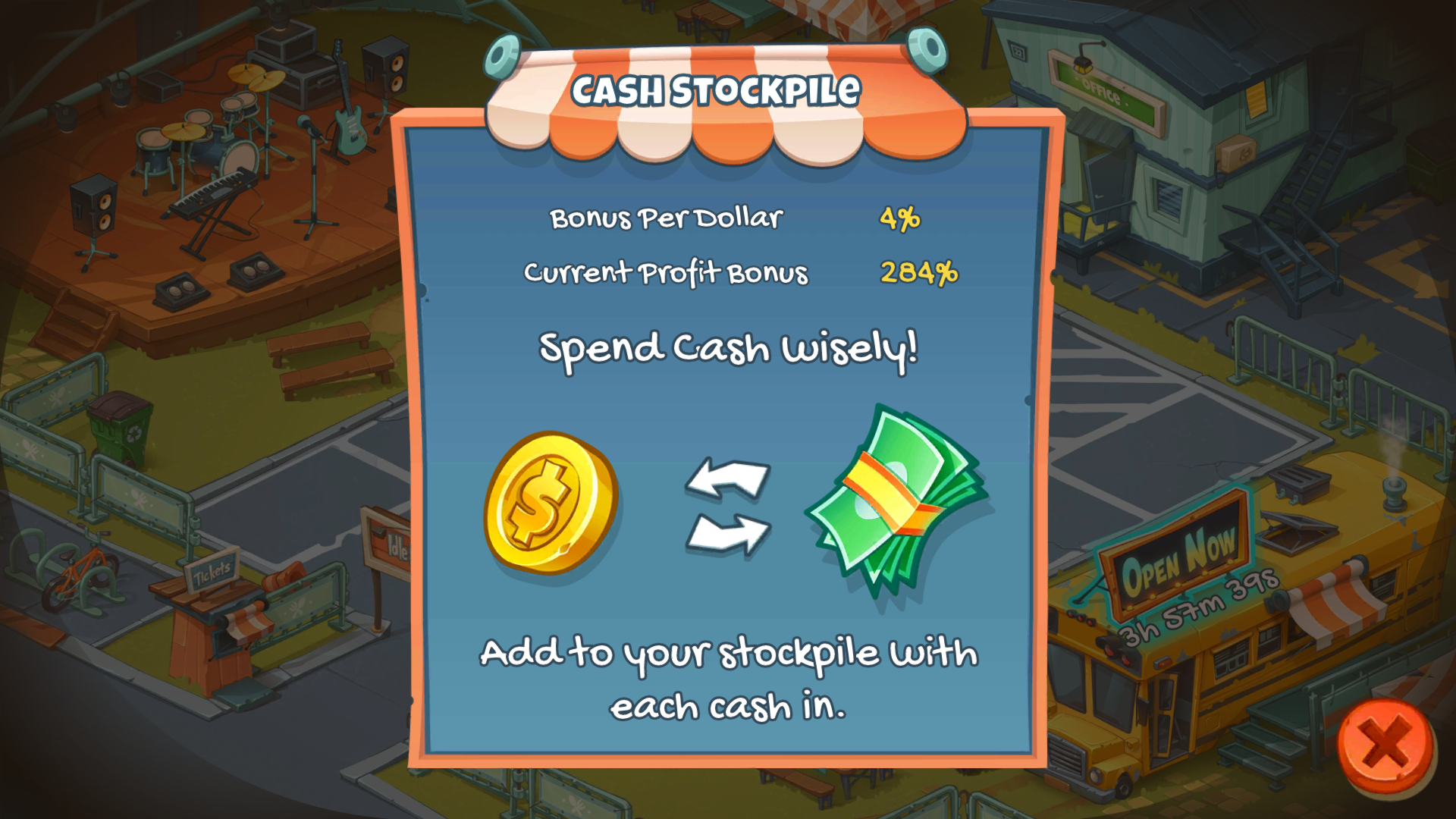 Profit Boosts
There are many ways to boost your profit! Aside from upgrading your Food Trucks, you can also earn boosts from the Daily Rewards, as well as purchasing them from the Shop. Other great ways to earn profit boosts are are by turning on the big neon Sign on top of the Yellow Bus, and by hiring a band to play on the park Stage. These attractions will bring in the crowd, and boost your productivity for a while after viewing a short video.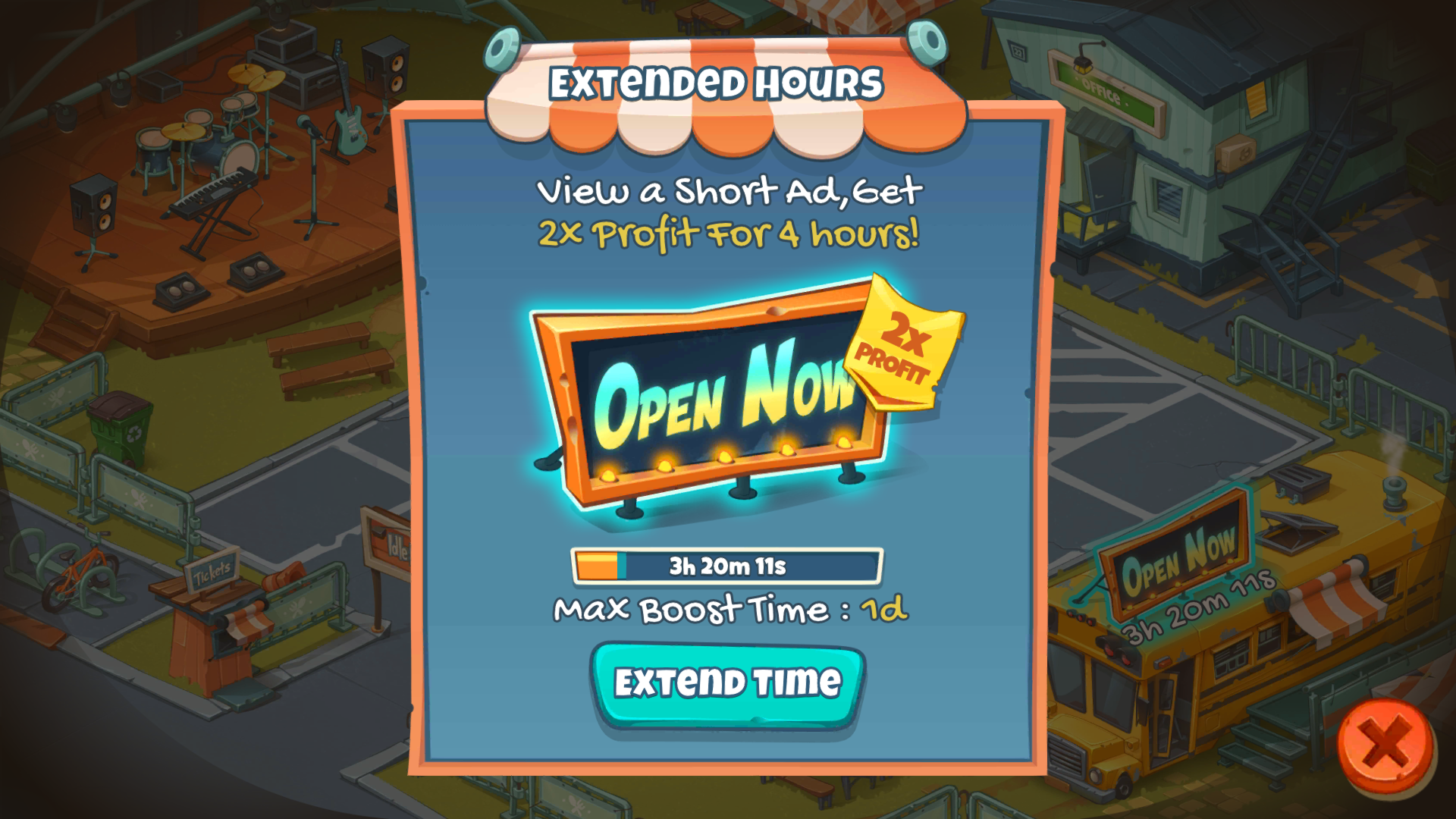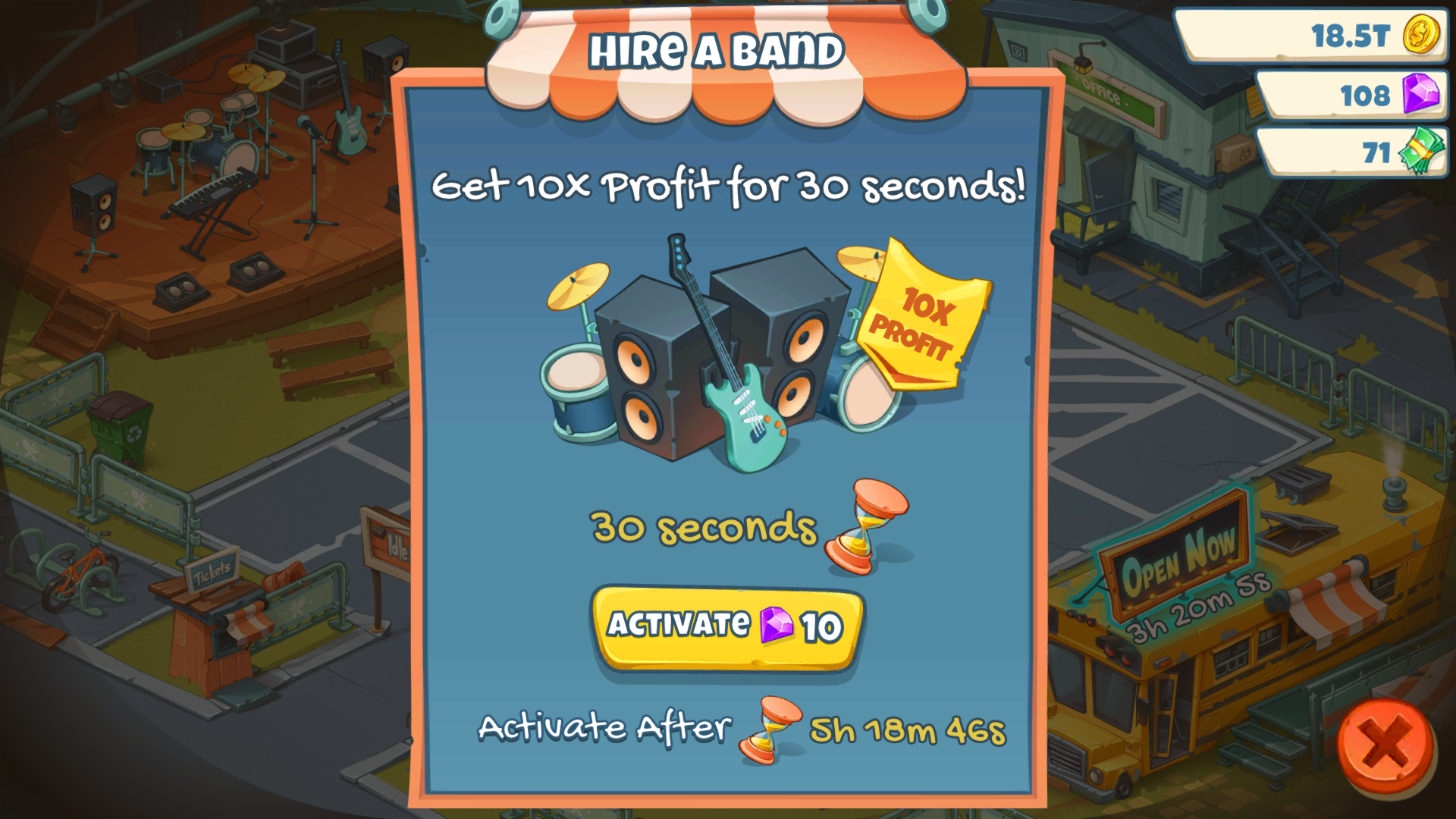 Daily Rewards
Claim a new Daily Rewards every 24 hours! This is a nice way to earn free items. To claim your Daily Reward, click the Calendar icon on the left side of the game screen. In this window you will see all your past and future Daily Rewards for 30 days. You will also see at the bottom how much time you have left before you are able to collect again. If you collect a Daily rewards but do not receive it, please contact our wonderful Support team for assistance!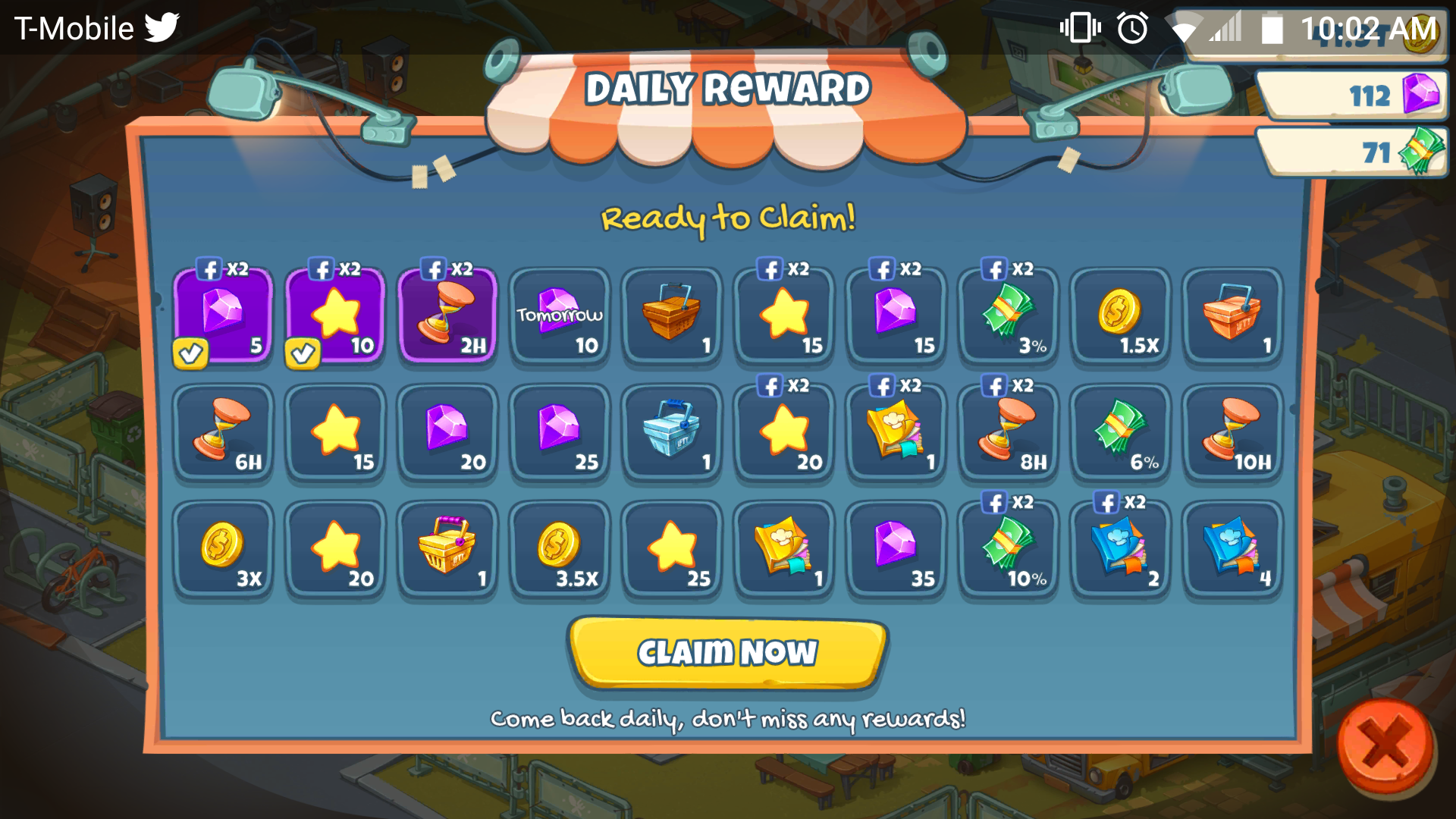 Upgrading Your Food Trucks
To increase your production rate and earn more Gold Coins, make sure that your Food Trucks are always up to date. This will increase your profit rate per second. To do so, click the Triangle icon with the energy bolt in the bottom right of the game screen. This will bring up the generator, as shown below, to power up the upgrades. To upgrade a Food Truck, tap down on the generator covering the desired Truck. Upgrading will cost Gold Coins, but will help you make more of a profit in the long run.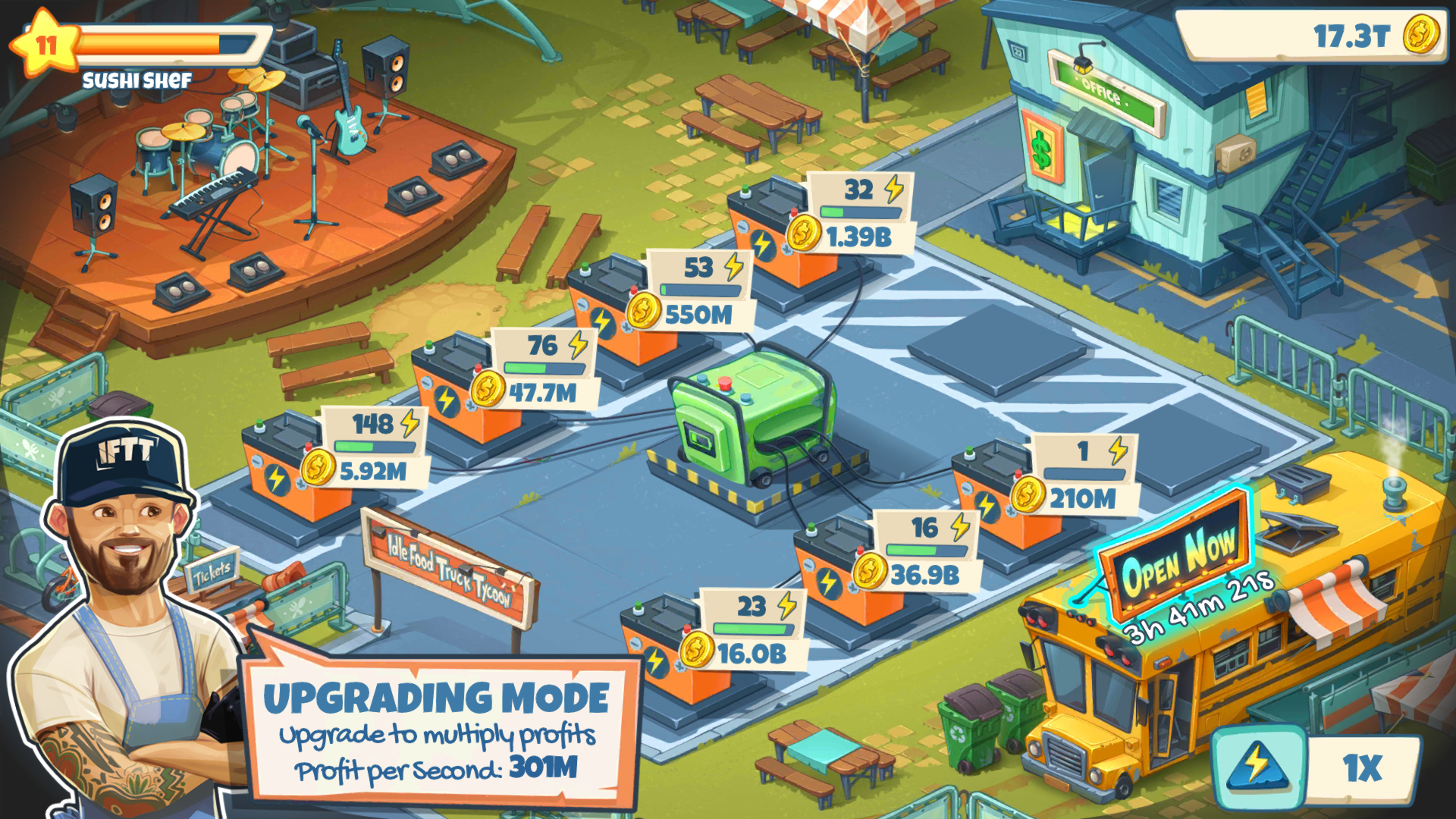 Store
The Store is a great place to use Gems, Cash, Gold Coins, and eve real world currency to purchase different types of profits boosts, Recipe Books, Picnic Baskets and even more Gems. If you have collected any Picnic Baskets or Recipe Books, the Store is where you will go to open these.
If you making a Gem purchase in the game but do not receive it, please contact our Support team for assistance!
The Store window is also where you will find the News section, as well as the Settings menu shortcut.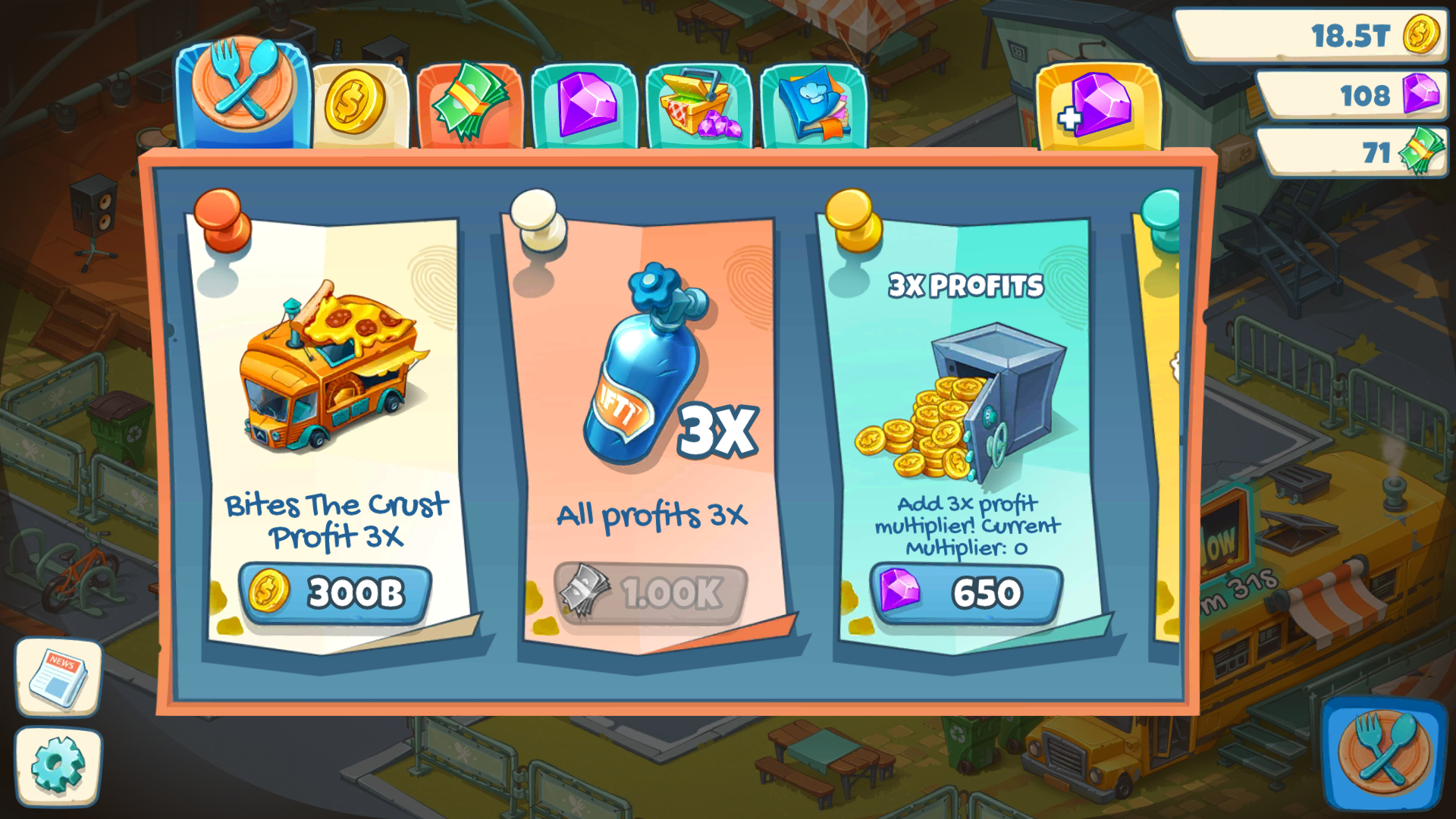 Your Truck Collection
There are many different Food Trucks to add to your park. From burgers to crapes, doughnuts to sushi, there's something for everyone! To unlock more Food Trucks, open the Recipe Books you collect while playing. Recipe Books can be opened from the Store, as shown below. Each Recipe Book contains a quarter piece of a new Truck. Once you have collected all four pieces of that Truck, you will be able to place it in your park when you have the necessary funds to do so. Food Trucks range in rarity from Basic to Legendary, so keep collecting those Recipe Books! *Warning, duplicate pieces may occur.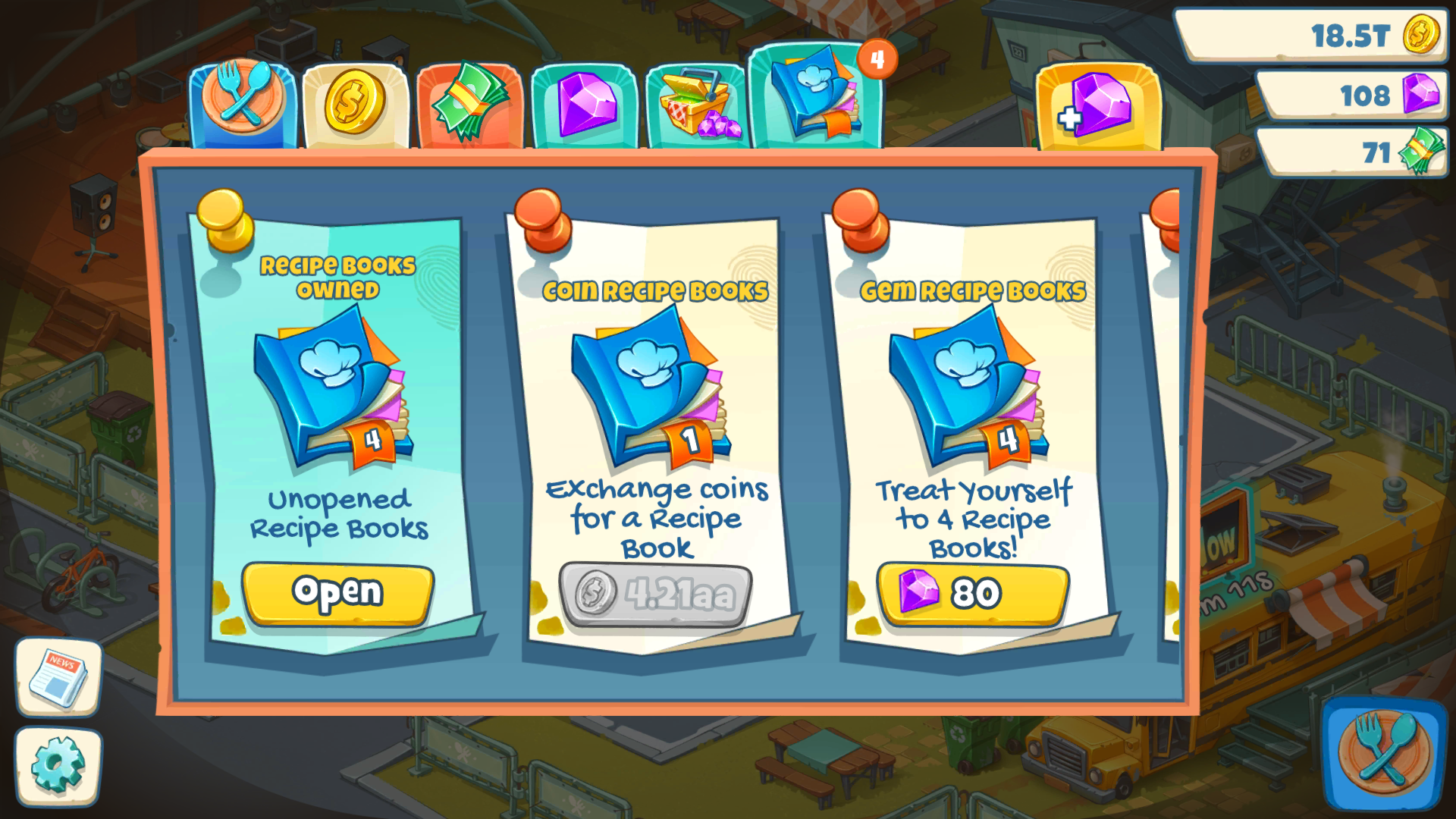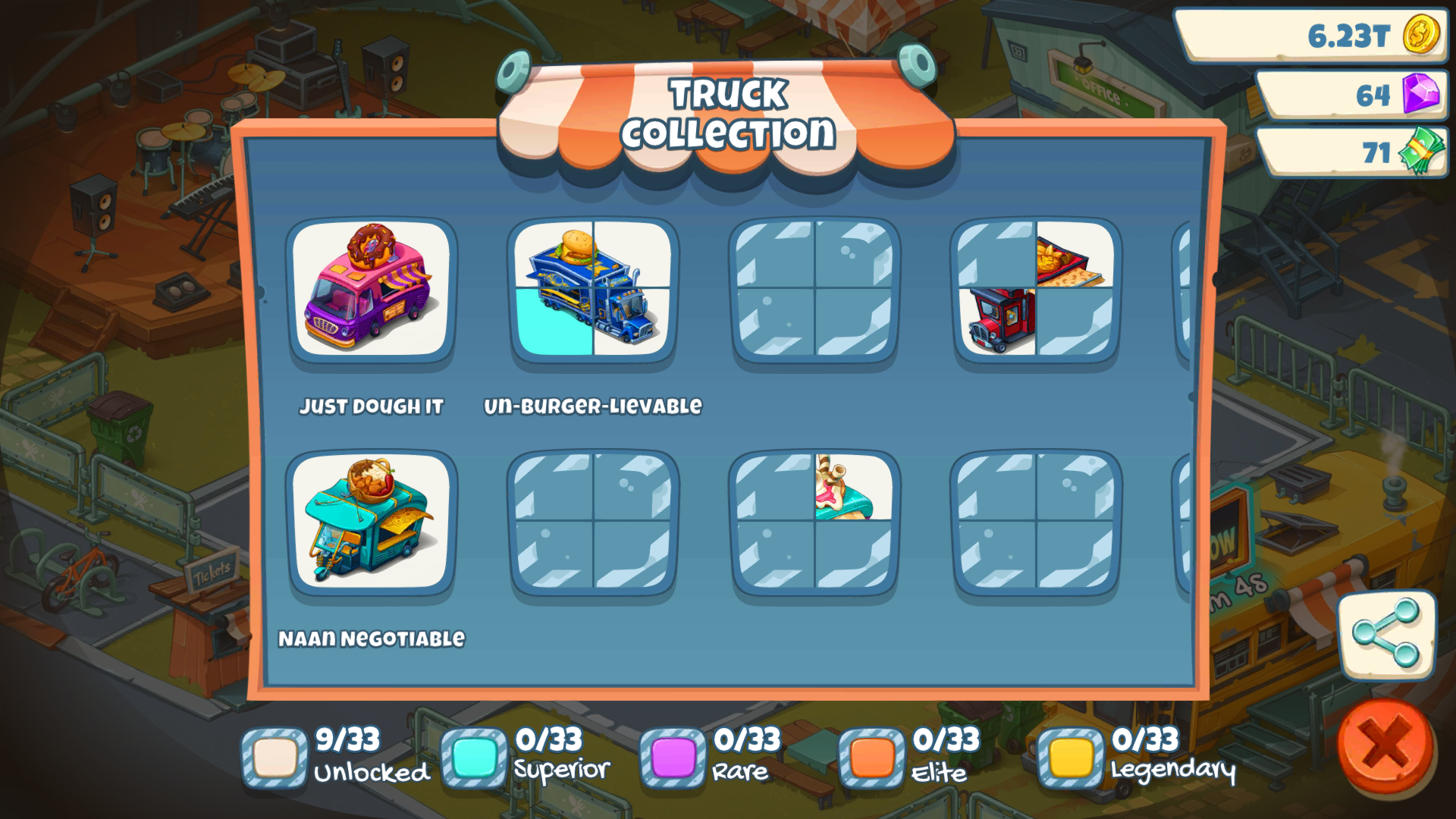 Goals
Completing Goals are a fun and challenging way to earn cool prizes! to access your Goals menu, click the Clipboard icon in the bottom left of the game screen. This will display your current active Goals, as well as any progress you may have earned towards completing them. If you wish to skip a Goal in the list, simply click the circle-arrow at the top left of each Goal icon. To skip the wait time for a new Goal to appear, you may either use your Gems or watch a short video. Once you've completed a Goal, you may claim your prize and receive a new Goal!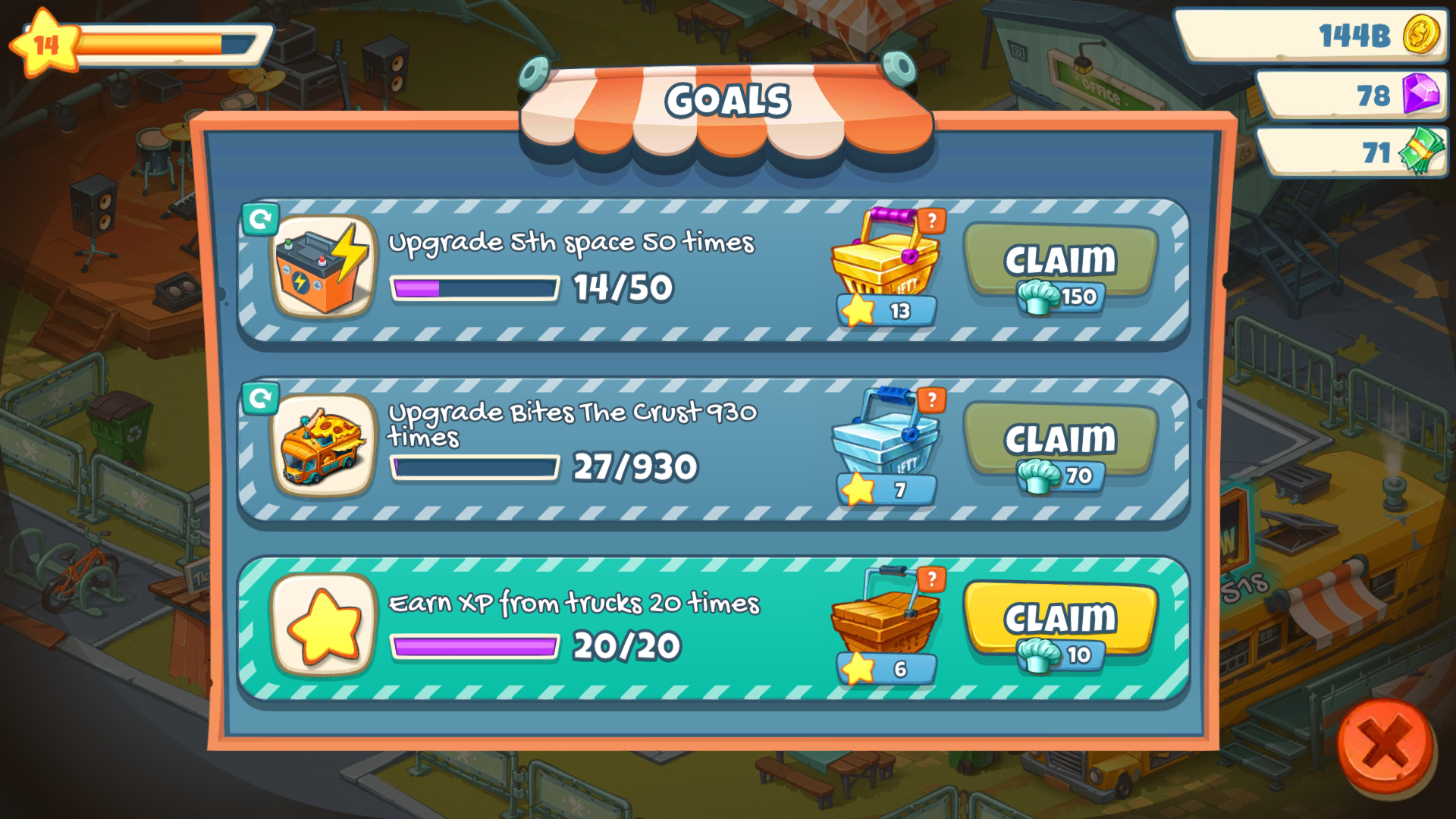 Achievements
Like Goals, Achievements are a great way to earn fun prizes, as well as mark your gaming milestones. To open up your Achievements window, click the Star icon on the left of the game screen. This will show you your current Achievements, how much progress you've made in completing each one, and the prize that you will receive upon full completion.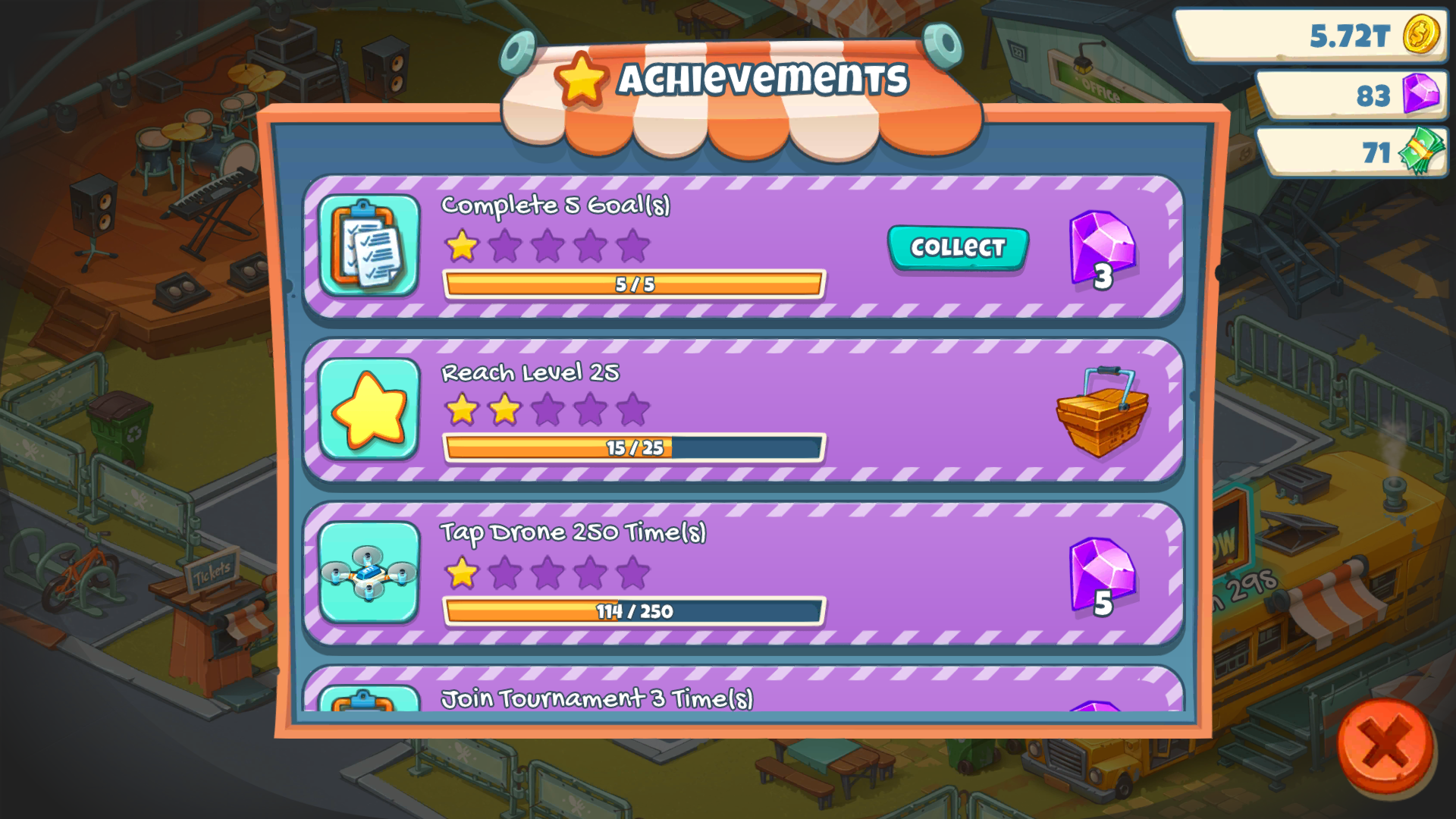 Facebook & Settings
Connect your game to your Facebook account to invite friends and earn fun prizes. You can also save your game to the cloud by syncing it to your Facebook account. To link your account, tap the Baseball Cap icon in the top left of the game screen. The more friends you invite, the more gifts and profit boosts you will receive!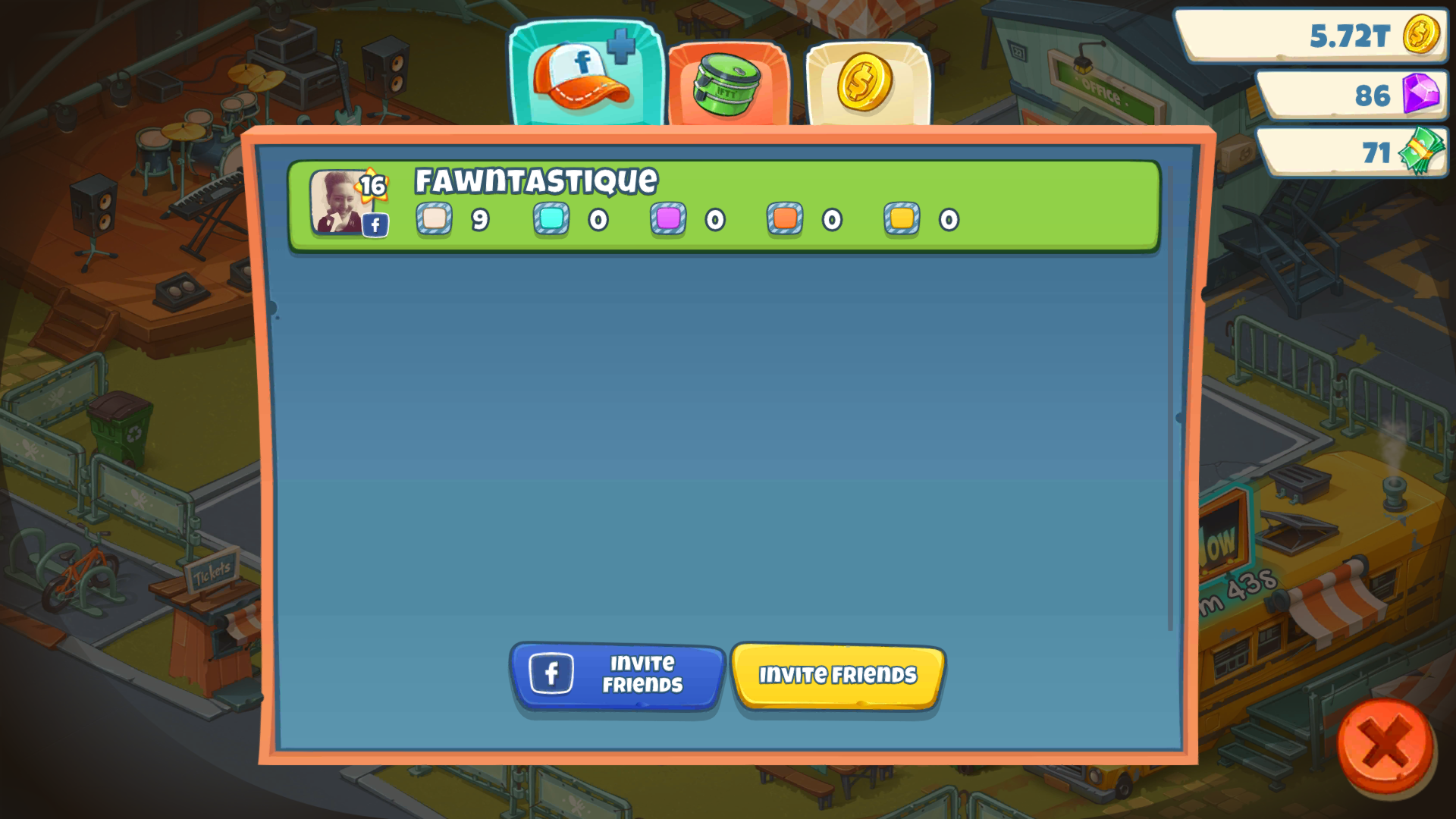 Once you have your Facebook account connected to your game, you will be able to save your progress. To do so, open the Store menu, and click the Gear icon in the bottom left to access the Settings menu. Simply click the Sync button in the top right of the menu to save your progress.