New to Fishing? See our Getting Started or Icon Guide pages!
Below we will walk through an in depth explanation of some of the key components of the game.
Yer Profits
What Captain doesn't love Gold! Earning Gold coins is the main objective of the game, and there are multiple ways to go about it. Most of the Gold you'll earn will be from selling your catches at the Market. Tap or automate your Fishing Boats to take to the waters and catch some fish!
You can also earn Gold Coins from picking up Floating Chests and Bottles. These will occasionally drift through the water between the Boats, o be on the lookout!
If your Fishing Boats and Dockhands are automated with their very own Captains [see below] you will also receive Gold Coins while you are not playing the game. The next time you log in your idle profits will appear on the main game screen as shown below.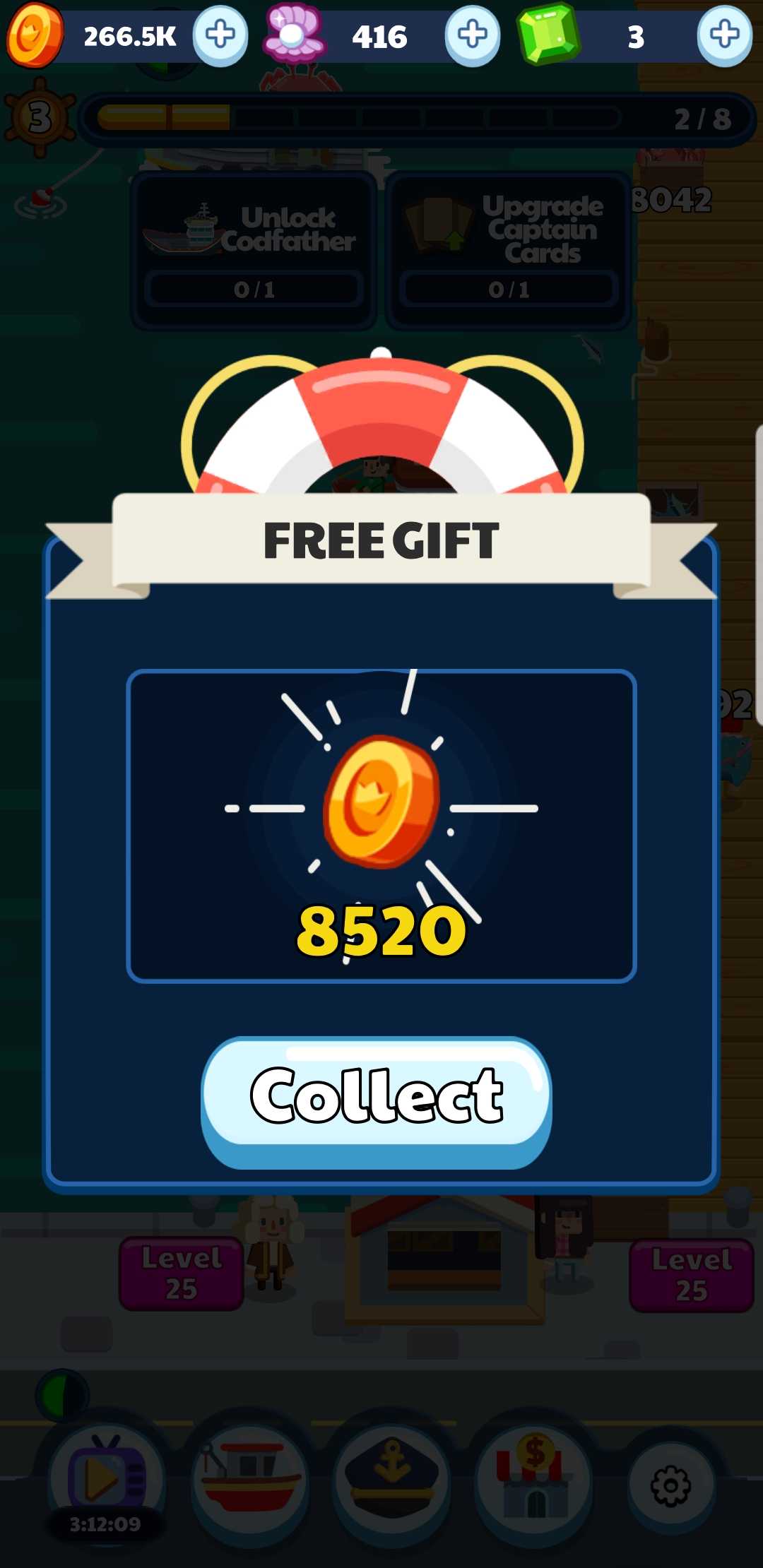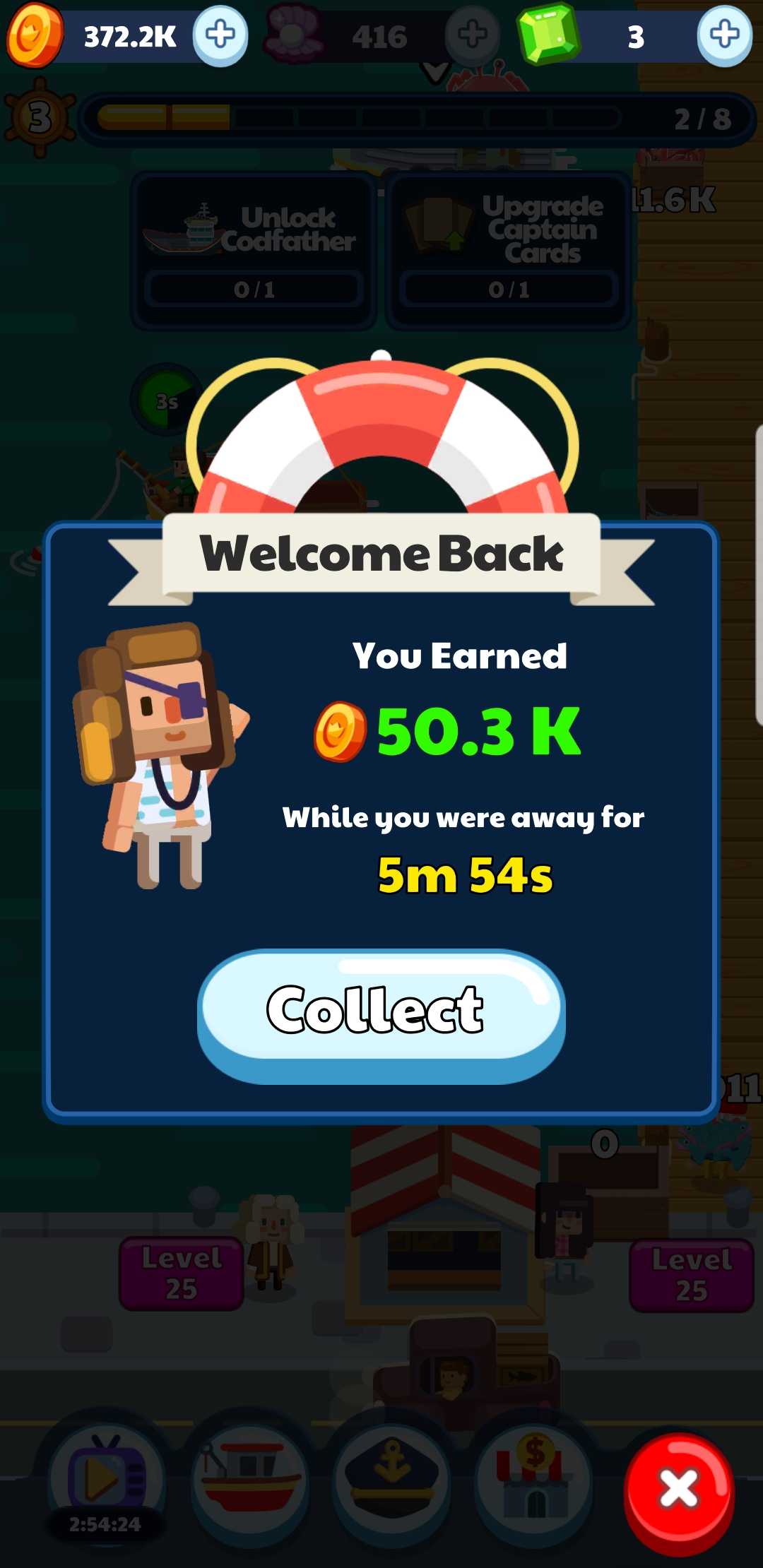 Ahoy Captain!
Each station in the game, whether it be a Fishing Boat or Dockhand, can be automated by assigning a Captain to manage the work for you. Before your can automate a station, you first must collect the Captain Cards required. Each Captain will perform a specific task. For example: Raymond will Captain the Slammin' Salmon Fishing Boat, Kidd will Captain the Market Truck, and Hannah will Captain the Fish Collection from the Dock.
To view your list of Captains, as well as Fishing Boats, simply tap the Captains Hat or Fishing Boat icons at the bottom of the game screen. These icons will bring up the menus shown below.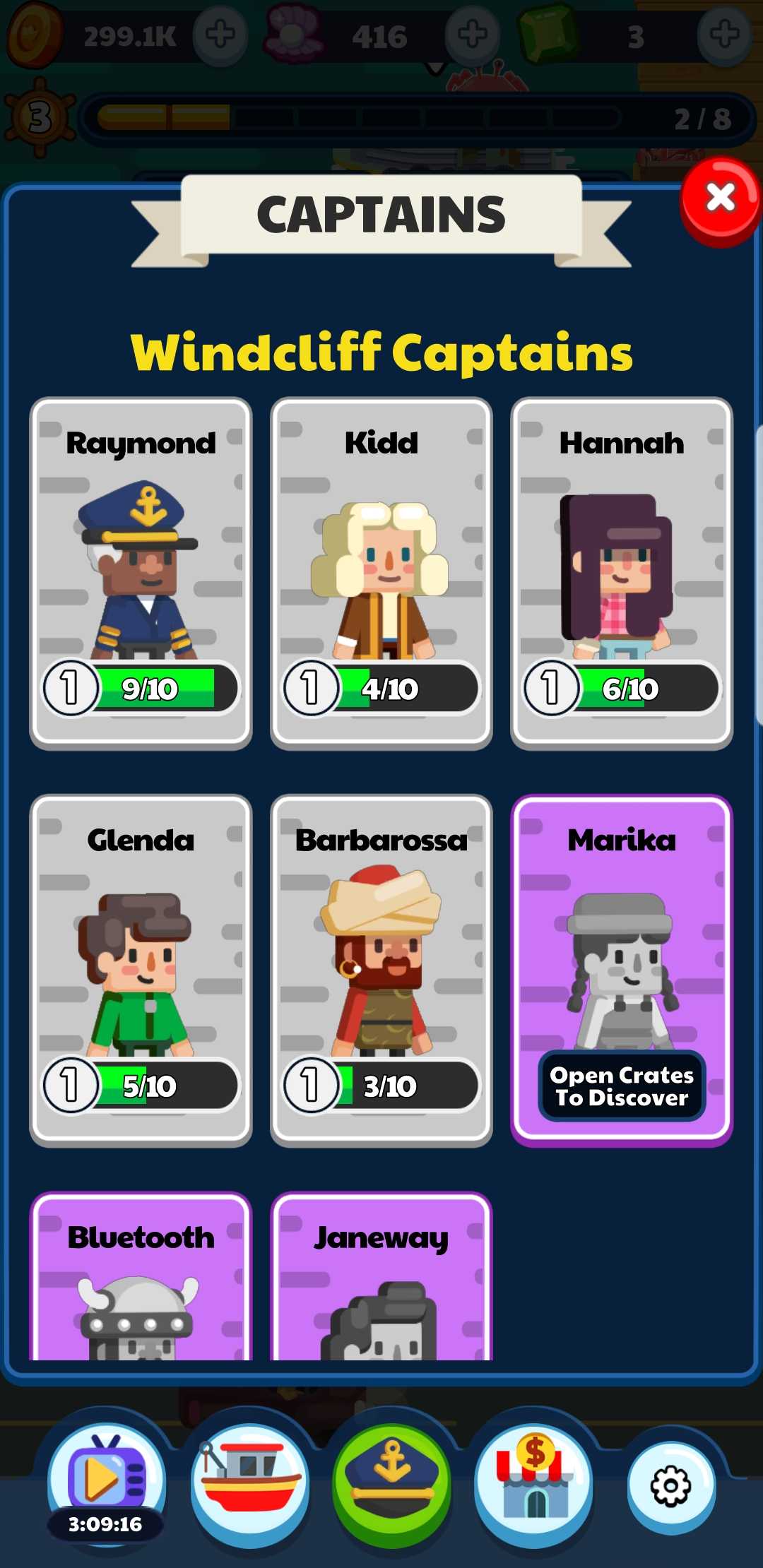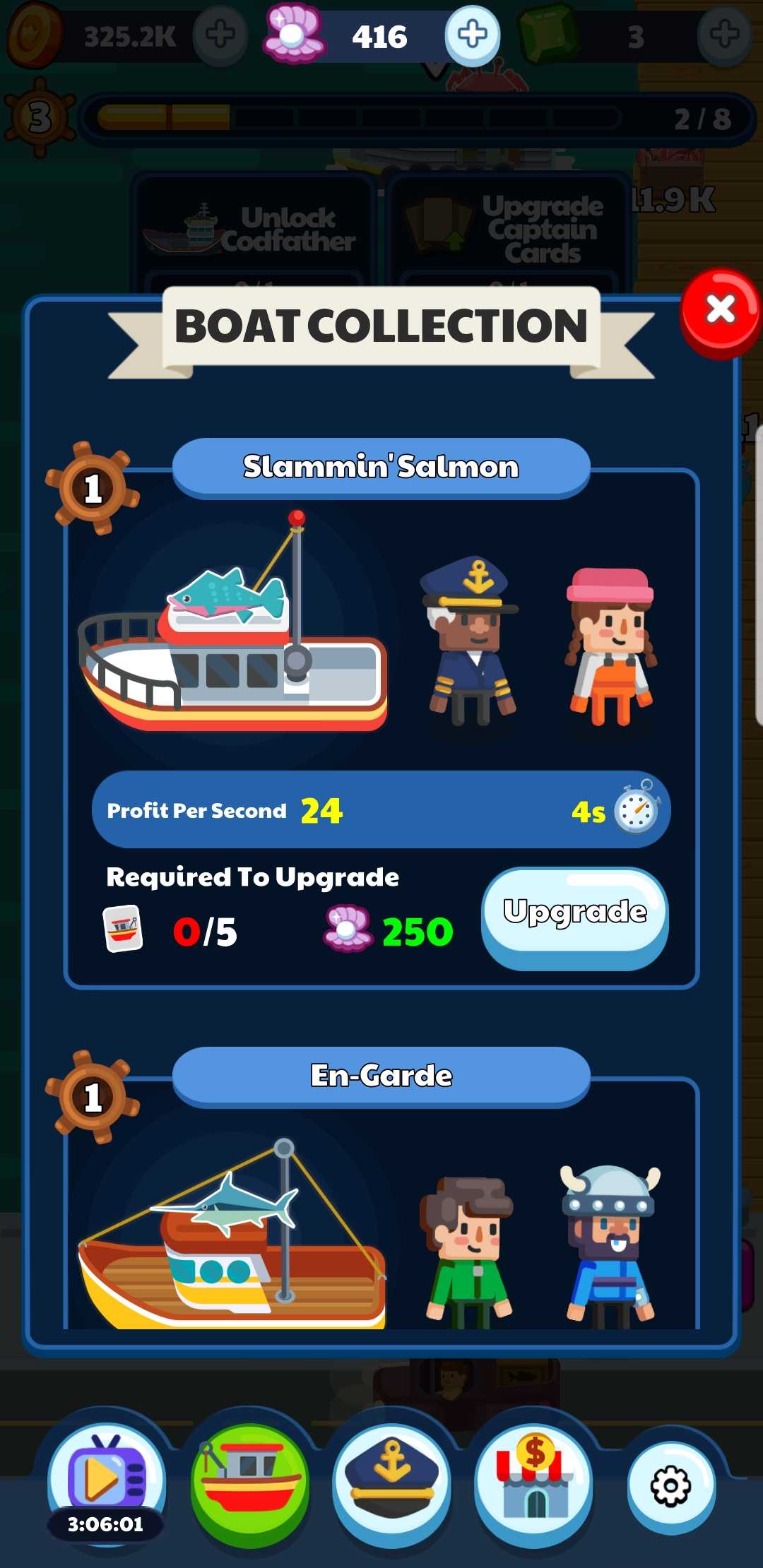 Thar Be Upgrades!
In addition to viewing your Captains and Fishing Boats, you will also be able to see which are available for an upgrade! To upgrade a Captain of Fishing Boat, you must collect the required amount of specified cards, as well as have the necessary amount of Pearls available. Each Card will explain what the upgrade will give you upon completion, as shown below. Upgrades may be required for completing Goals, which will be explained soon!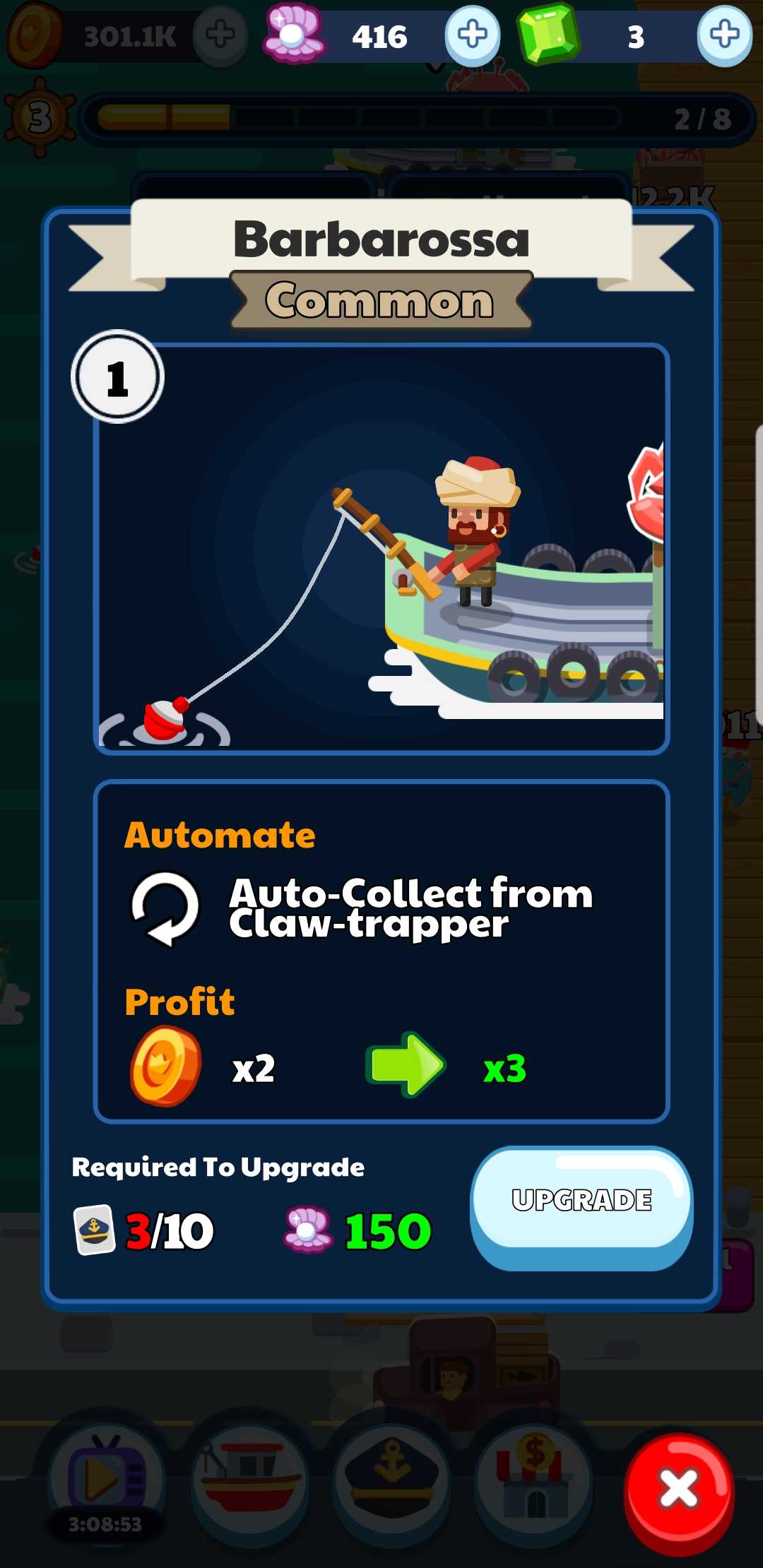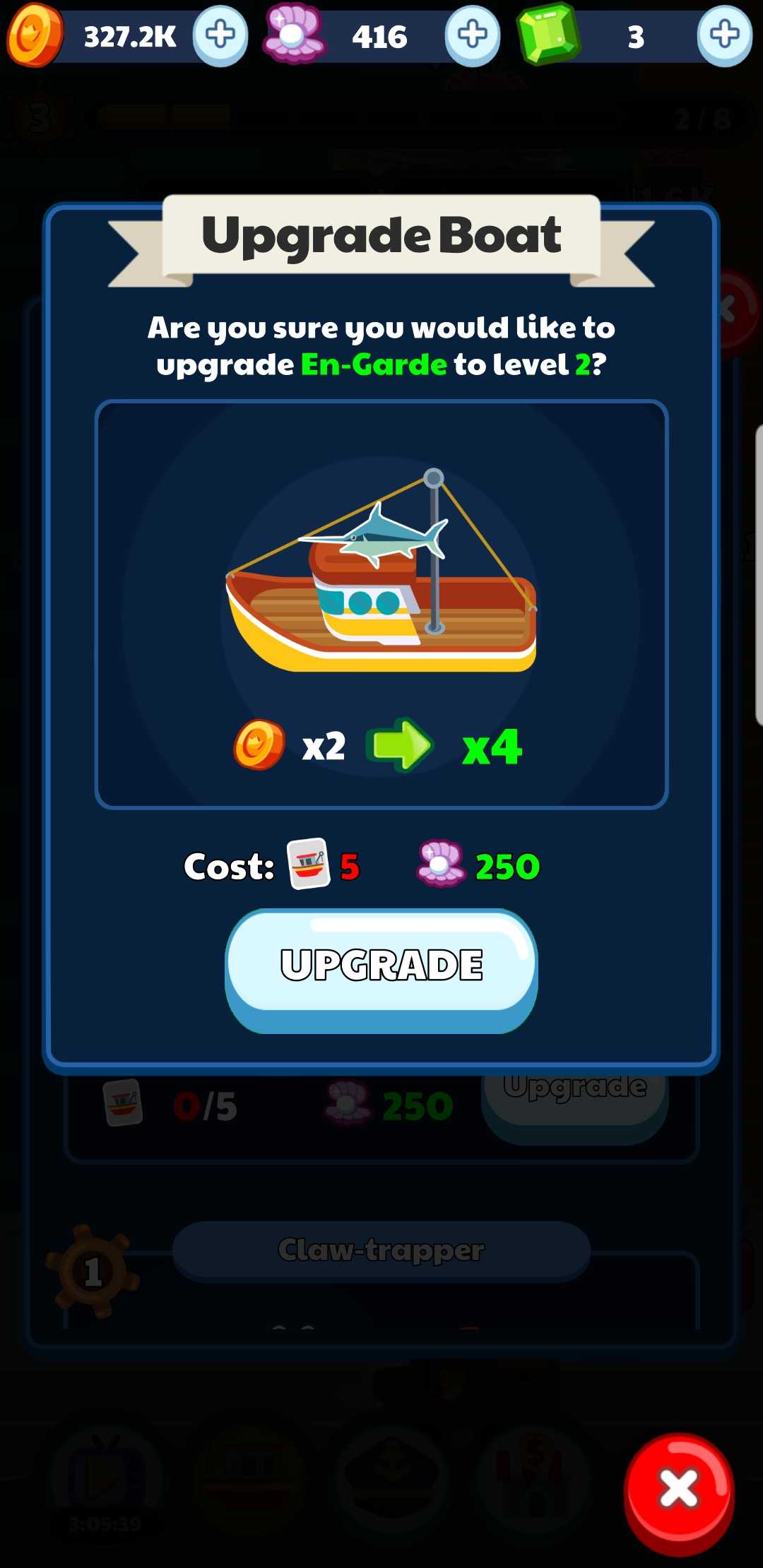 Boosts & Time Skips
There are different ways to multiply your profits in the game as well! One of them is to watch videos on the Maritime TV. Each video you watch will grant you a boost to your profits for the next 4 hours.
You can also purchase Time Skips from the Fishing Store using Gems. These will fast-forward the clock to give you the total profits you would have earned in the specified amount of time listed on the Skip.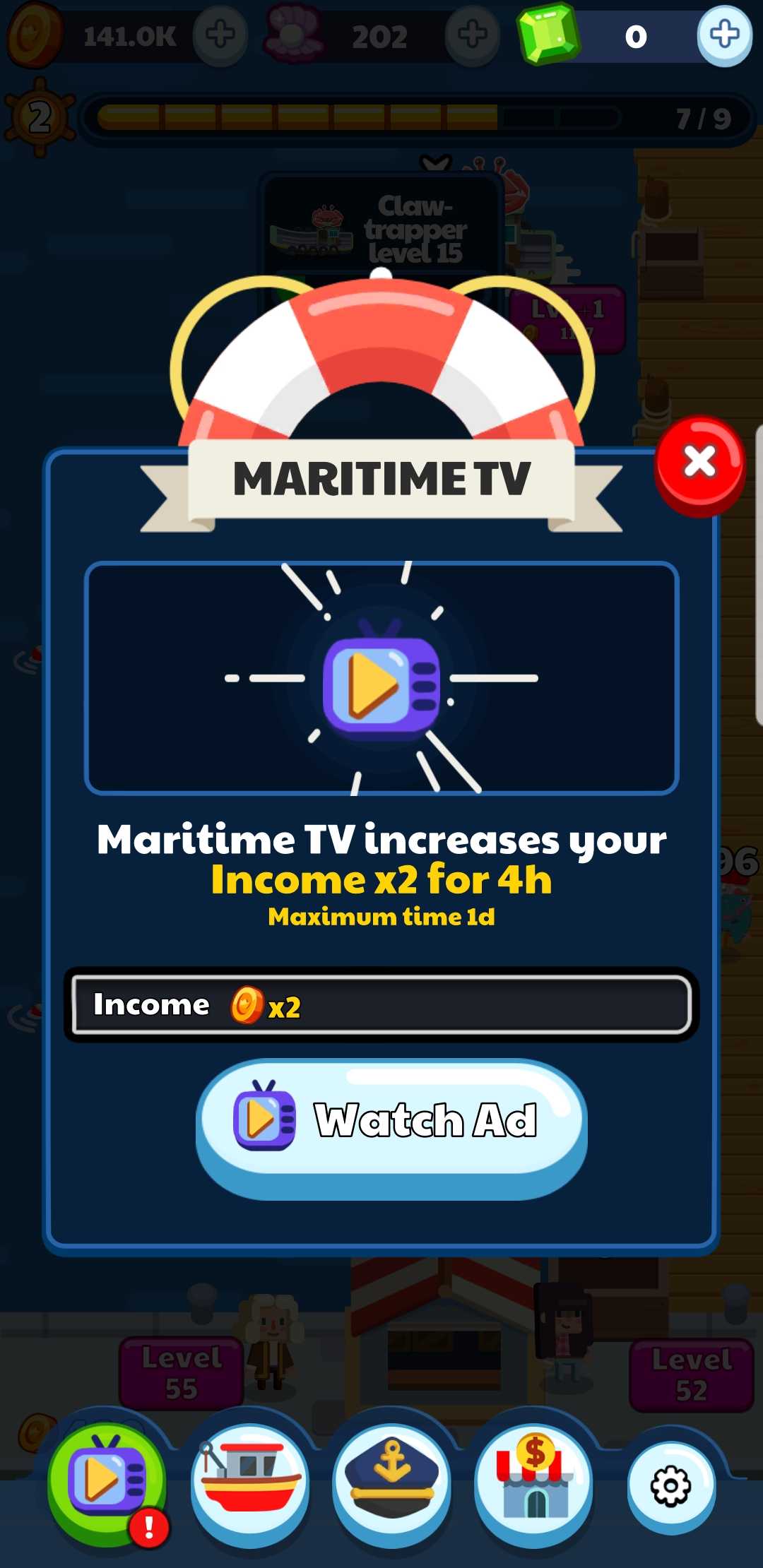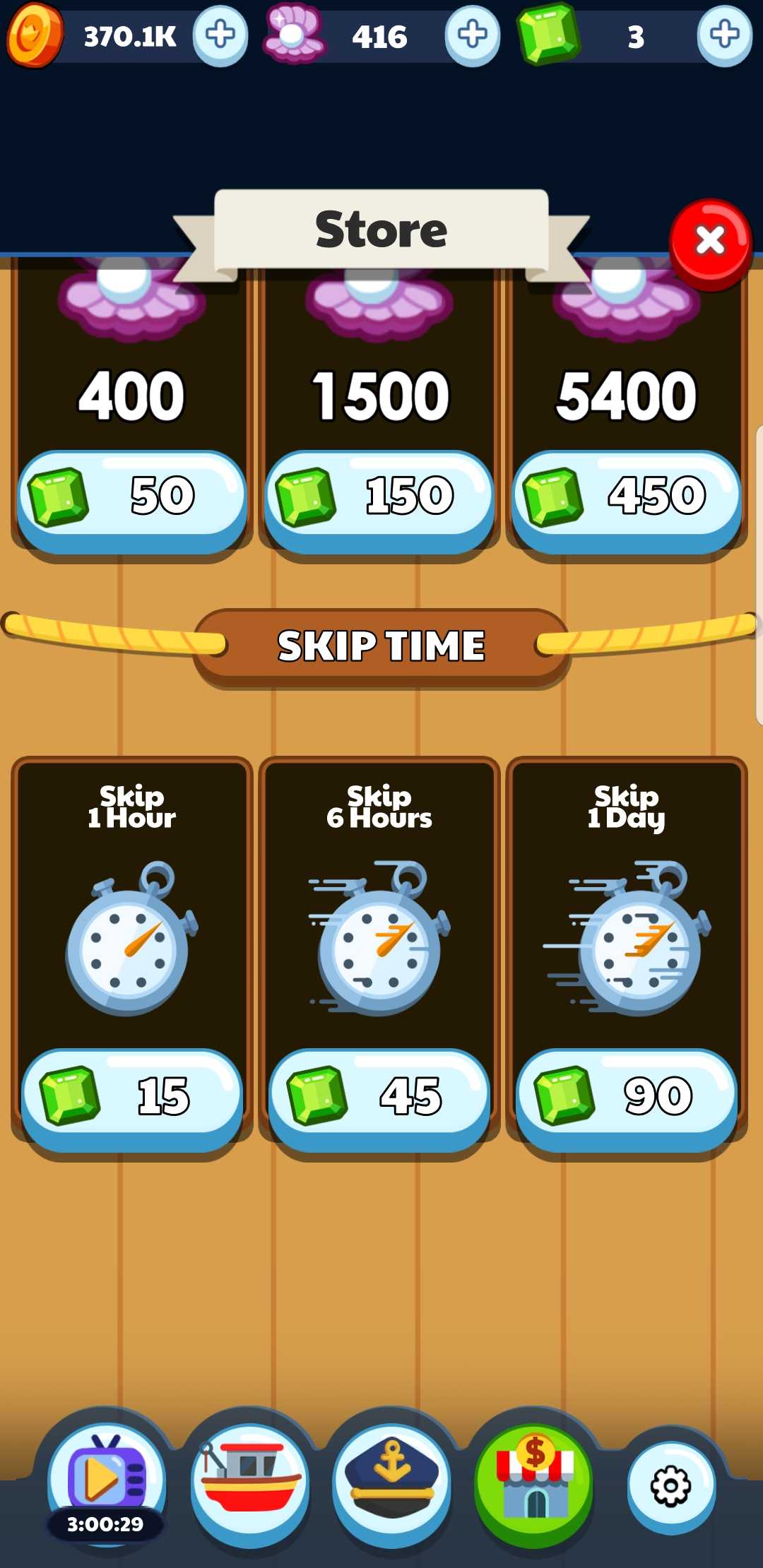 Milestones & Locations
Each location you fish in will also set Goals for you to complete. For each Goal you complete, you will earn another Milestone added to your Progress Bar. Once the Progress Bar is full, you will unlock the next location. You can move to the next location any time you wish, however you cannot go back to a previously fished. Those waters are dry!
Completing your current location will also win you some fine treasure!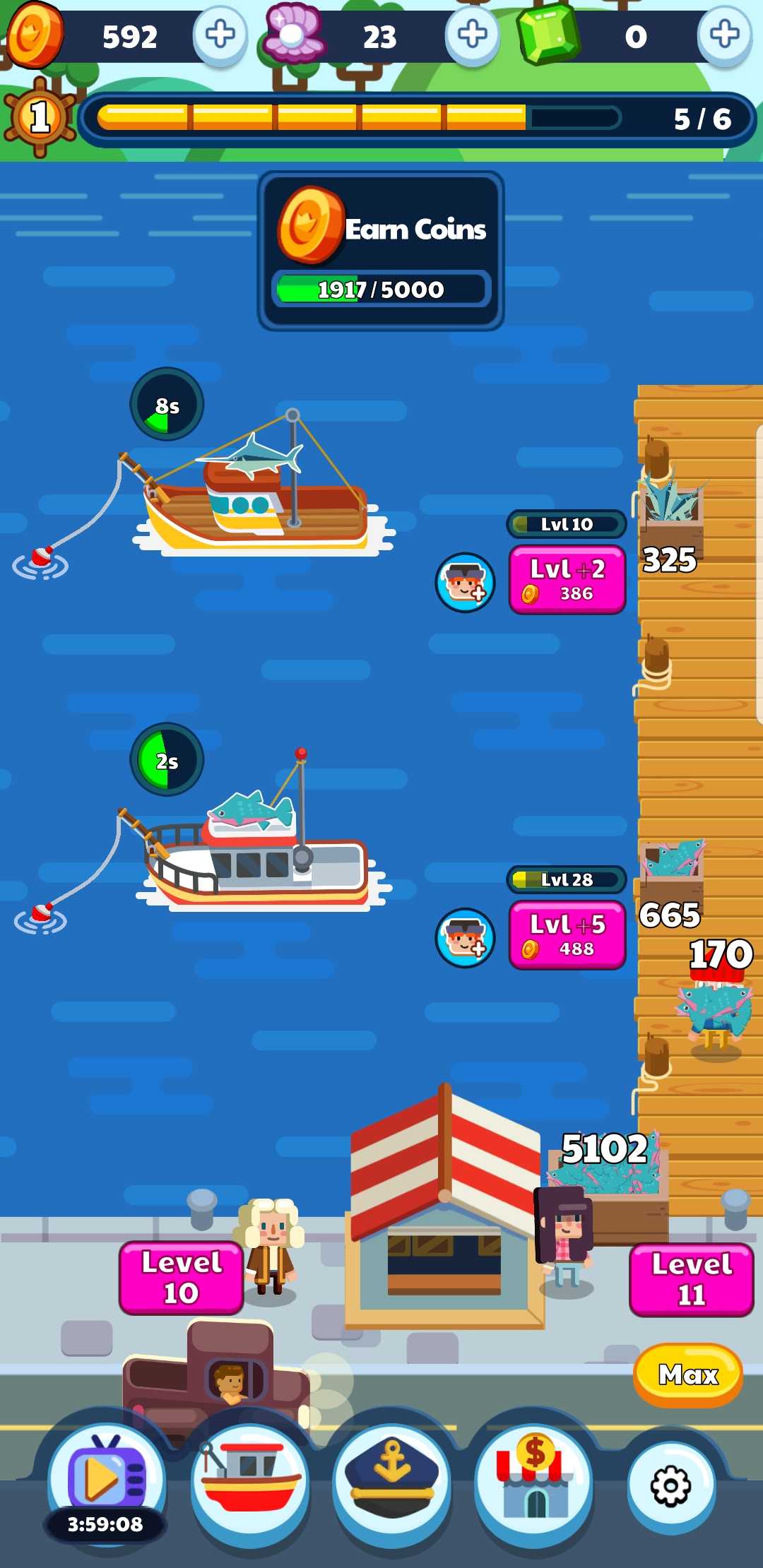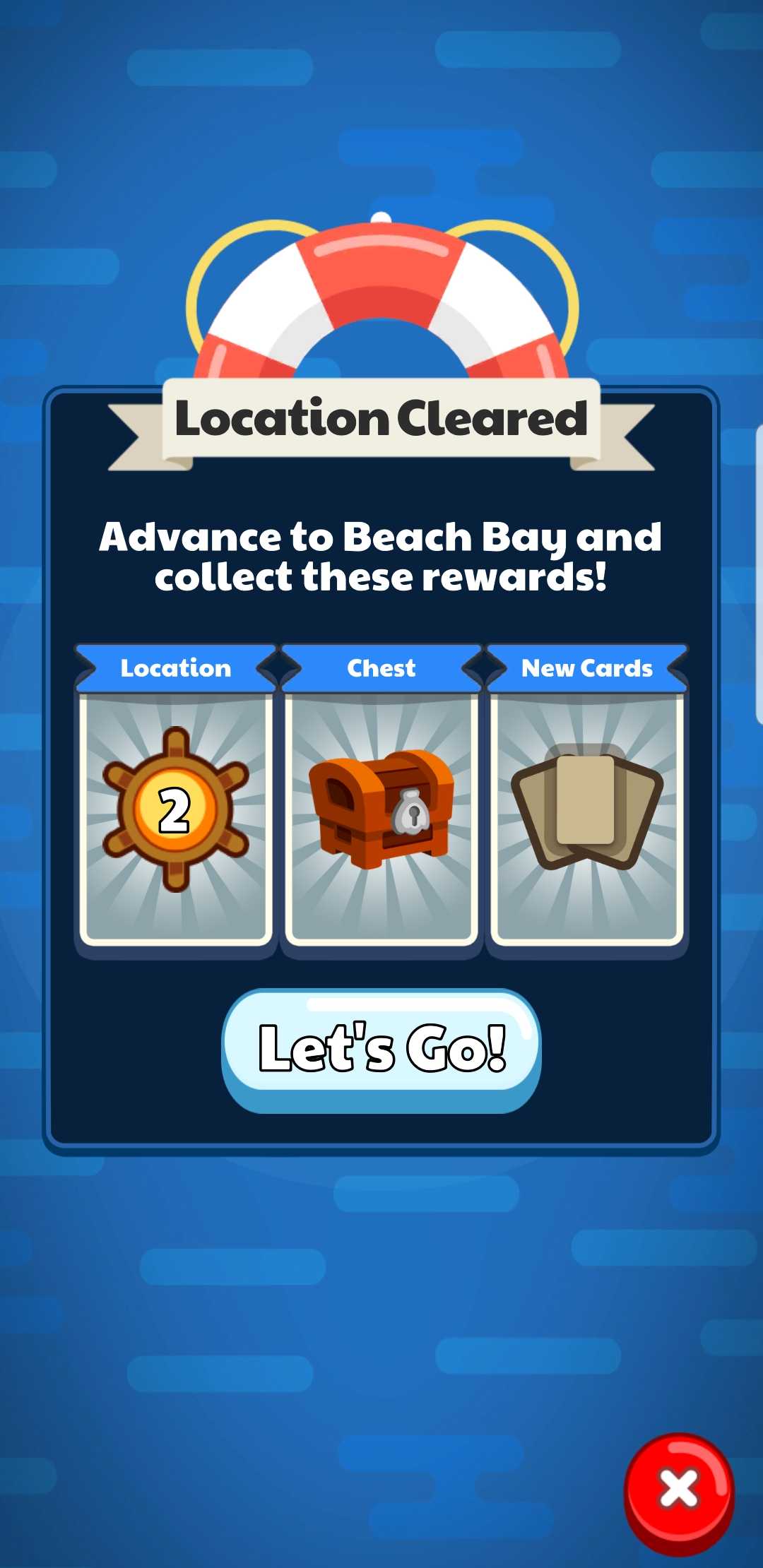 Daily Rewards
Daily Rewards are fun, free gifts for you to collect! These will appear for collection every 24 hours after the last time you collected. Below you will see a list of past Daily Rewards collected, and the Reward waiting for you will be at the bottom. Don't forget to collect them!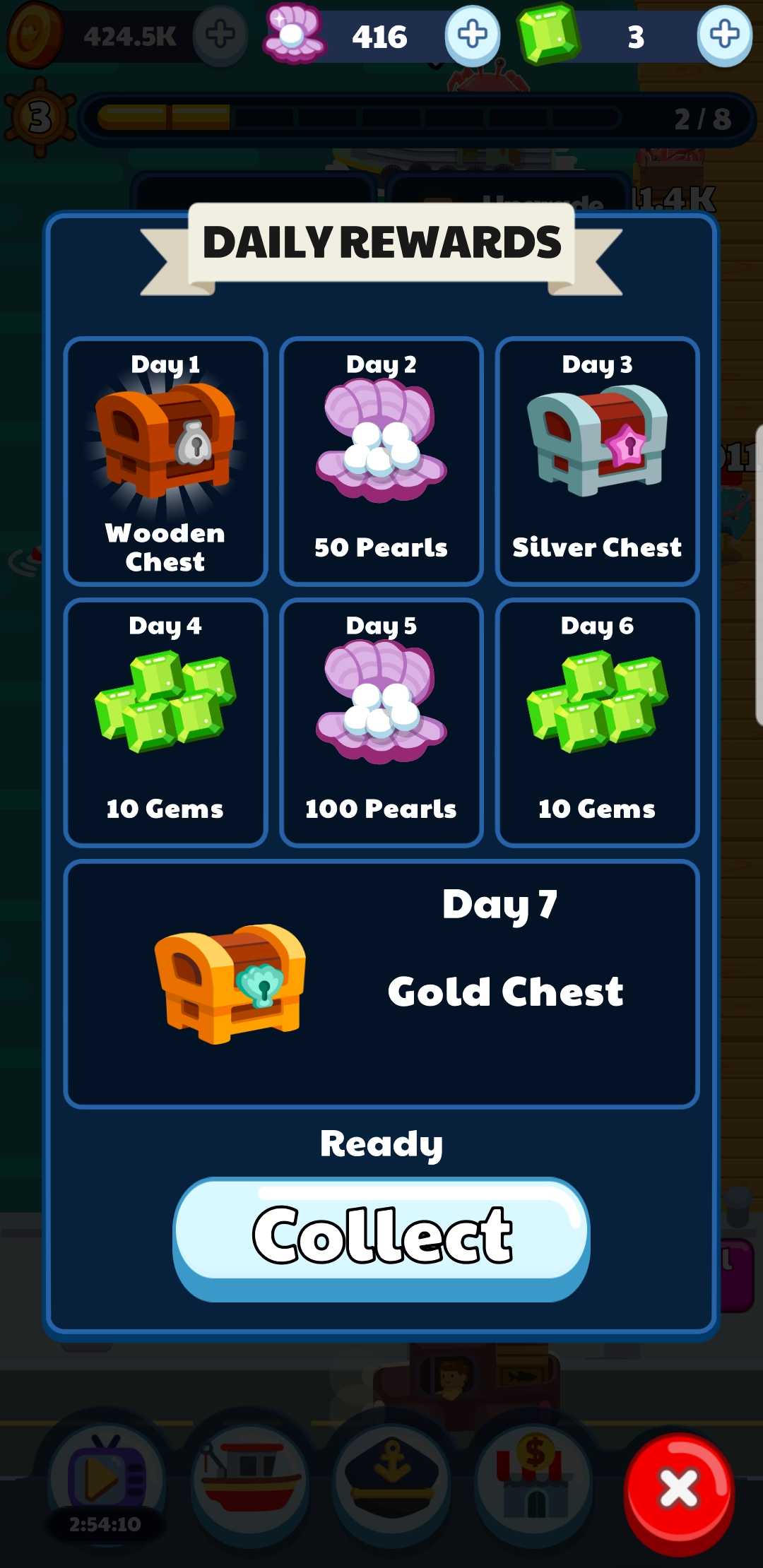 Thar Fishing Store
Need some extra goodies? No problem! The Fishing Store has you covered! You can purchase Chests, Time Skips, Pearls and Gems. Everything in the store is available for purchase using your in game currencies, with the exception of Gems, which will require the use of real world currency.
Don't forget the check out the Daily Deals! These will be shown at the top, and can be purchased using Pearls. New Daily Deals will become available after the amount of time listed in the store.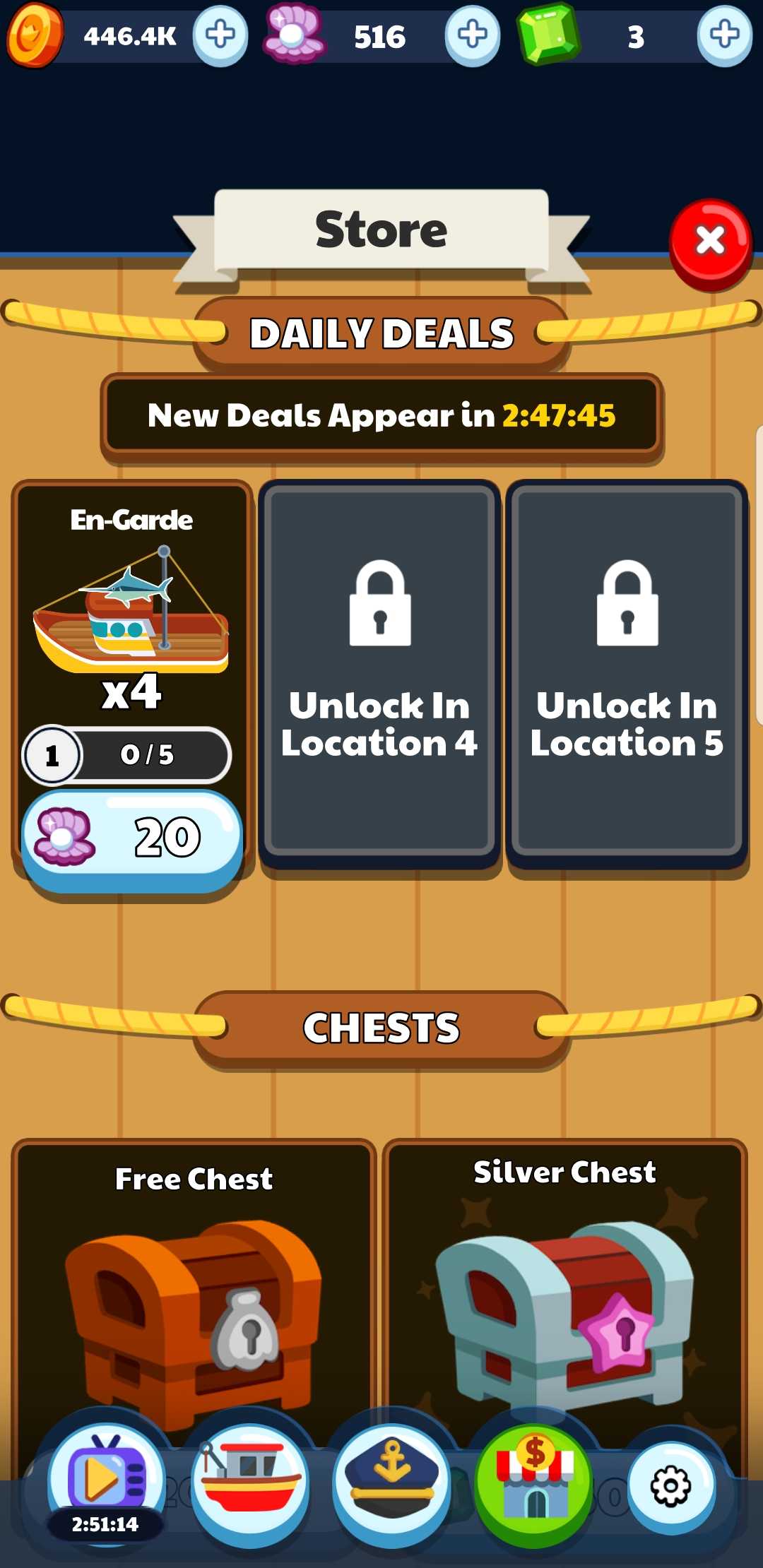 It's Good To Have Friends
Want to get more out of your game? Invite your friends to play!
You can now click the Social menu icon, in the bottom-right of the game screen. From here, you can view your Friend Code, as well as enter other friends' Codes, and even connect to friends by linking your game to Facebook.
The Friend Code can be shared so you can add people to your friends list. When a friend sends you a Code, you can enter in the field in the middle of the Social menu. The more friends you have, the more bonuses you will receive! Each friend you add will give you a x5% Profit Bonus. You can also ear fun prizes like Chests to open as well.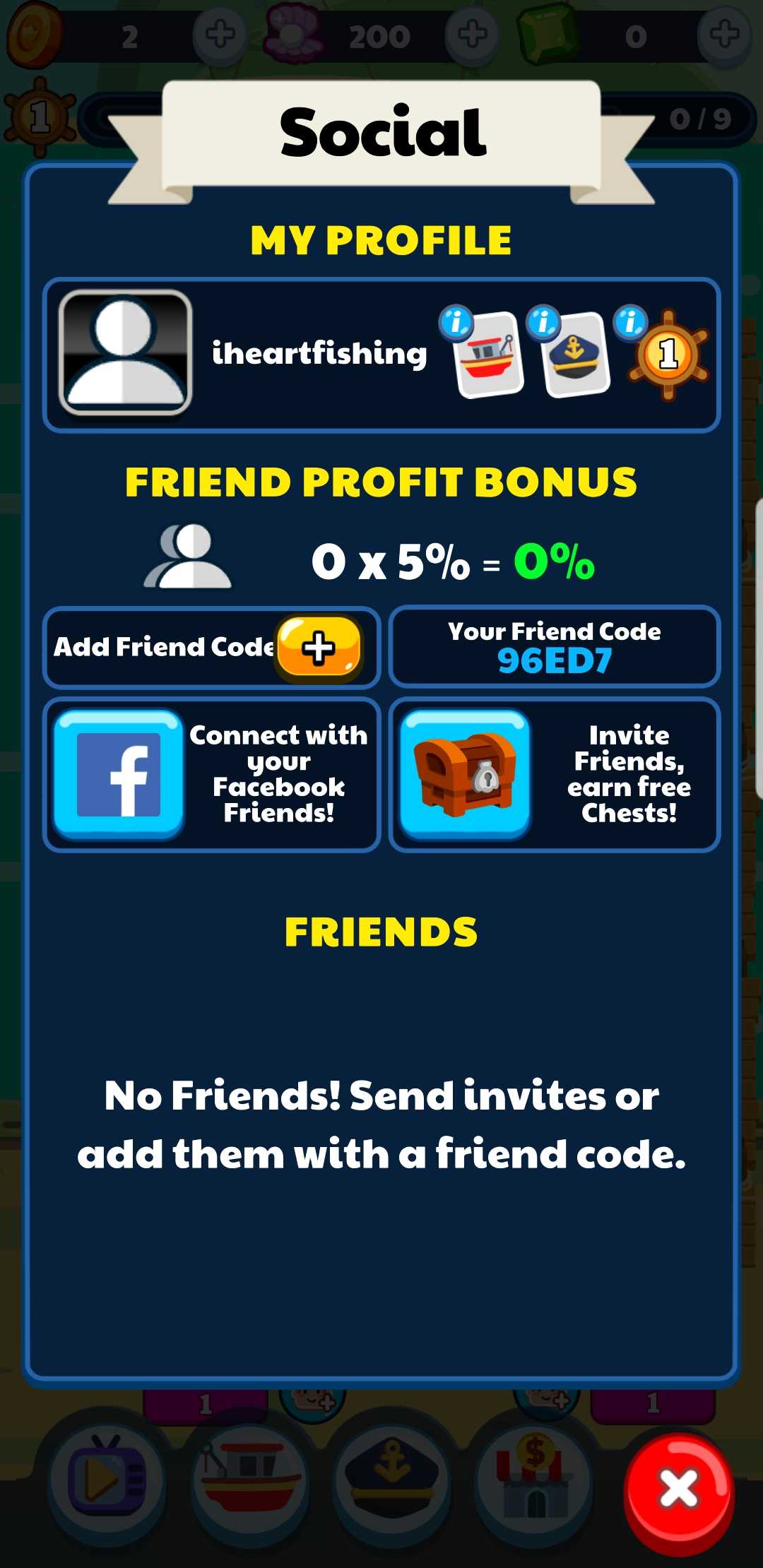 If you're having trouble collecting your Daily Reward, making a Store purchase, or have any other questions about the game, please feel free to contact our Support team any time. Happy Fishing!