Yer Profits
Aye, thar be different types o' plunder ye can earn through the course o' yer Fishin' adventures. Yer hauls be payin' in Gold Coins, but ye can also find Pearls and Gems in the deep. Ye be needin' to use these in the Store fer perchasin' all manner o' goodies. Ne'er forget to pick up thar floatin' chests an' bottles ye see driftin' in the surf for more free treasure. Ye profits'll also be comin' in handy when ye need to upgrade yer boats an' Captains. Arrr!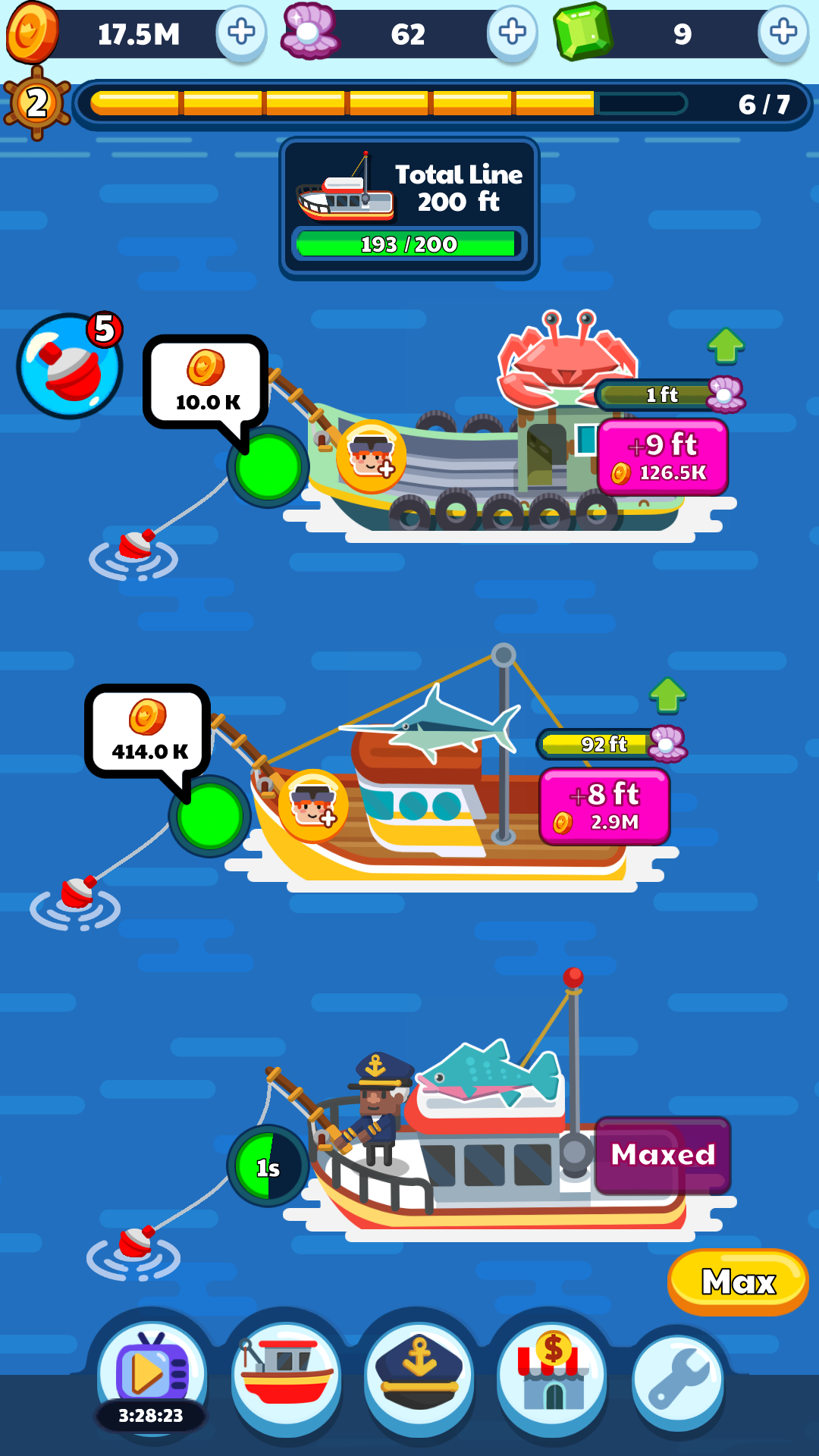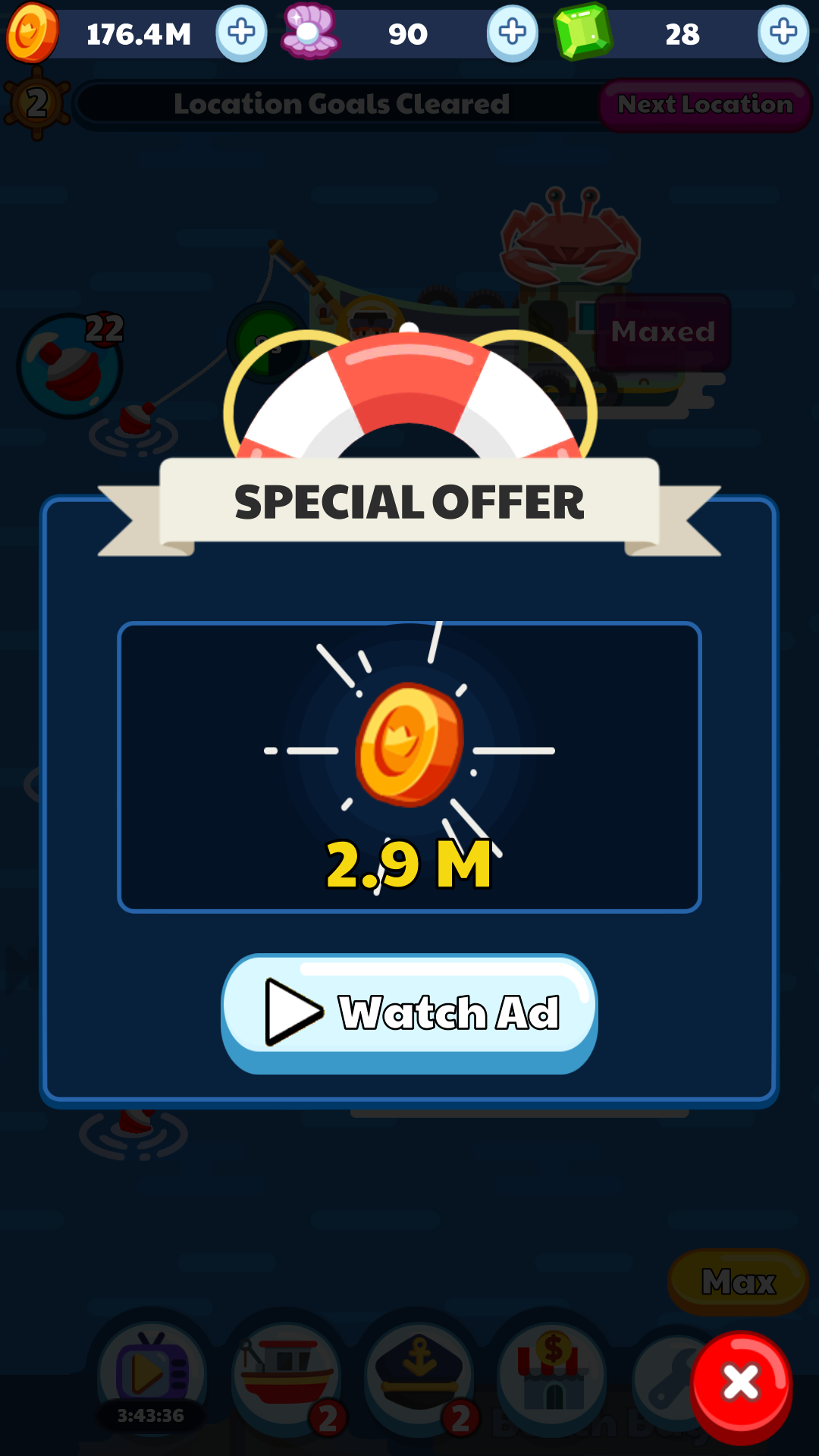 Ahoy Captain!
If ye tap the Captain's Hat icon below, ye'll find yer list o' Captains that ye've unlocked, and those ye've yet to discover. Aye, these Captains will man yer Fishin' vessels, automatin' thar Fishin' process. Sit back and watch as they bring in a tidy haul! When one o' yer Boats be ready to have a Captain, just tap the Face icon, and one'll be assigned. The more Captain cards ye collect, the more ye'll unlock.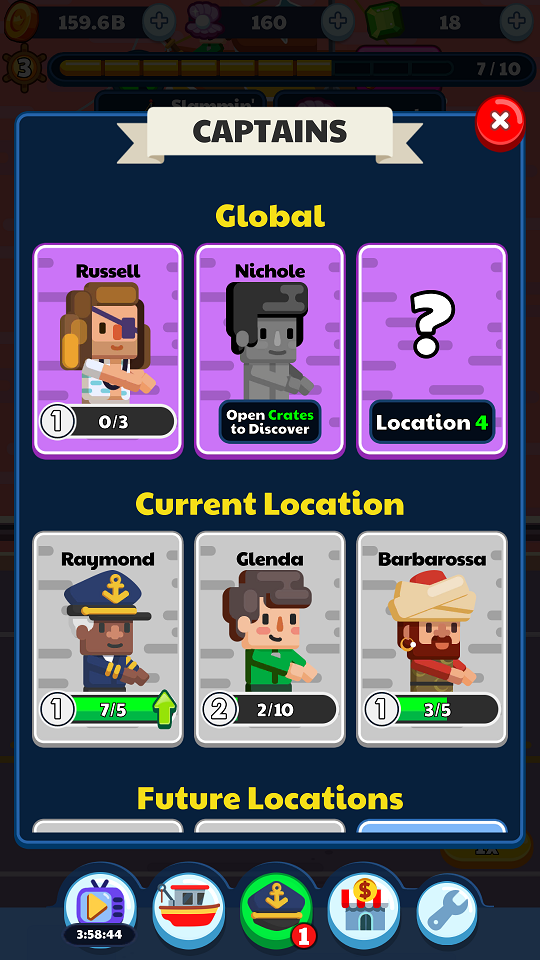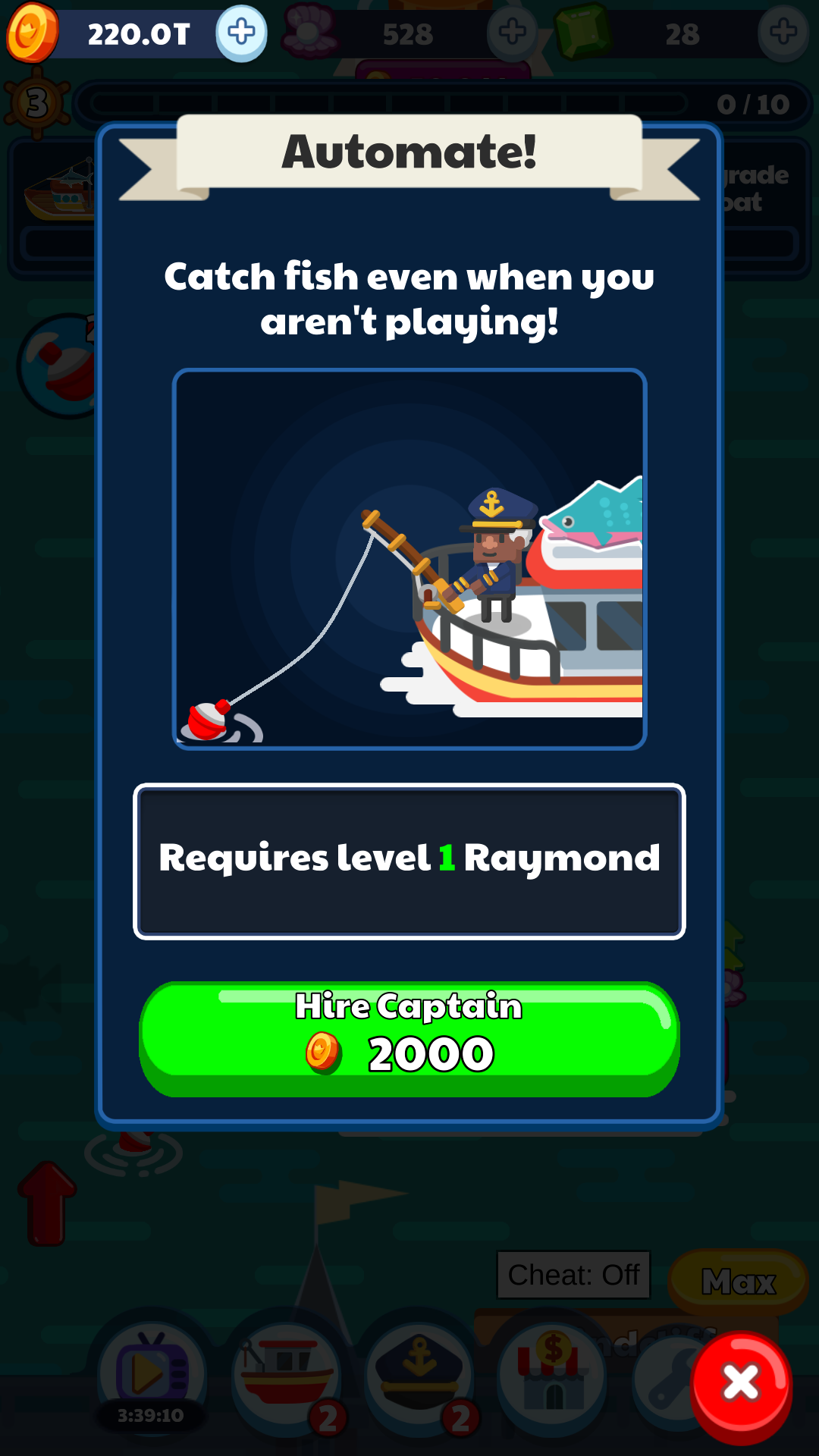 Fishing Boats
Now don't ye be thinkin' ye'll be stuck with just the one vessel. Aye, there be plenty more Boats to unlock! When yer ready to add another Boat to the water, tap the Buoy icon at the top o' yer game screen. Like yer Captains, ye can see all the Boats ye've unlocked by tappin' the Boat icon below. The be where ye can do yer upgradin' as well. Collect more Boat cards to unlock or upgrade yer Fishin' vessels.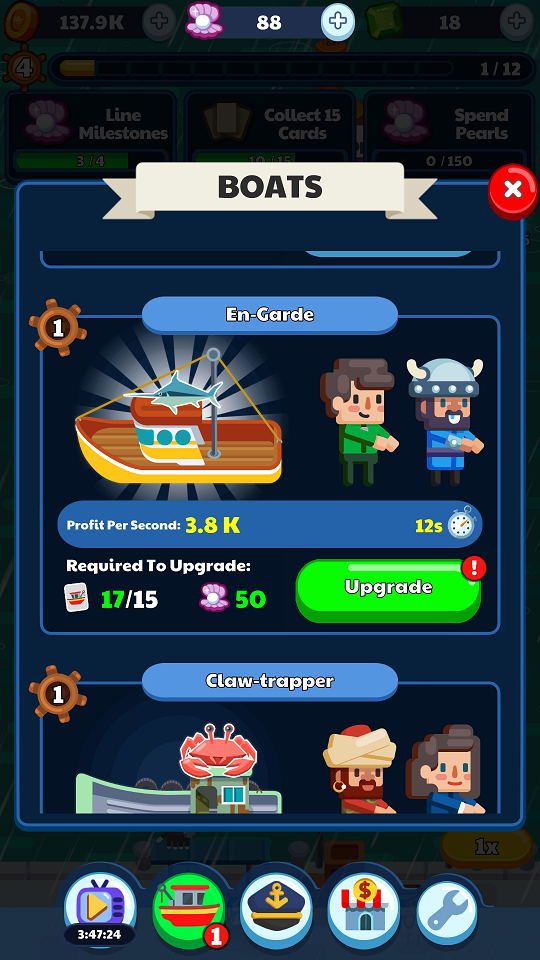 Thar Be Upgrades!
While yer Captains'll help out to automate yer Fishin' process, ye can also upgrade yer Boats an' Captains to haul in more plunder. Ye can do this by openin' yer Boats or Captains menu an' findin' the Boat or captain ye be wantin' to upgrade. This'll show ye what ye be gettin' with each upgrade, as well as what'll cost ye. Make sure ye've collected enough Cards an' Pearls before ye upgrade!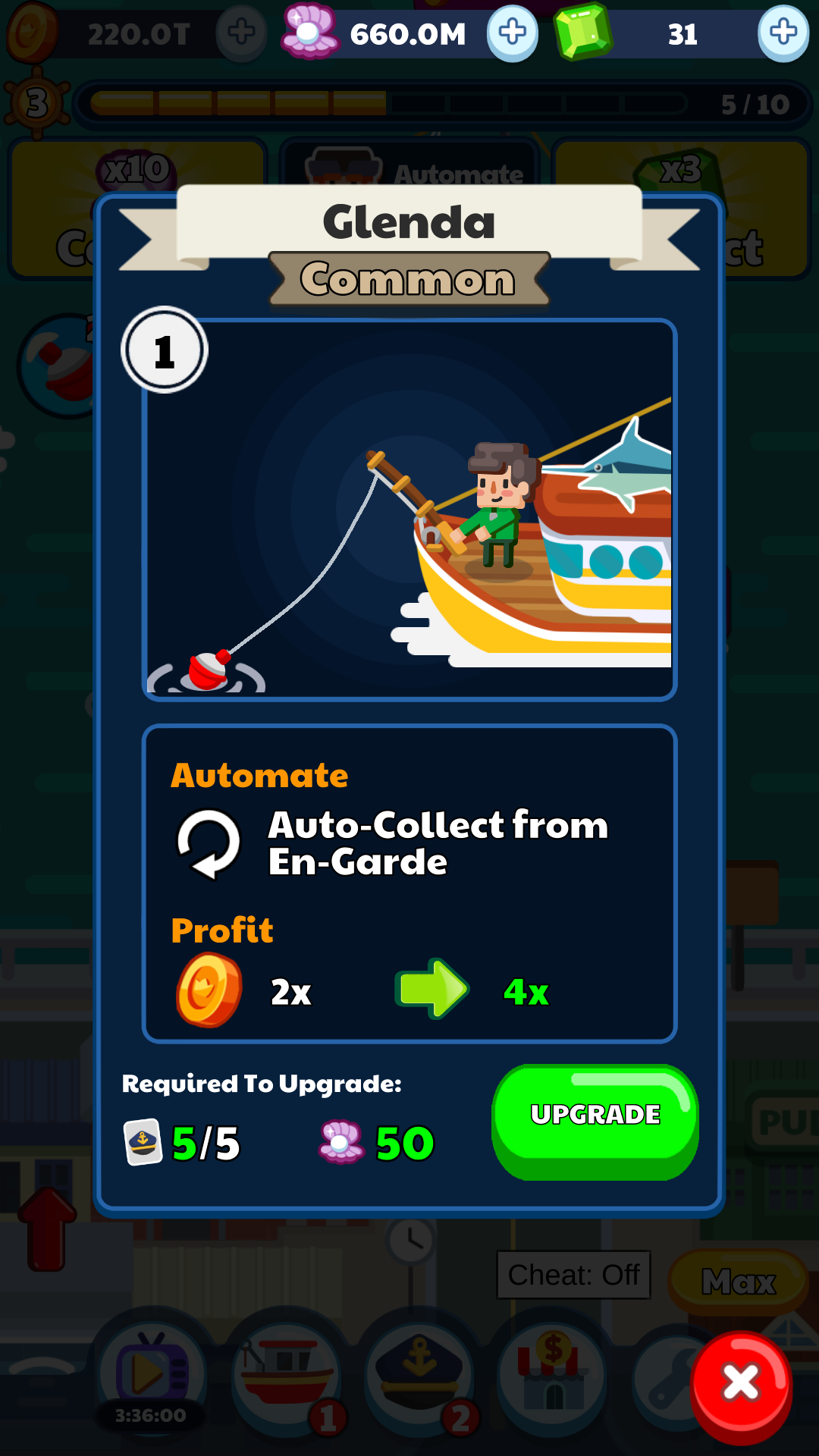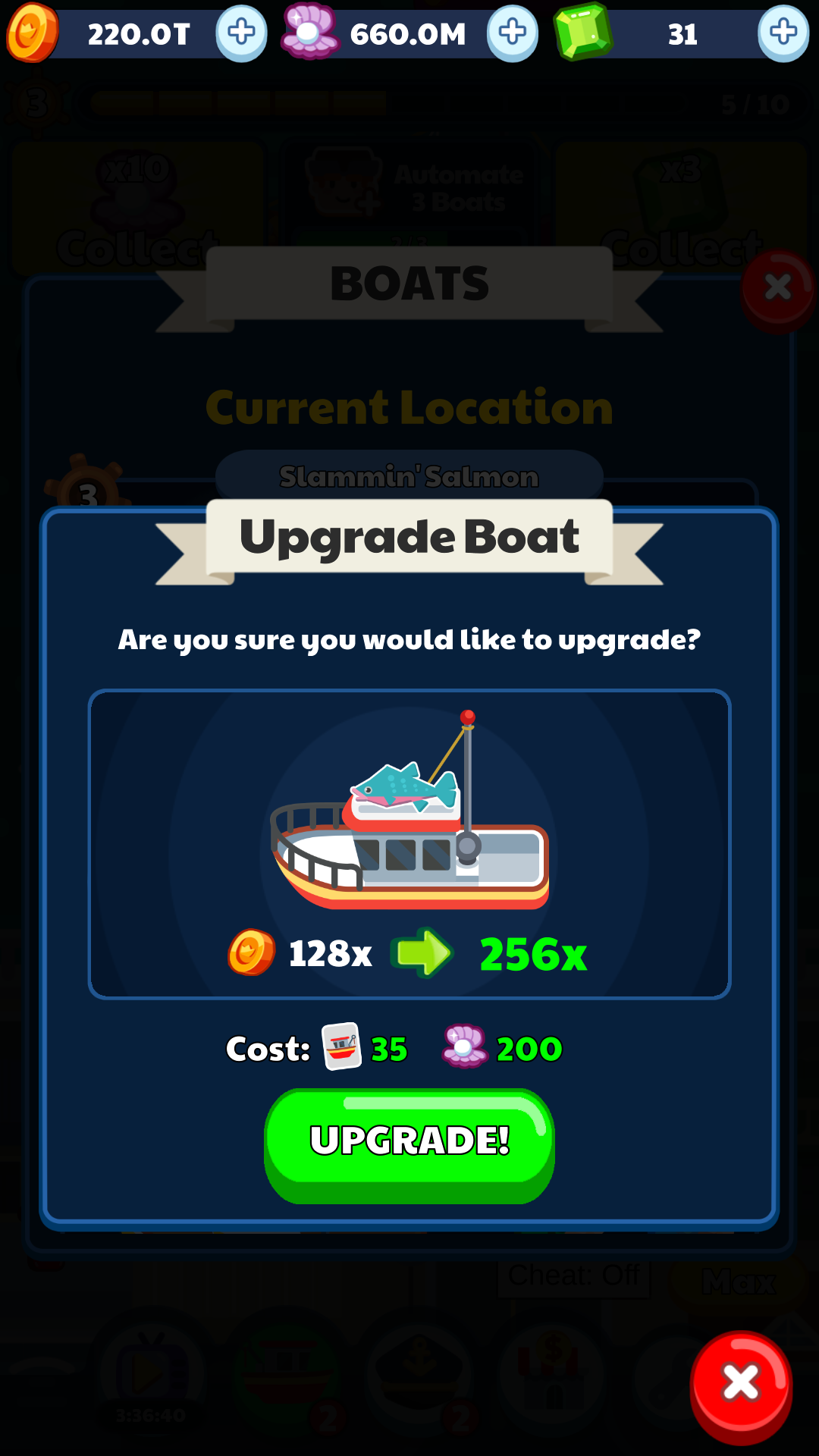 Boosts & Time Skips
Ye can also improve yer profit rate with income boosts. Don't ye be forgettin' to watch a short video on the ol' Maritime TV. Ye can also add more time to profit boost by watch even more videos. Ye can also purchase time skips from from the store. Doin' so'll speed up yer clock so ye can collect yer profits even faster. Arrr!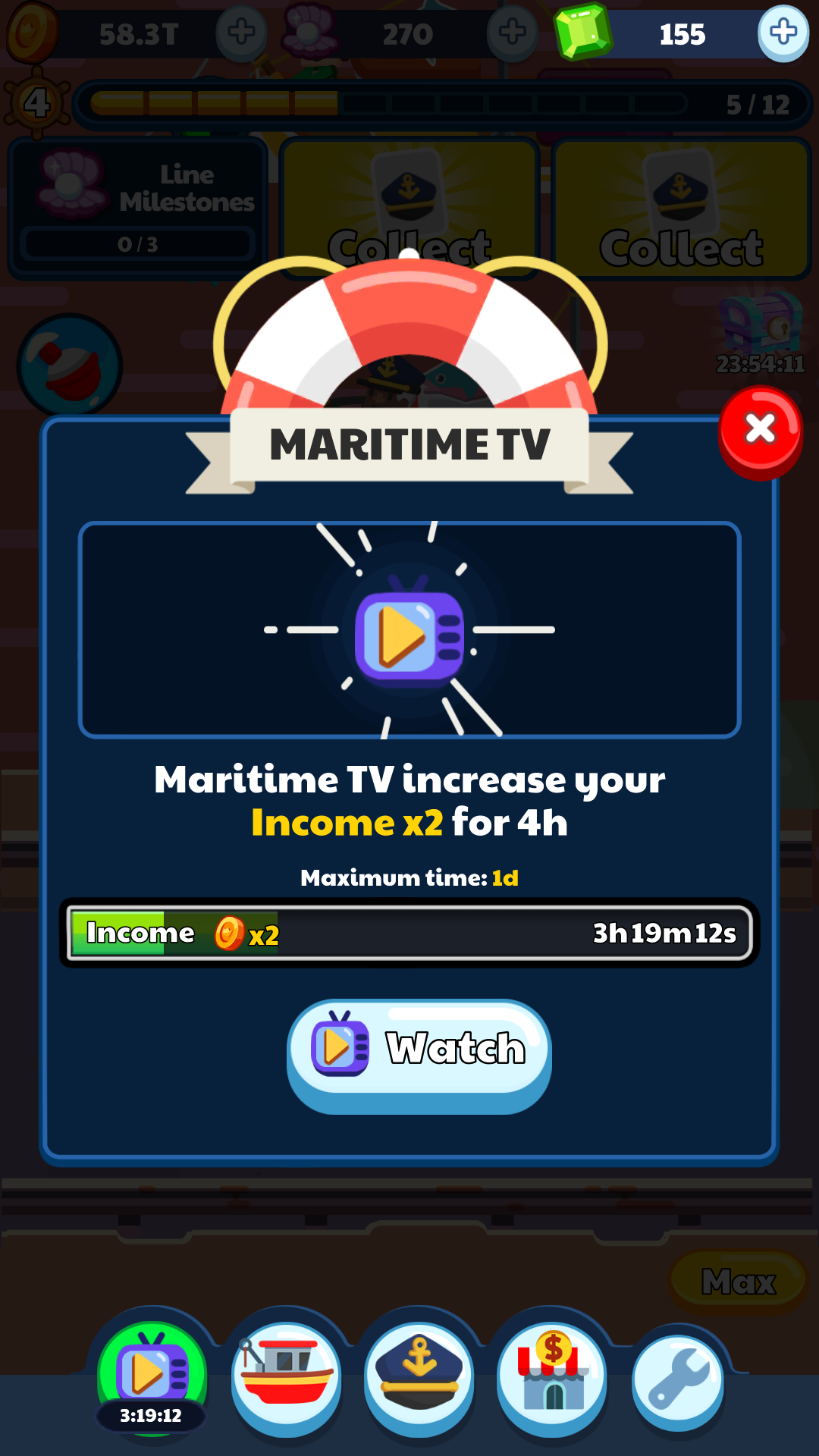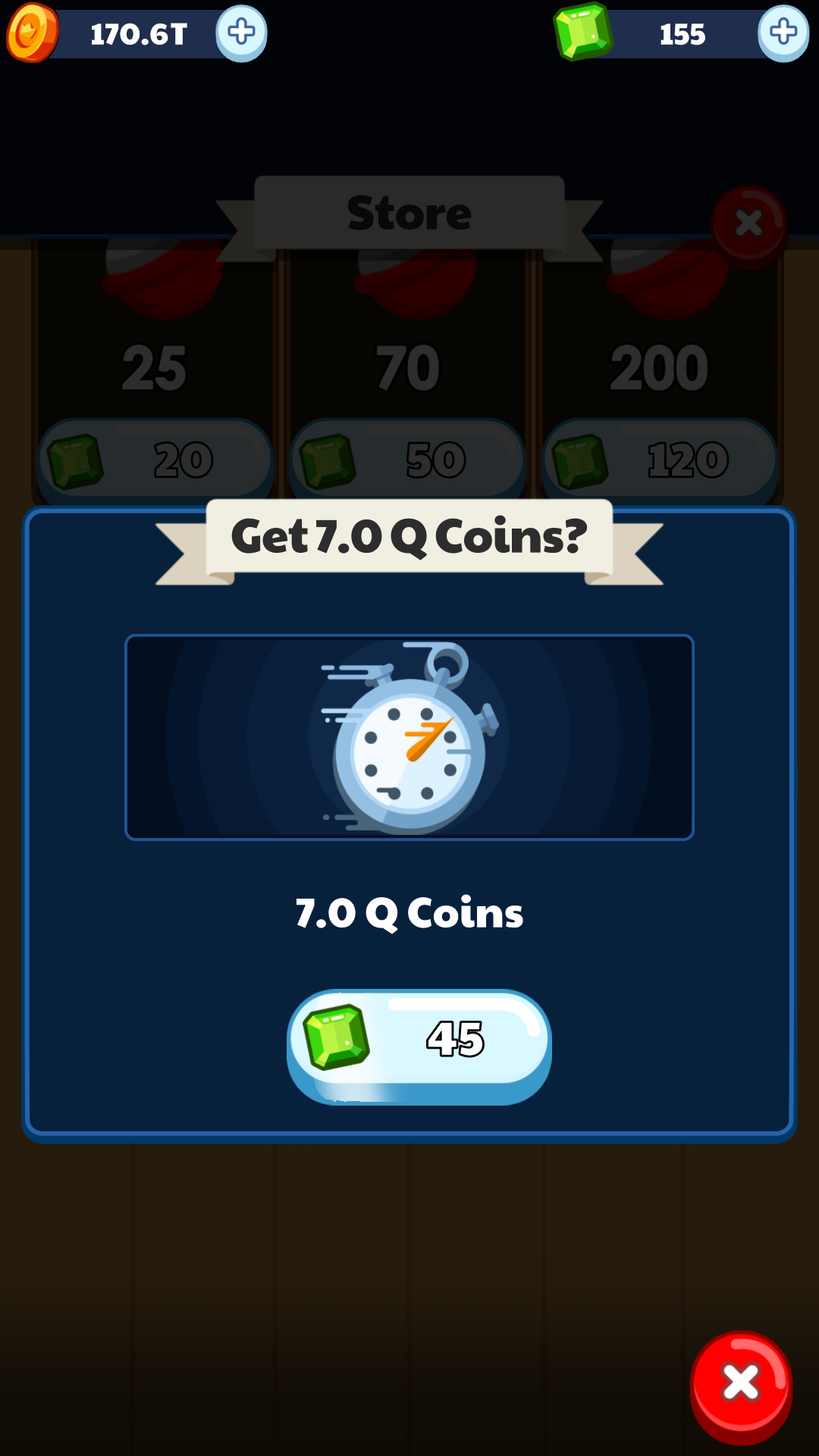 Milestones & Locations
Now ye may be lookin' fer some goals to achieve. Look no further ye lads and lasses, they be right at the top o' yer game screen. Thar be a progress bar to track how far ye needs must go before ye can unlock the next location. Once ye've completed a Milestone, tap the button to collect your plunder. Ye'll also see another notch added to the bar for each Milestone ye be completin'. Fill up yer bar to move onto the next location. Clearin' yer current location'll earn ye some nice treasure too!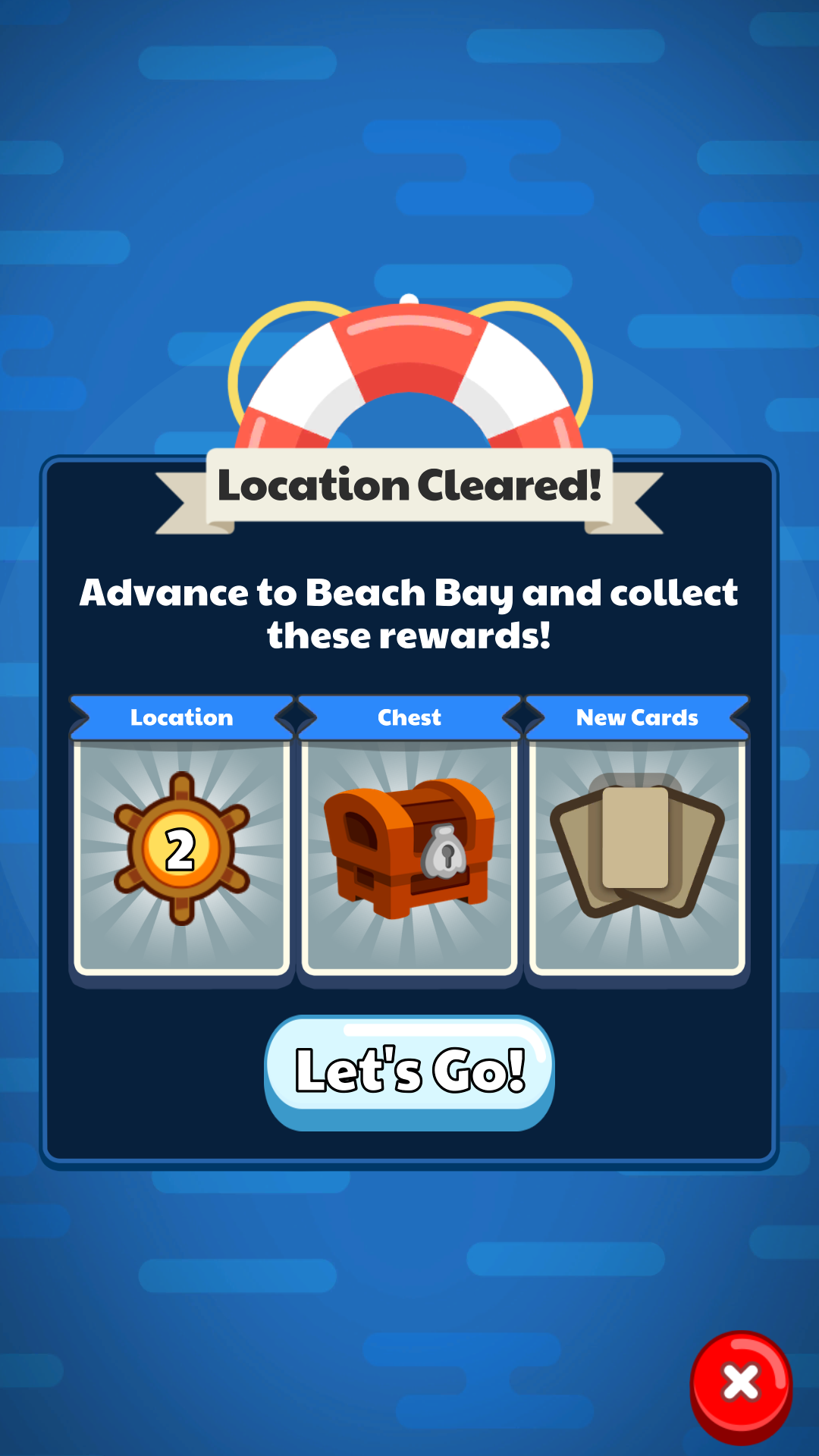 Yer Daily Rewards
Aye, ye Fishermen and Women be receivin' even more treasure just by loggin' into the game. Arrr! To collect yer plunder, click the big shiny button down below. Should ye be havin' any trouble collecting yer Daily Rewards, don't hesitate to send a flag up to our Support team for aid.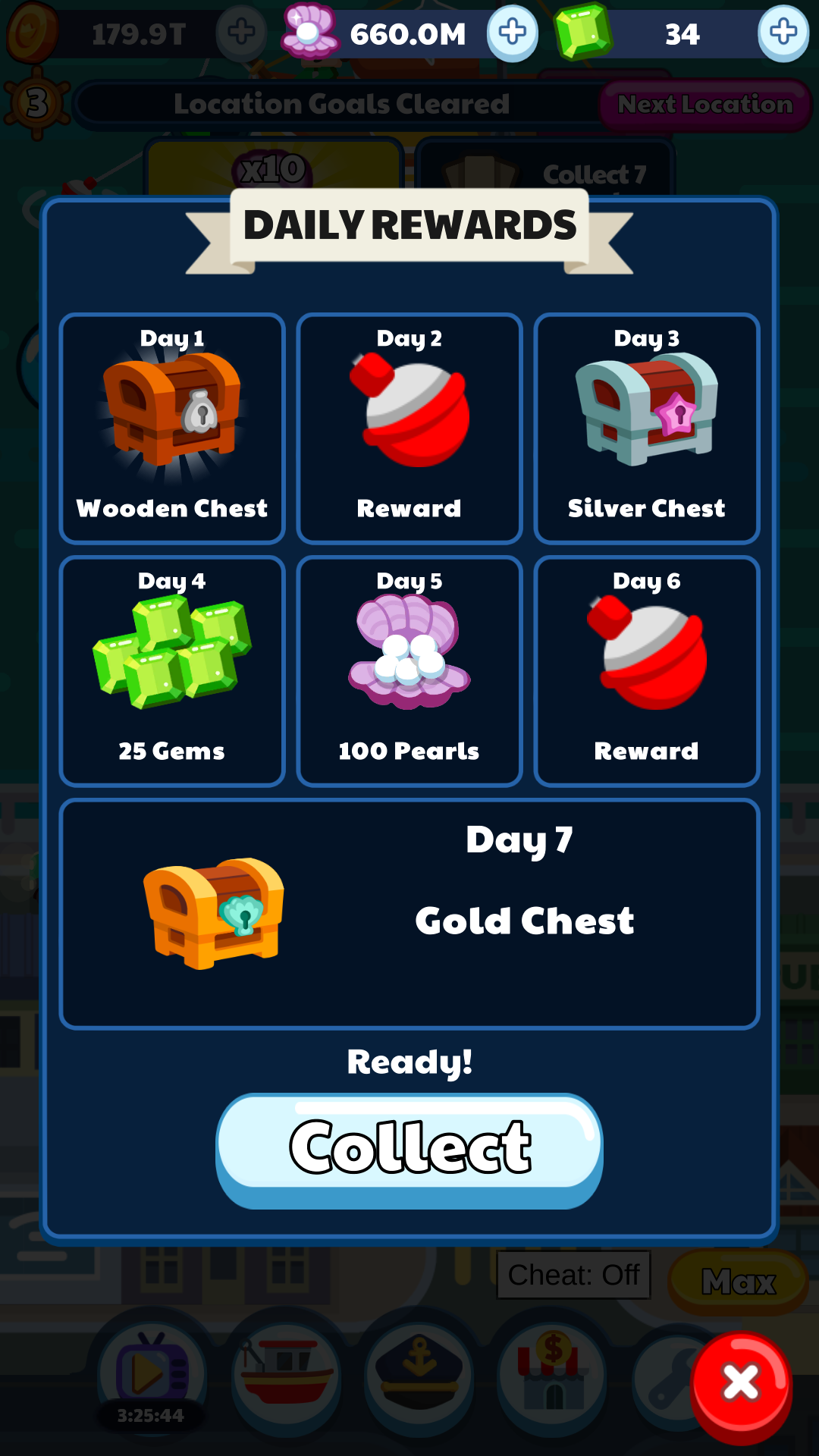 Thar Fishing Store
Thar be plenty o' goodies a Fisherman or Woman be wantin', and ye can find them 'ere in the ol' Fishin' Store. Tap the Shop icon below to open yer Store menu. In here ye can use yer in game currencies to purchase useful items, including Daily Deals. Ye can also purchase more Gems from the Store by using yer real world currency. If ye be havin' any troubles makin yer purchase, contact arrr  Support team for aid.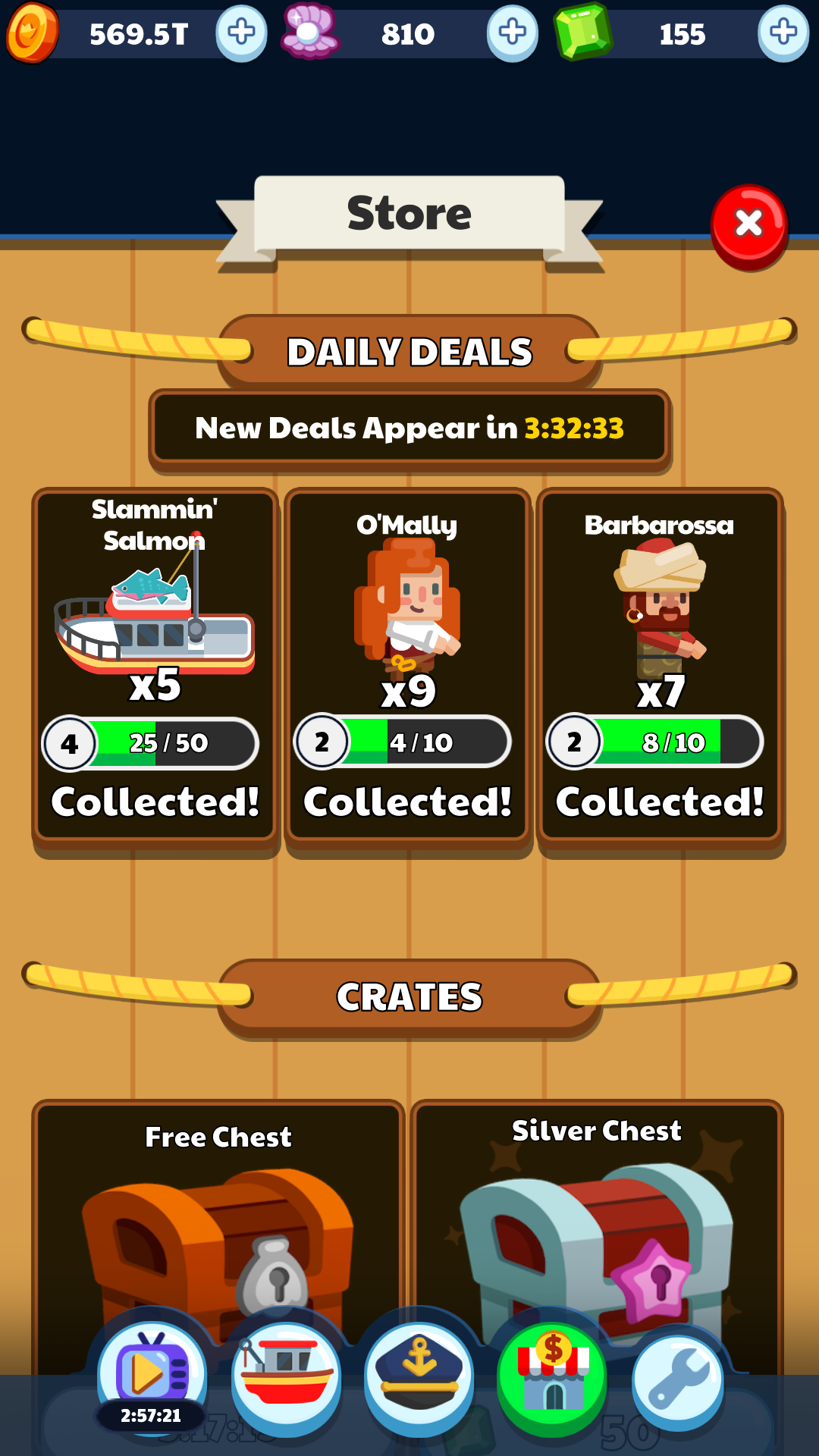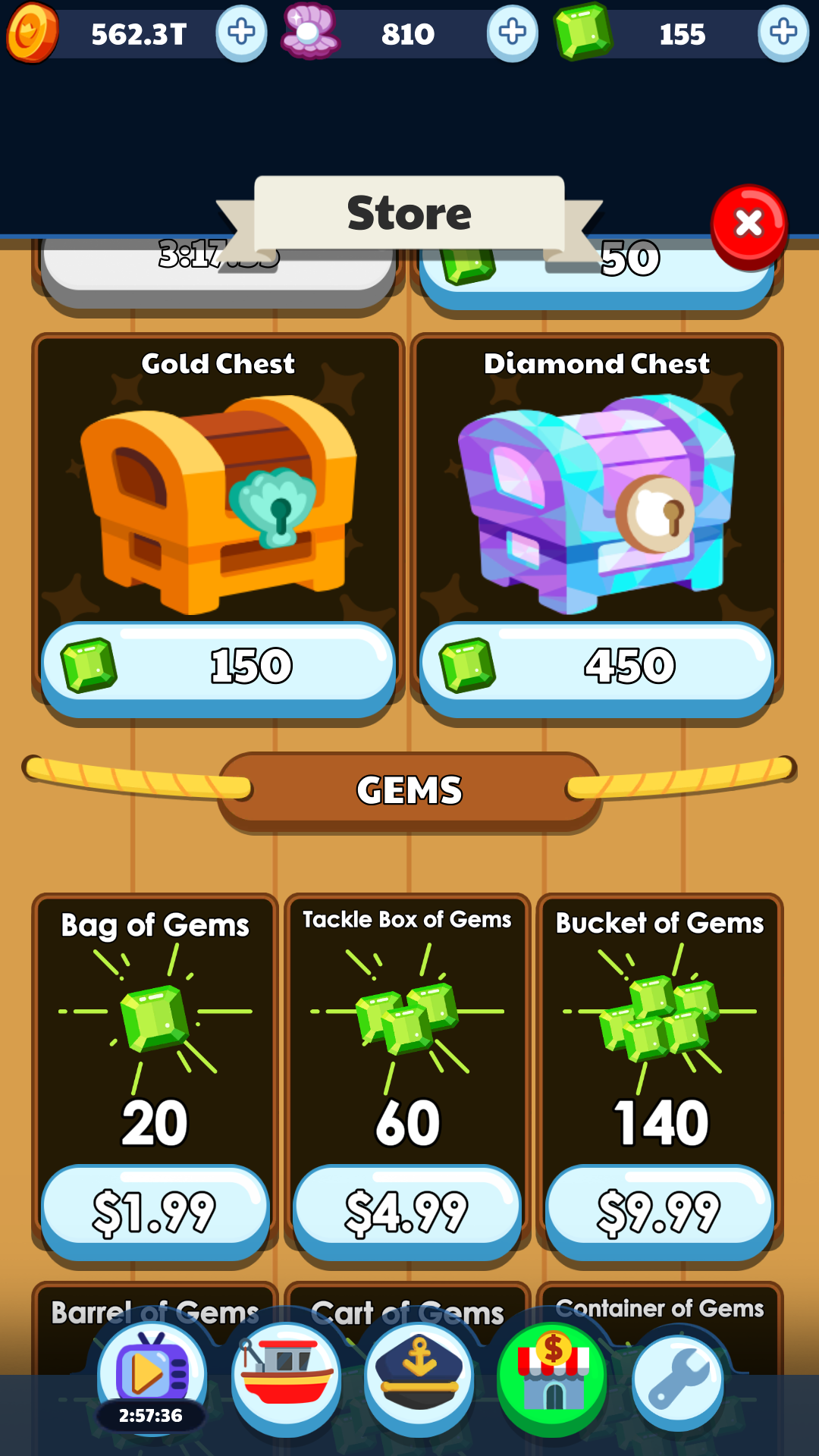 Mini Game
Aye, thar be a Mini Game too! Test yer skill at catchin' fish for Cash prizes. The better yer catch, the bigger yer reward. Collect more Cash to spend on treasures in the Bait Shop below. Fer more information on thar Mini Game, please be seein' our Help Arrrticle here. Happy Fishin' mateys!