New to the weed growing business? This Game Guide will give you a quick overview of the basics of Wiz Khalifa's Weed Farm.
The object of the game is to keep growing better and better strains of weed to sell at the dispensary. The more weed your harvest, the more money you can make and re-invest back into your grow.

This overview will cover:
Collecting Weed Coins
What Do All These Buttons Do?
Planting Your Weed
Watering Your Weed
Upgrading Your Grow
Harvesting Your Weed for the Dispensary

1) Collecting Weed Coins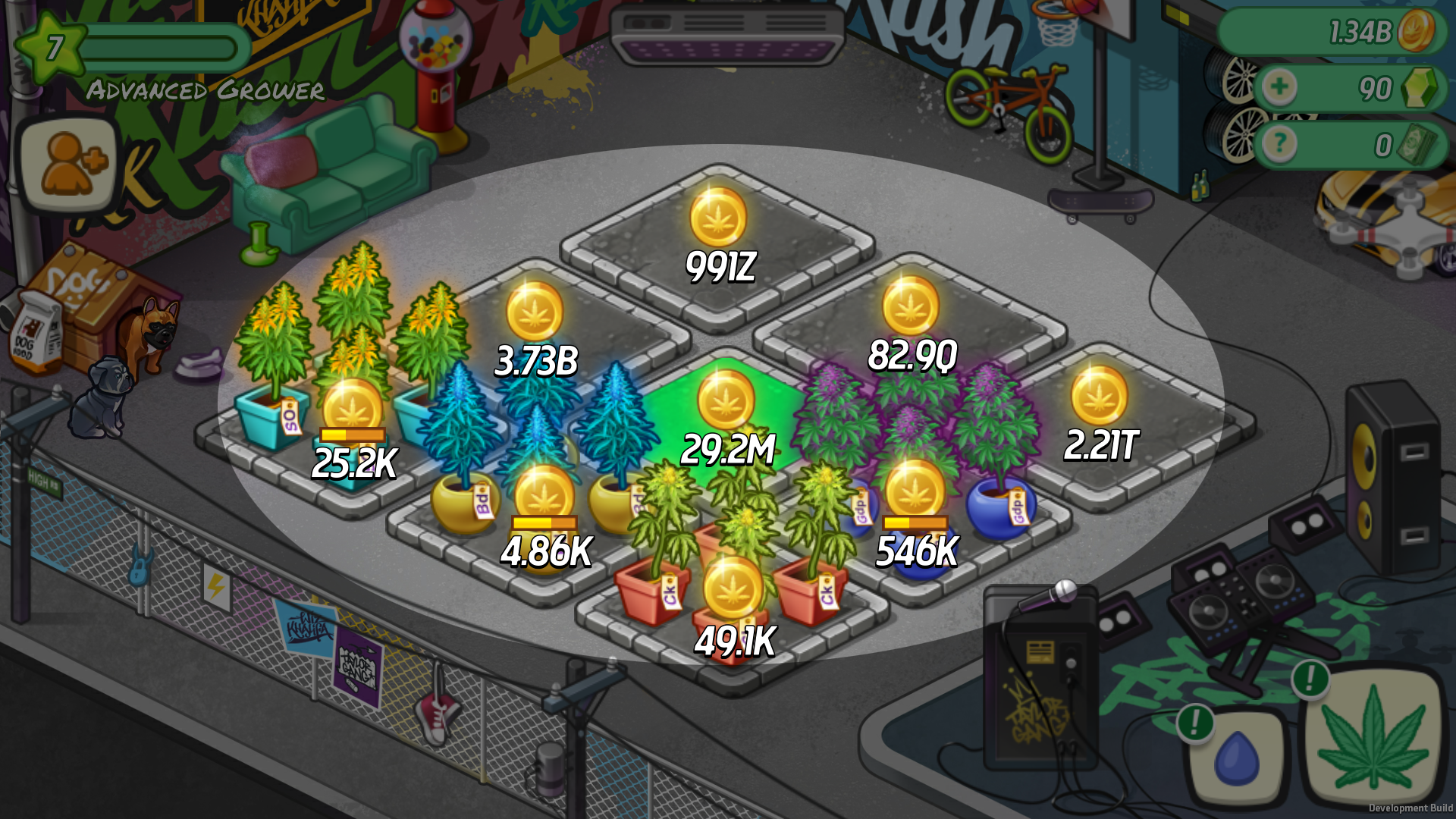 Your weed will grow and generate weed coins over time. Tap or swipe your weed to collect your coins! You can upgrade and water your plants to earn more coins faster. We'll get to that soon, but first...
2) What do all these buttons do?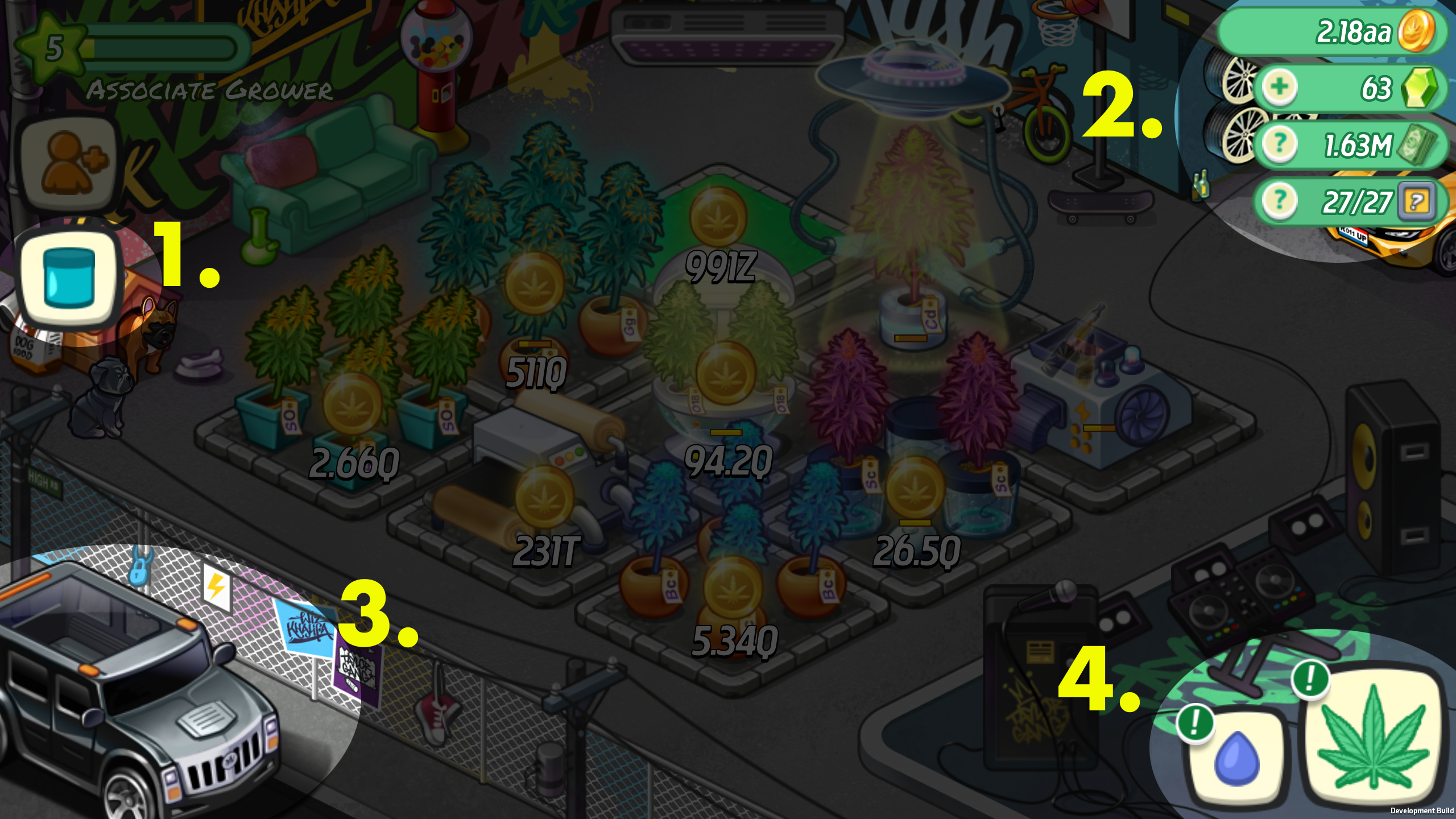 This jar button will open up access to all of your collected weed strains, and let you discover new strains! If you are just starting out, you don't have to worry about this part for now. Once you've unlocked the fifth Plot, you will be able open jars.
This shows you how many Weed Coins you have, how much Cash you've collected and how many gems you have. Good info to know when upgrading your grow op.
This is your vehicle. When the dispensaries open up, you can harvest your weed and sell it at the dispensary for cash! Harvesting your weed means you have to start over and grow a new batch, but the cash you earn is worth it.
These buttons let you water your weed and buy upgrades for your grow. These are very important, so each will be explained in more detail below, under "Watering your Weed" and "Upgrading your Grow".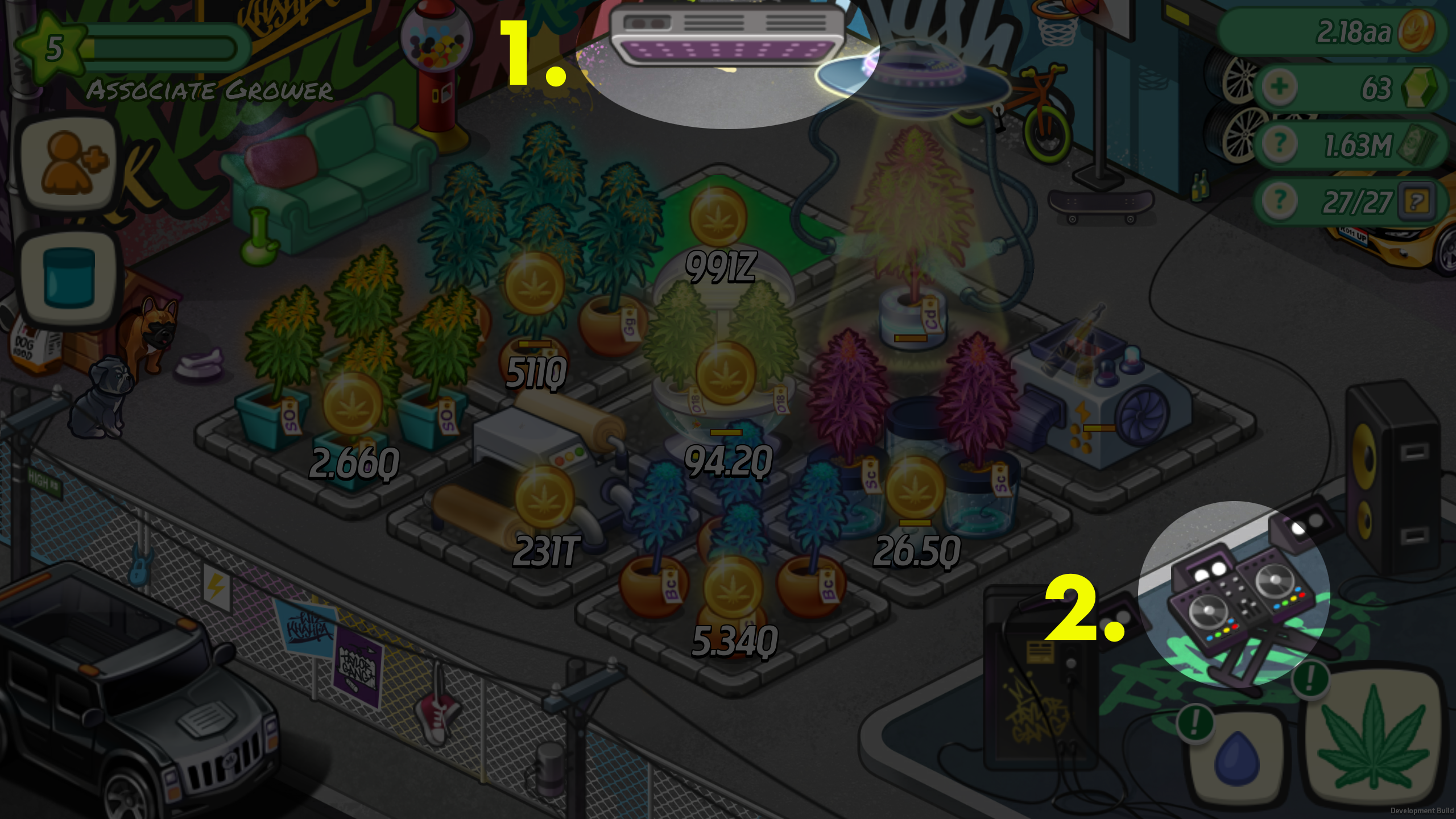 This is your grow light. You have to watch an ad to activate it, but it will 2x your profit for 4 hours, and you can extend that as long as you want by watching more ads.
This is your DJ Station. Watch an ad to activate it, and all of the weed coins you collect for the next 20 seconds with have 2x value.
3) Planting Your Weed

You have 9 available weed planter beds in your grow. You need to unlock these planter beds with the coins you earn from collecting your weed. Once you can afford to buy your next planter bed, it will light up in bright green. Tap on the bright green planter to select which strain you want to plant.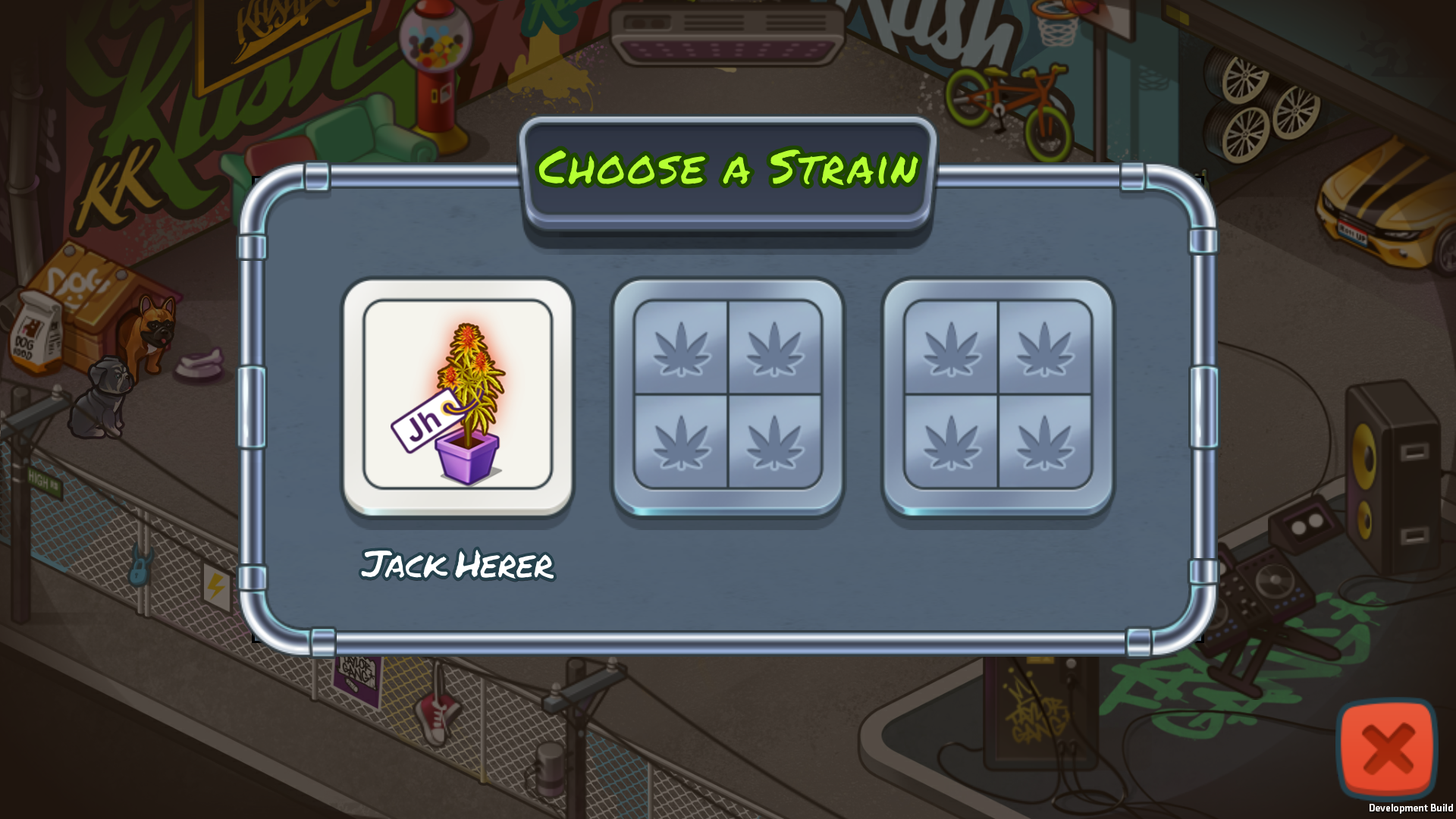 You will unlock newer, better weed as you play the game and discover new strains. In this screenshot, there is only one strain to choose, the other two have not been discovered yet.
4) Watering Your Weed

Watering mode is how you make your plants grow faster and produce more valuable weed. To open watering mode, tap on the water droplet button in the lower right corner.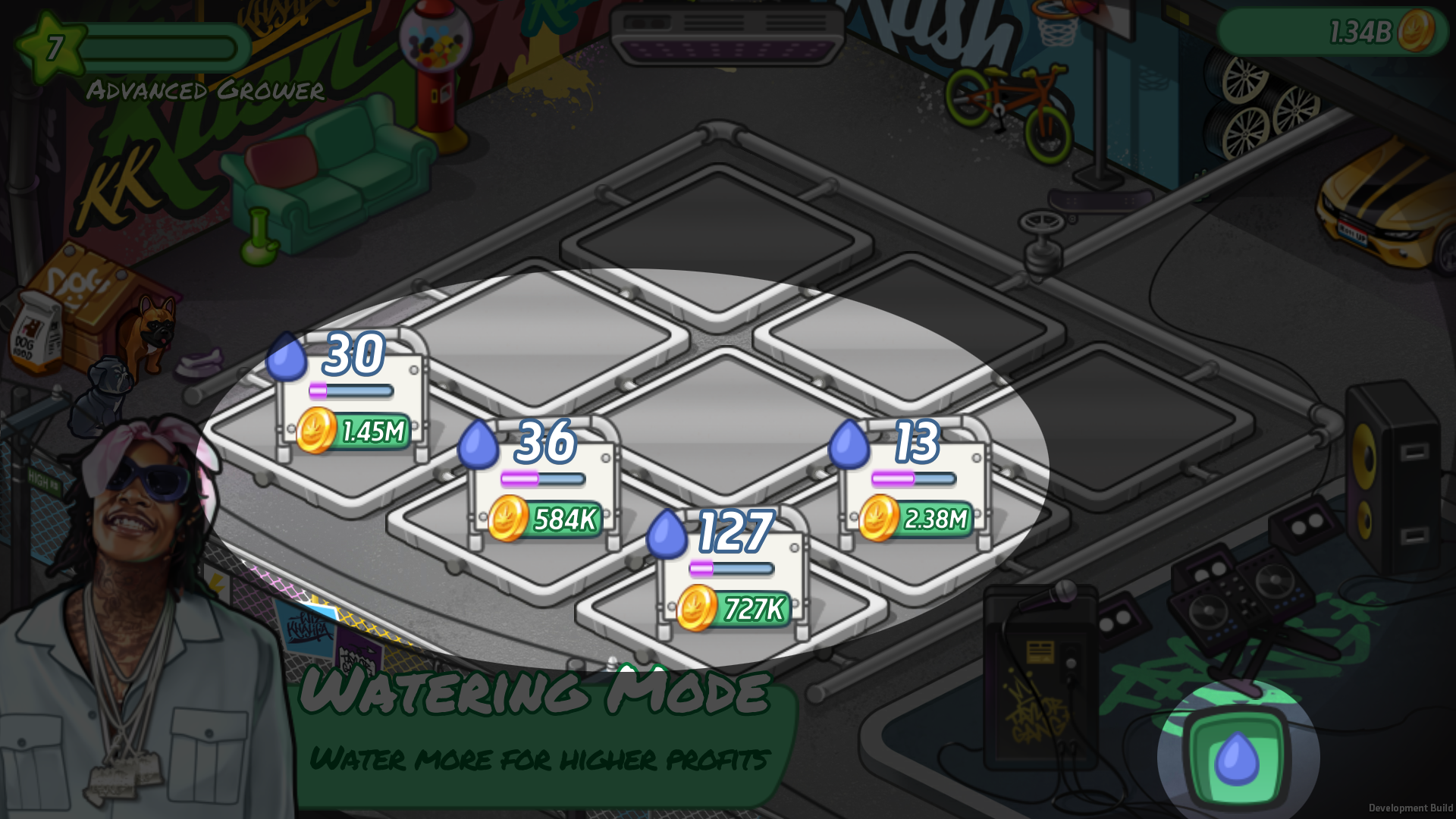 Tap or hold down on the plot you want to upgrade to level it up!
5) Upgrading your grow op
Upgrading your grow is the best way to earn higher profits and grow better quality weed strains. To see your upgrade options, tap the weed leaf in the lower right hand corner of the screen.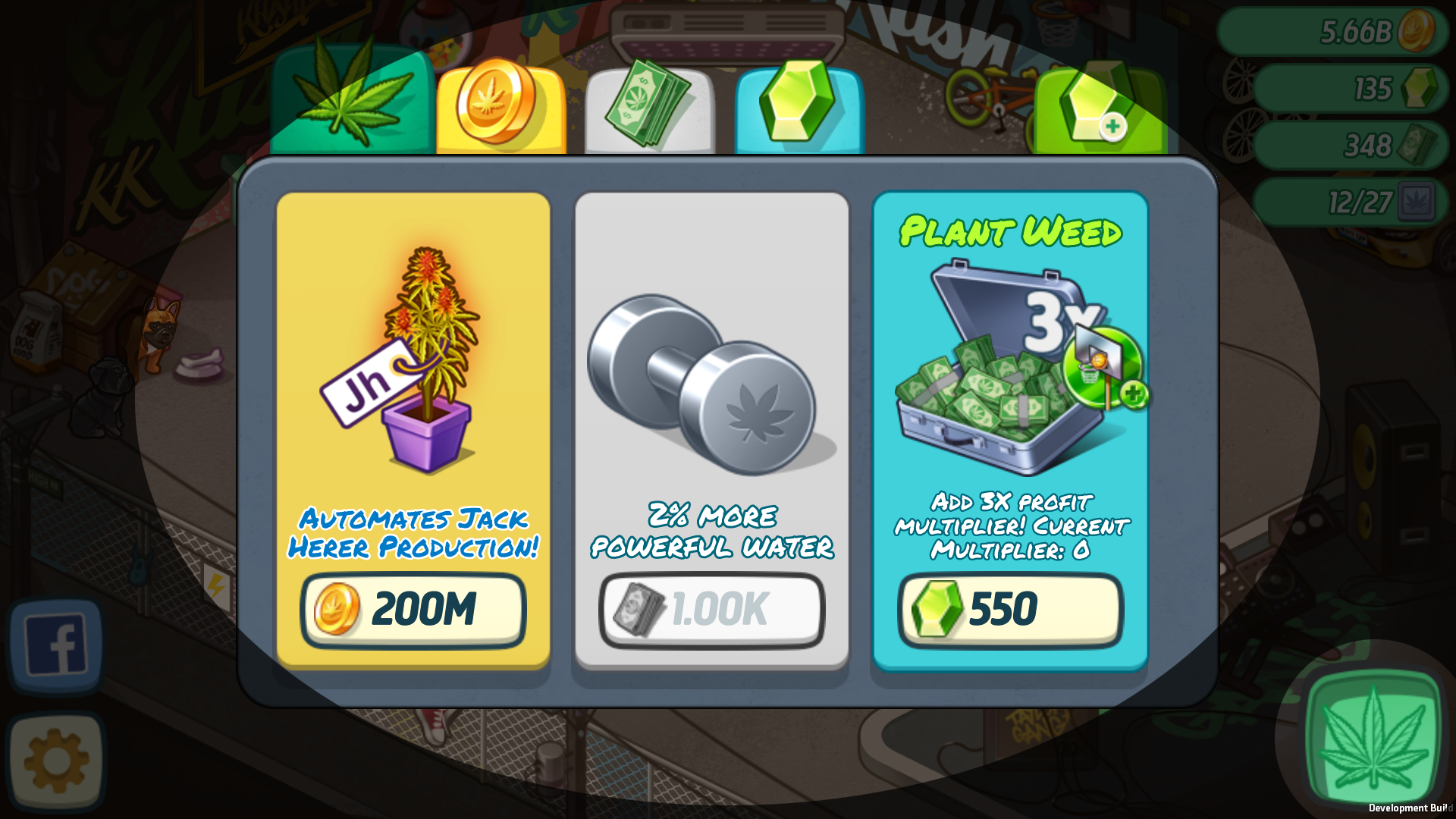 You can upgrade your grow op with Weed Coins, Cash, and Gems. Gem upgrades are permanent, even after you have harvested your weed. You should tap on the tabs at the top of this menu in your game to see which upgrade options are available for you.
6) Harvesting Your Weed for the Dispensary
Once you have grown enough weed to sell at the dispensary, your vehicle will drive up and park next to your grow op. When you are ready, tap on your vehicle to harvest your plants.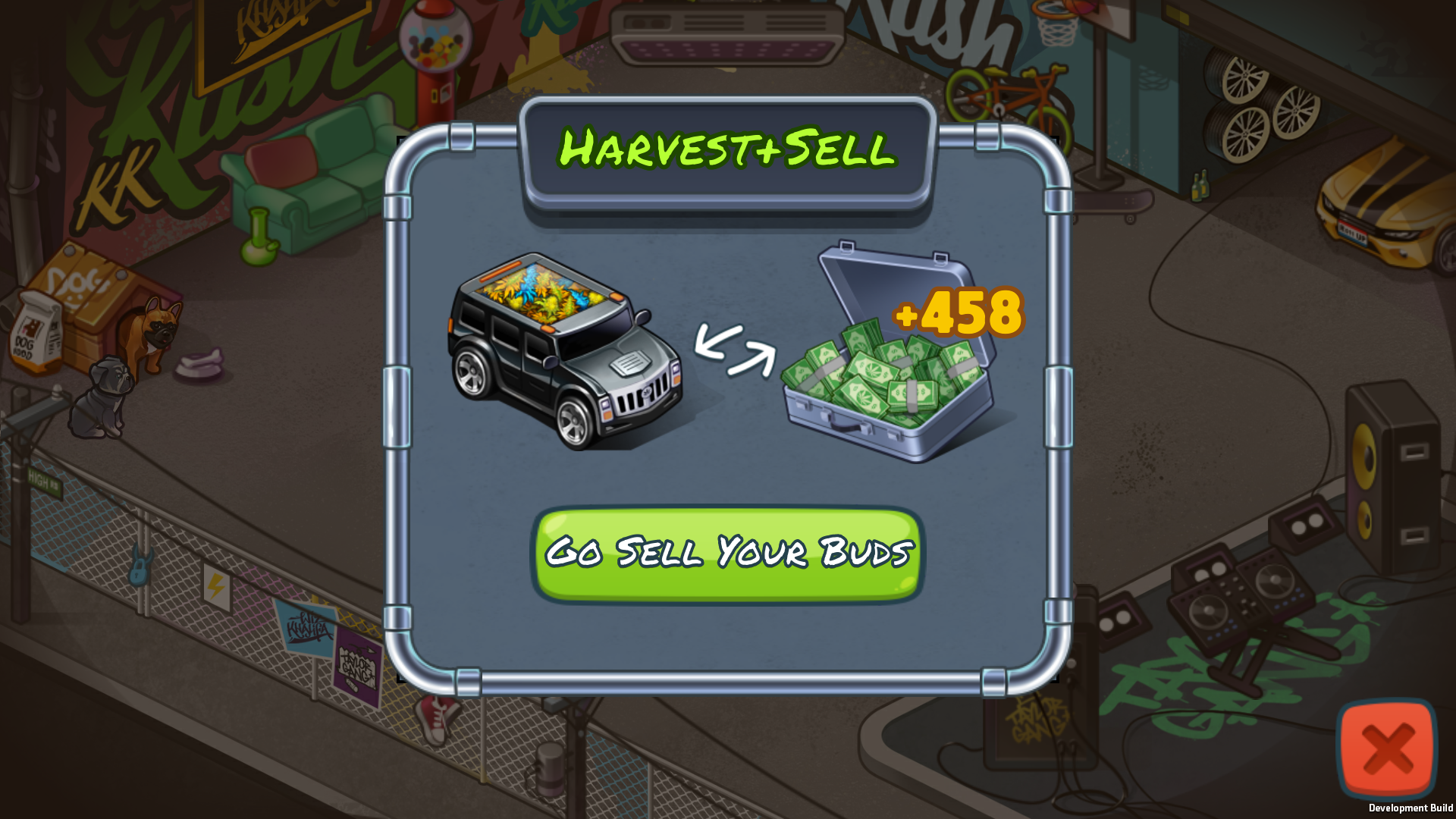 Your harvest will cut down your plants and process them for sale. You will have to replant your weed and start over, but you earn cash which you can use to reinvest in your business. It's worth it!