Toronto is here! Toronto is the first new PERMANENT location in Weed Farm. Much of Toronto should be familiar. You have 9 plots, each with a selection of new Toronto strains to unlock and upgrade. These strains can be watered and upgraded just like normal, increasing their profits. This guide will assume you know these basics and will instead cover the NEW features in Toronto, and the important changes that were made.

You will need to reach Plot 9 in Toronto before you can harvest your buds.
Permanent Gold Bar Upgrades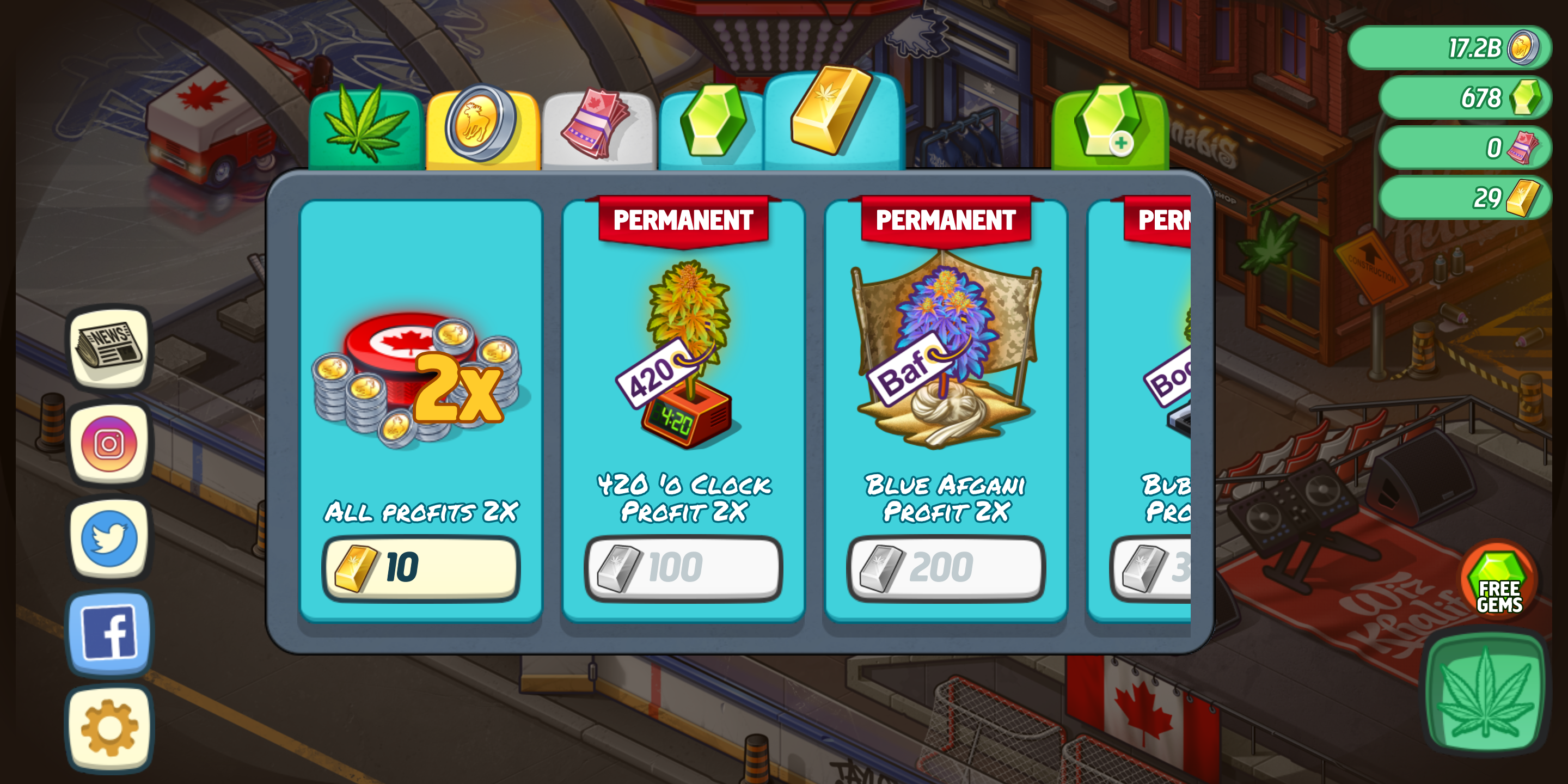 You will notice that MOST of your gold bar upgrades have a big label on the top that says "Permanent". This just means that these upgrades will persist, even after you harvest. PLEASE NOTE that the very first gold bar upgrade does NOT have a permanent tag. This first upgrade will be reset on harvest, so only buy it if you are sure you want the boost.

Any upgrade with a permanent tag will persist through harvests, and any upgrade without a tag will be reset on harvest.
Plot Upgrades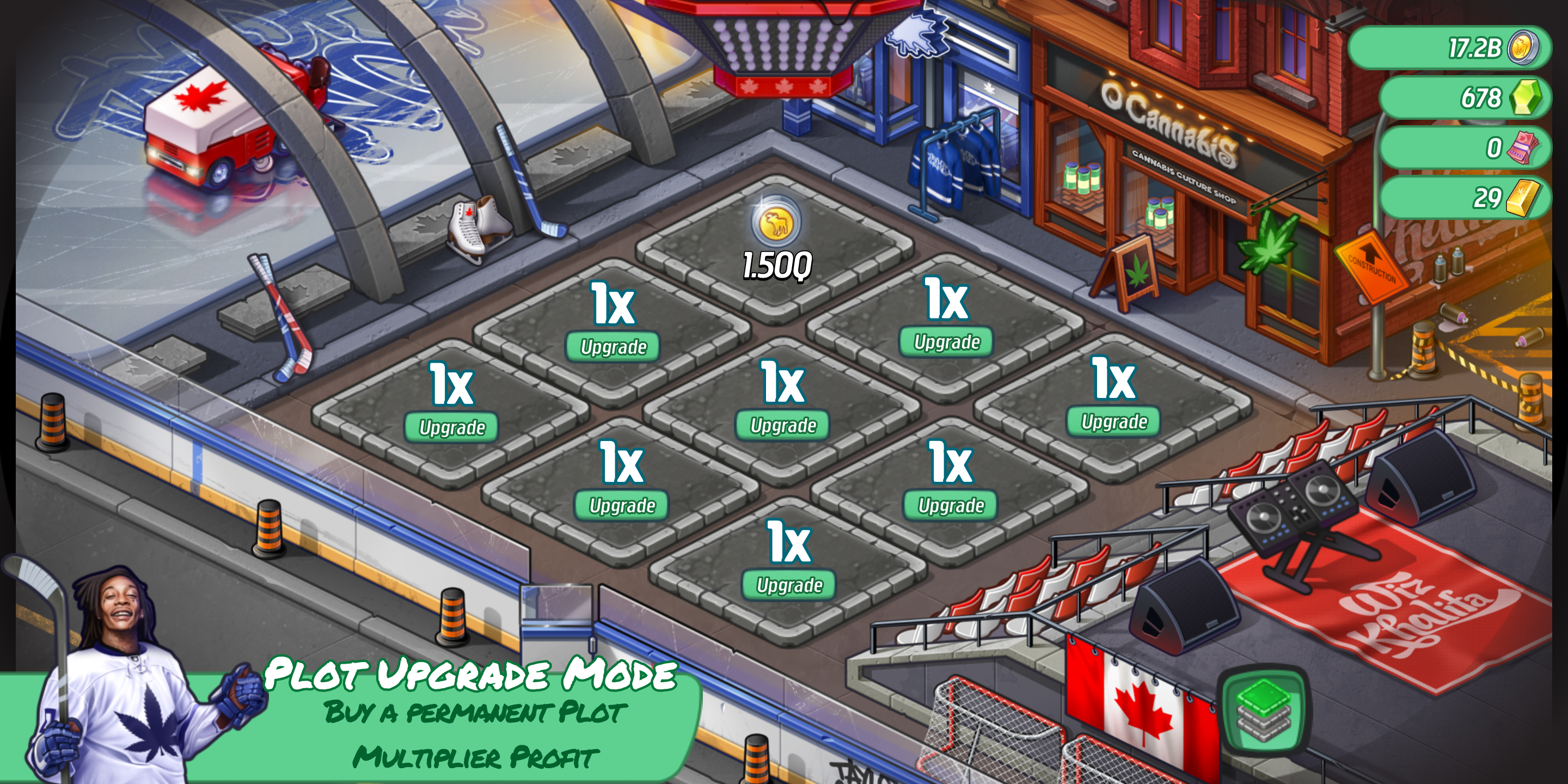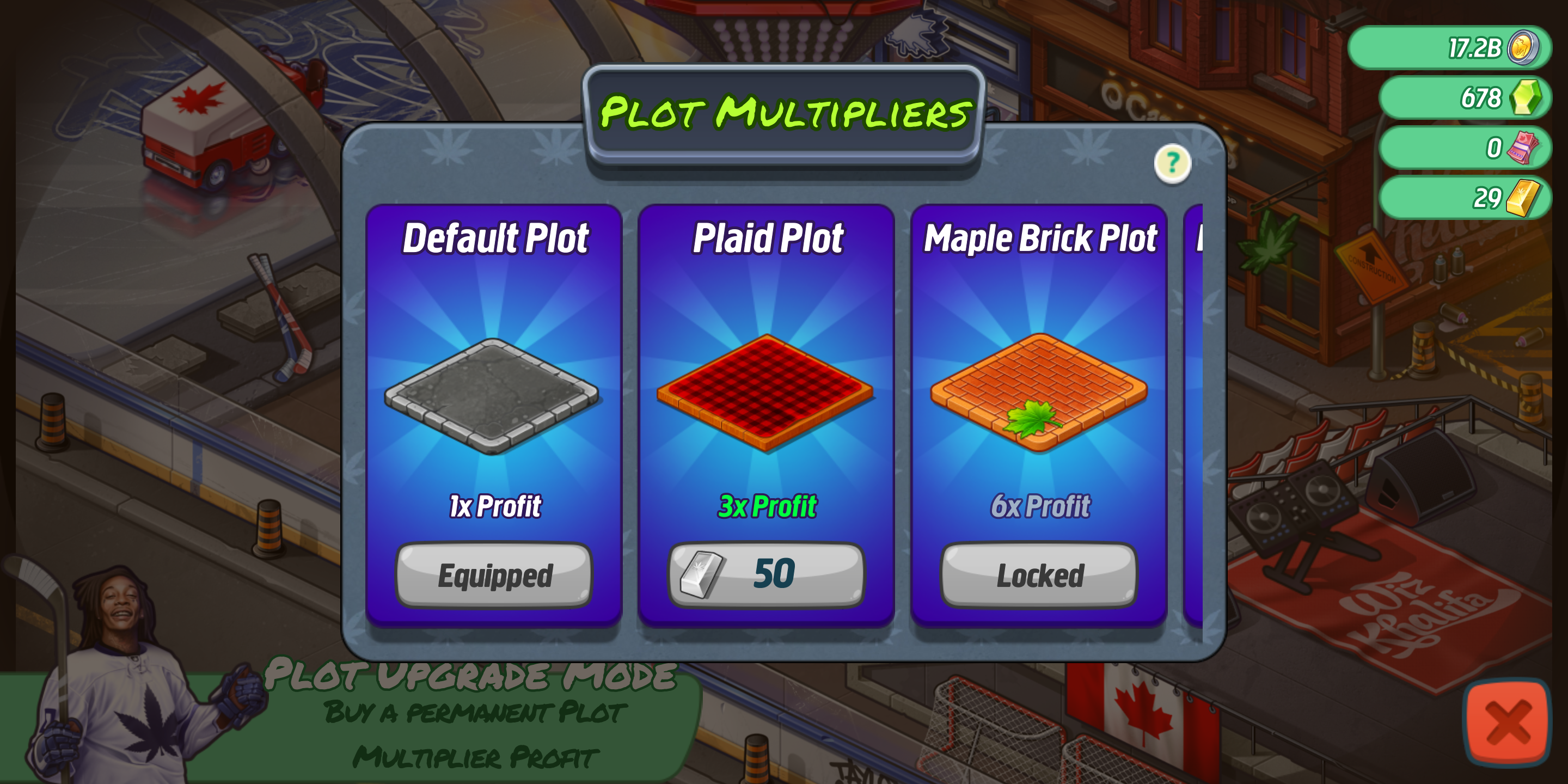 Plot upgrades are a feature NEW to Toronto. To enter your plot upgrade mode, tap on the stacked plots icon on the lower right hand corner of Toronto, located just next to your watering mode icon.

Plot upgrades can only be purchased with Gold Bars. Once you purchase a plot upgrade, you can equip it to increase the output of whatever strain you place on that plot. Plot upgrades are permanent and will stick around after you harvest. If you own more than one plot base, your boost will always be equal to your Highest Value Multiplier. For example, if you were to own the "Plaid Plot" (3x profit) AND the "Maple Brick Plot" (6x profit), your plot base would output at 6x profit, no matter which plot base you have equipped.

This is so that if you happen to like the art or design of any particular plot base, you can equip it without decreasing your plot bonus.


Interactive DJ Boost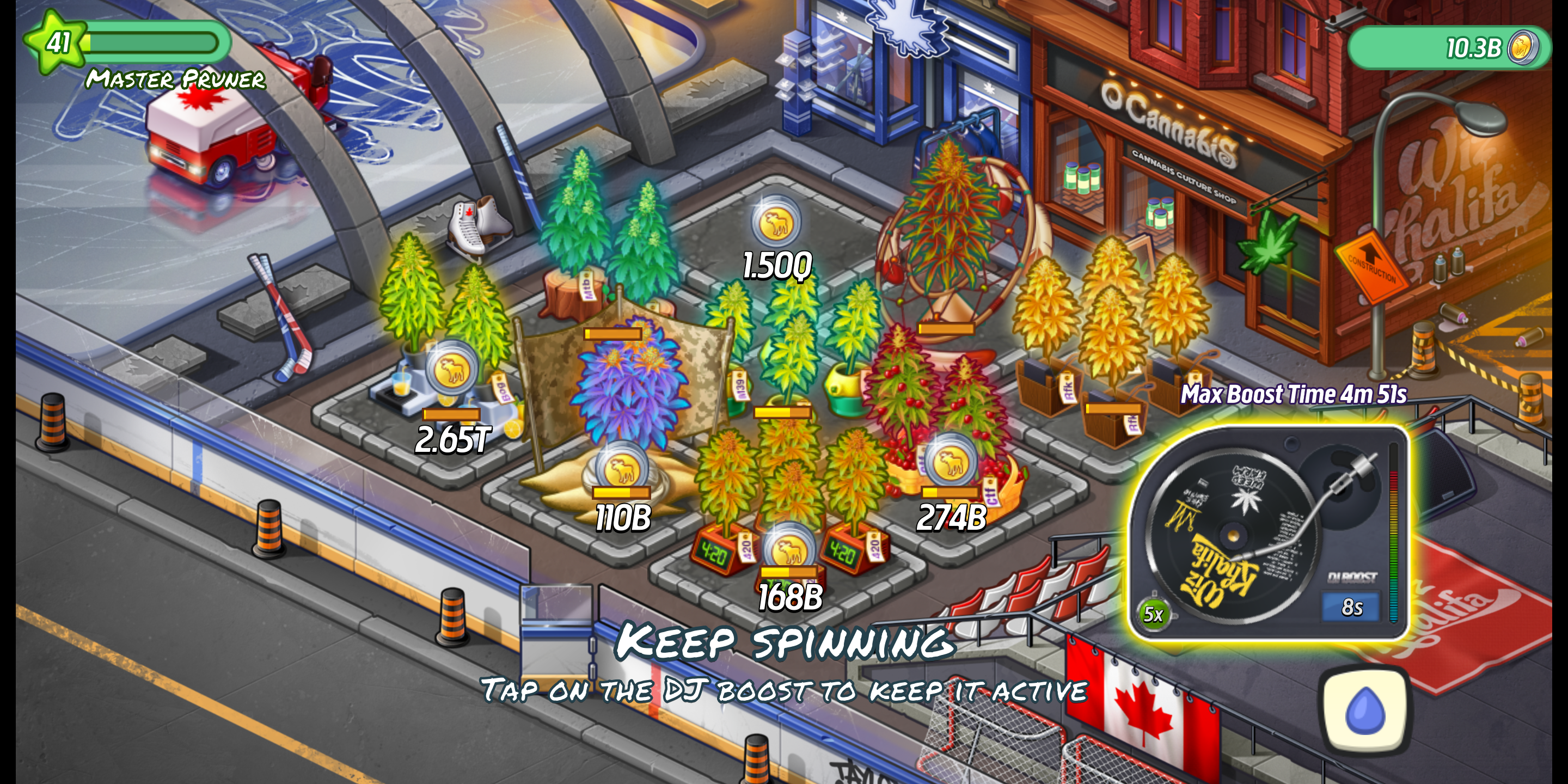 This is an updated version of the DJ Boost. When activated, the boost will have a 10 second countdown timer. However, you can EXTEND your DJ boost by up to 5 minutes by tapping on the record to keep it spinning. Every time you tap, you will recharge the timer!
Gold Jars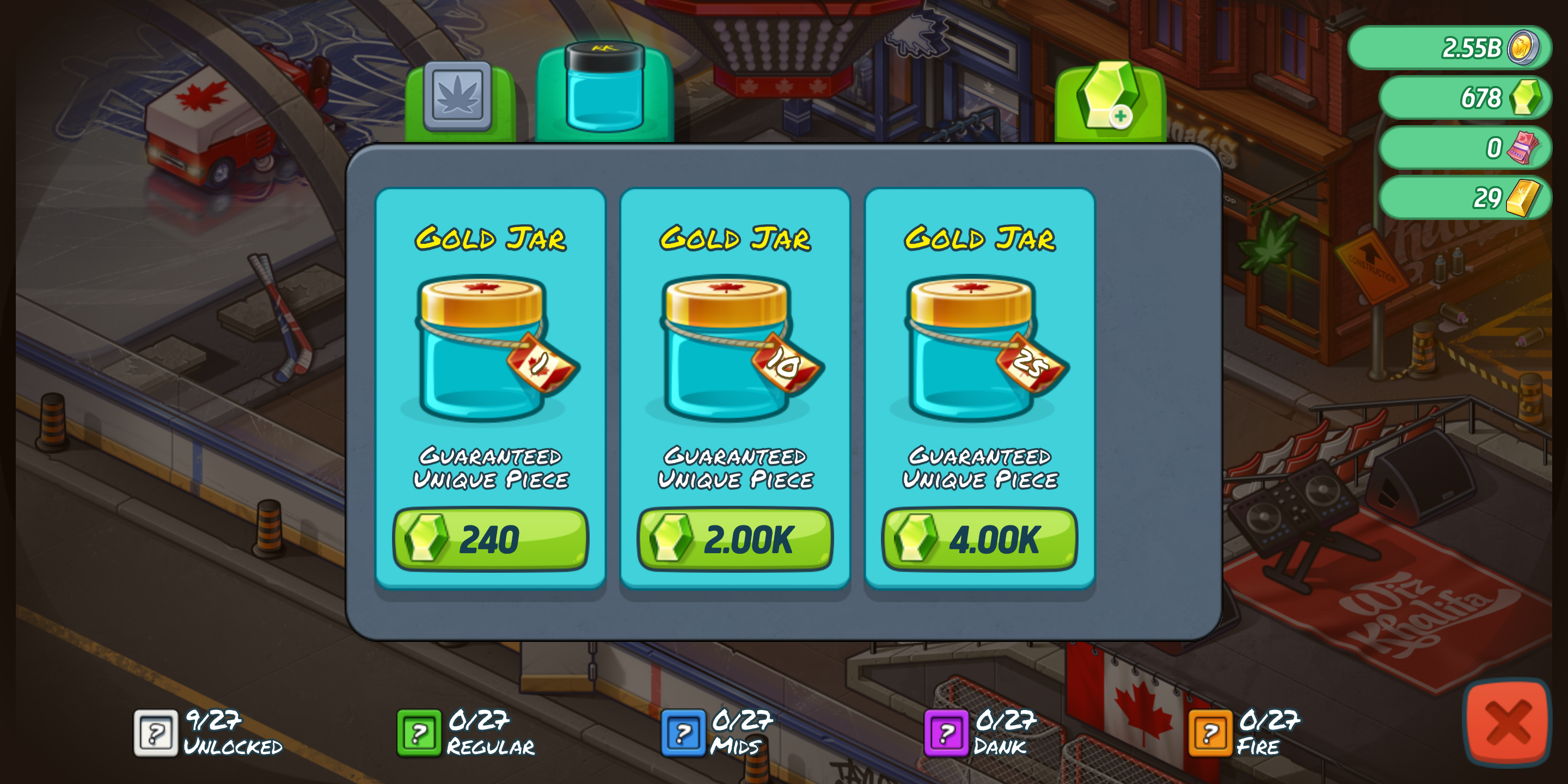 Toronto only has GOLD jars. This means there are no duplicates in Toronto (as long as you still have locked or upgradeable strains).