Your Profits
To access your Idle Profits window, tap the Dollar Sign icon in the top left corner of the screen. Inside the Idle Profits window you will see a breakdown of how your operation is making money, based on the three sections: Dispensary, Bottler, and Grow Room. If you have any Activity Multipliers, or Friend Boosts, these will be displayed here as well.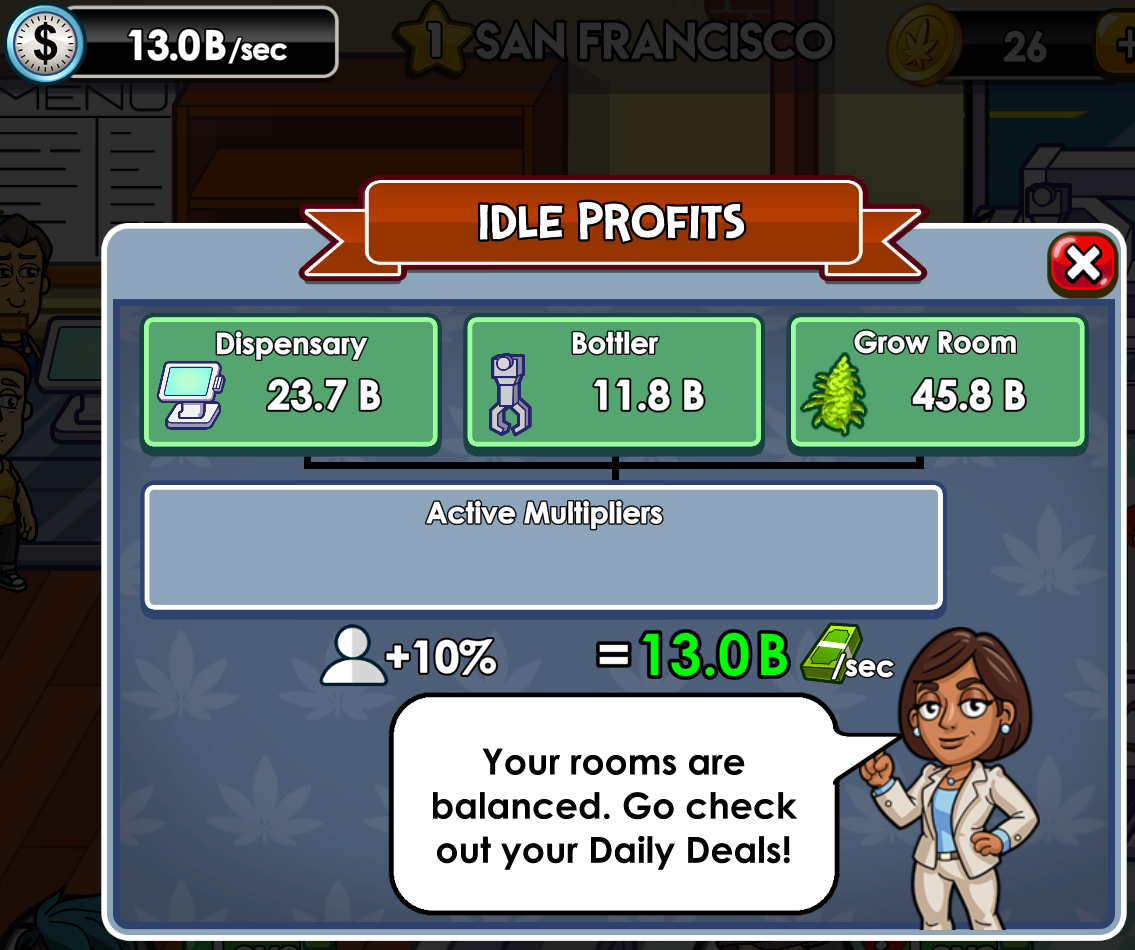 Assigning Managers
Just like at a real company, Managers can be assigned to the different sections of your store. To assign a Manager to your Grow Room, Bottling Facility or your Dispensary, simply click on the face icon under each part of the floor. If you do not have a Manager assigned to this section it will appear as a black silhouette. This button with bring up your Managers menu for that section.
Inside the Managers menu, you will be able to see all Managers you have unlocked, and those that you have not. To activate a Manager, click the orange button below their name. You will now see them walking about the floor. Each Manager also has their own production boosts listed below them. These will help you when choosing which manager you wish to activate. Like you Strains, Managers rank from Common to Legendary.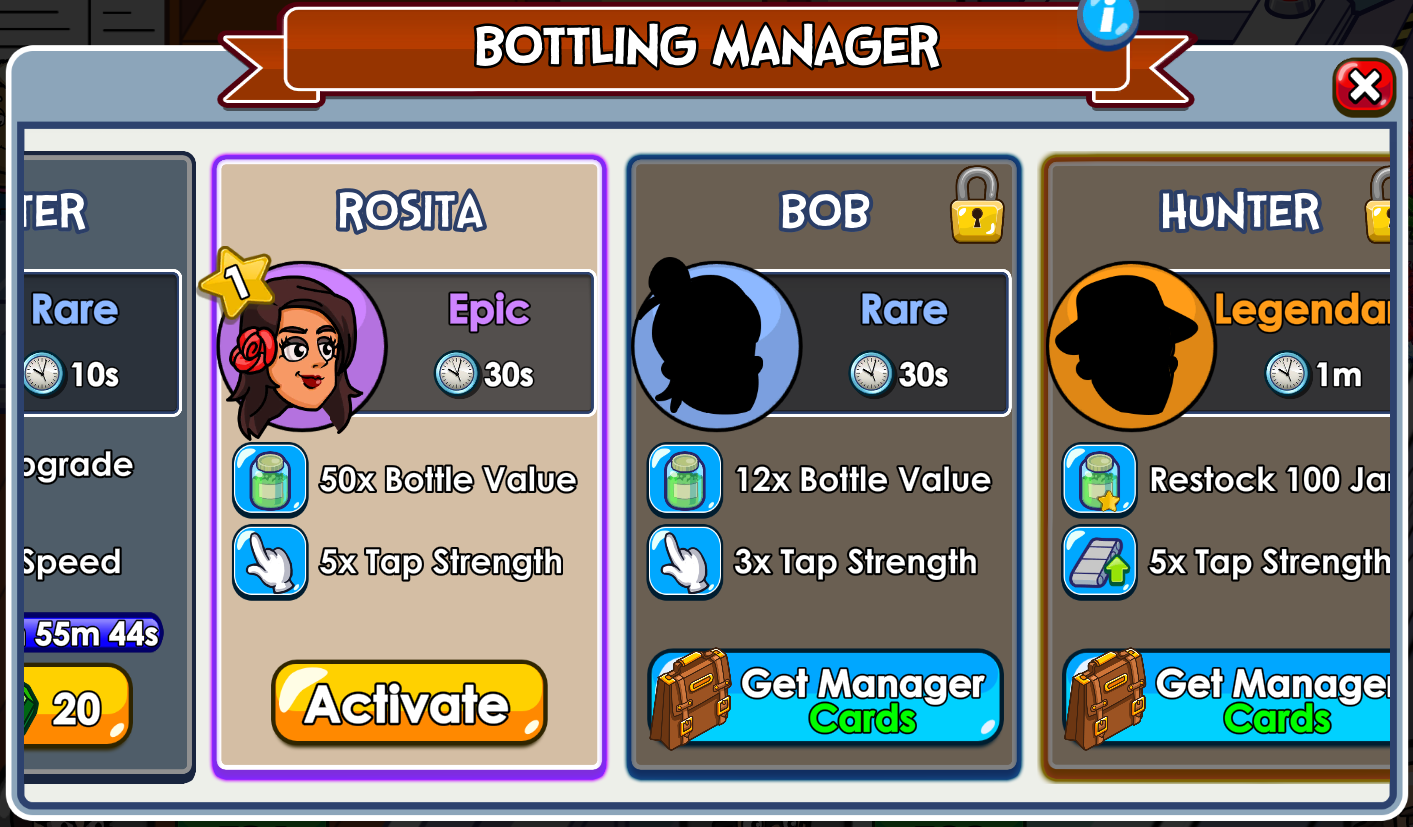 Replanting Your Strains
Replanting a Strain is easy! Simply click the Shovel icon in the top right of the game screen. The buttons for each table with a Strain planted on them will turn blue, indicating you are able to replant them. If you wish to plant a new Strain on an existing table, click the blue replant button. Doing so will open up a window displaying the currently planted Strain, and asking you to choose a new Strain to plant. Once you have selected a replacement Strain, the window will let you know how many Tokin's it will cost to make the change. Your old Strain will go back to your Strain menu, so if you feel like replanting it in the future, it will be available to you there.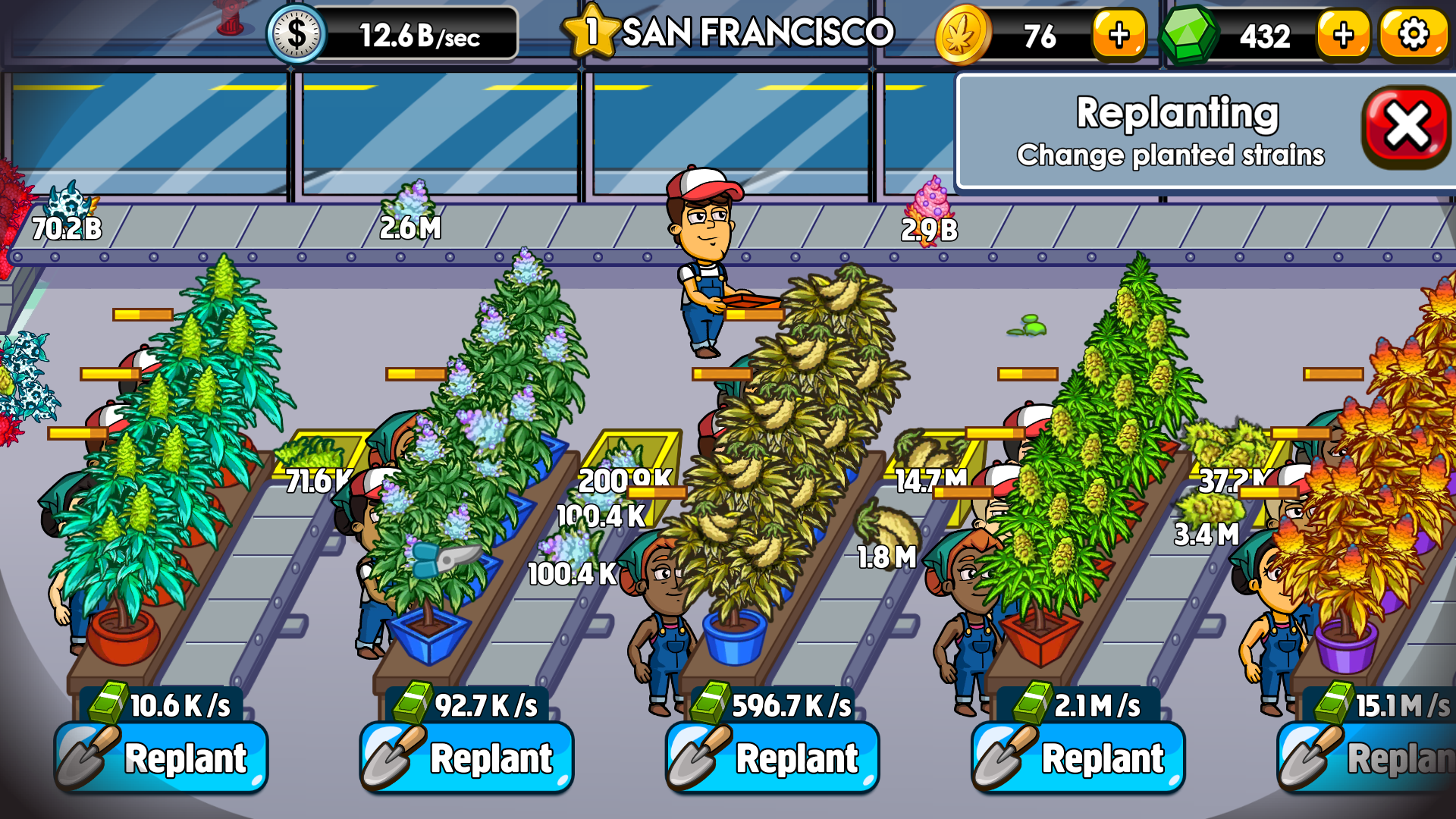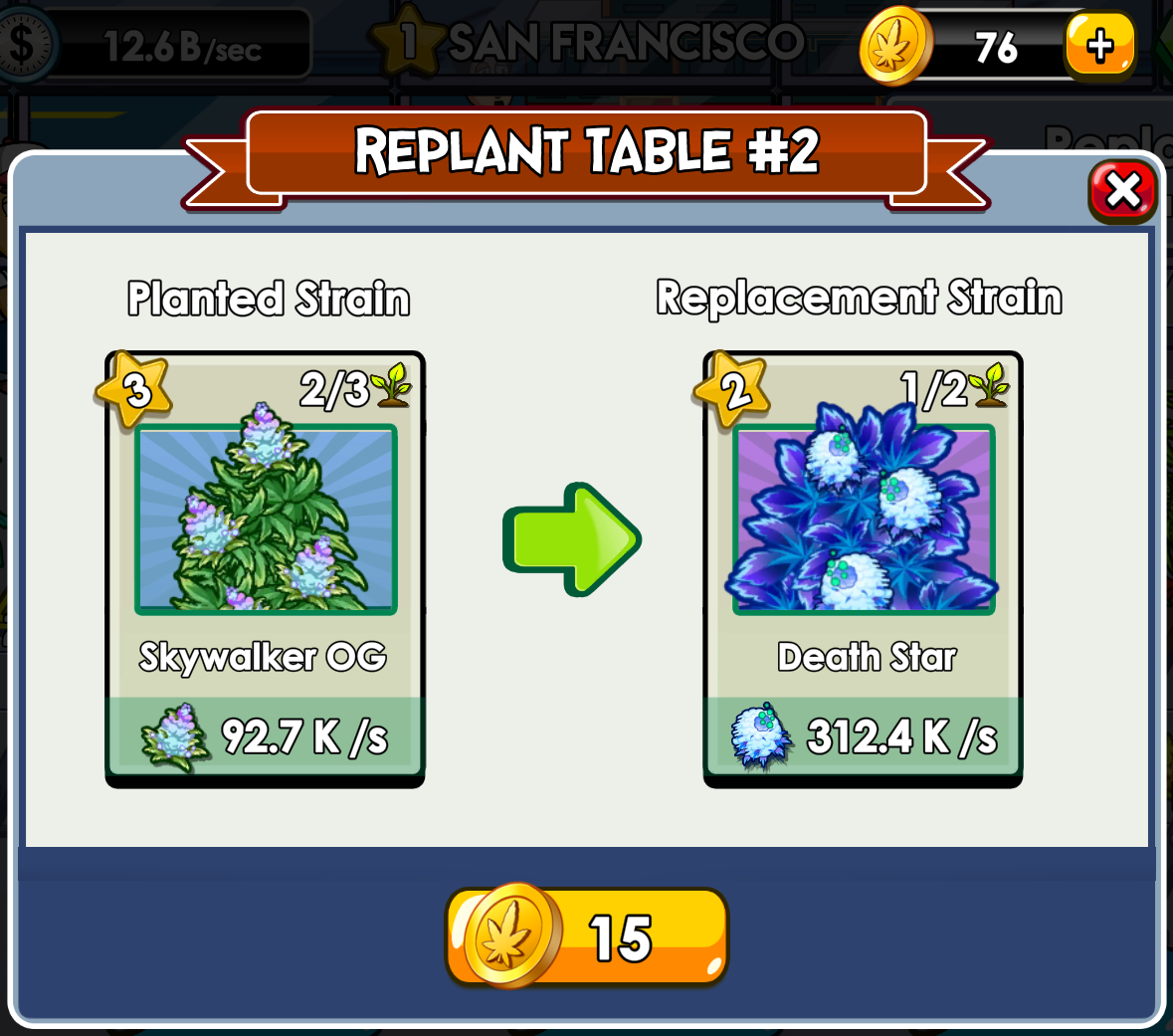 Upgrading Your Strains & Managers
To upgrade your Strains, tap the Leaf icon in the bottom right of the game screen. This will bring up your Strain Collection window. Strains that are eligible for an upgrade will appear with a green button below them. Tap the green button to bring up your upgrade window. Each Strain upgrade will cost Tokin's, and the cot amount will be listed on the orange Upgrade button. You will see the level increase for the Strain indicated by the number in the star in the top left corner of the Strain card.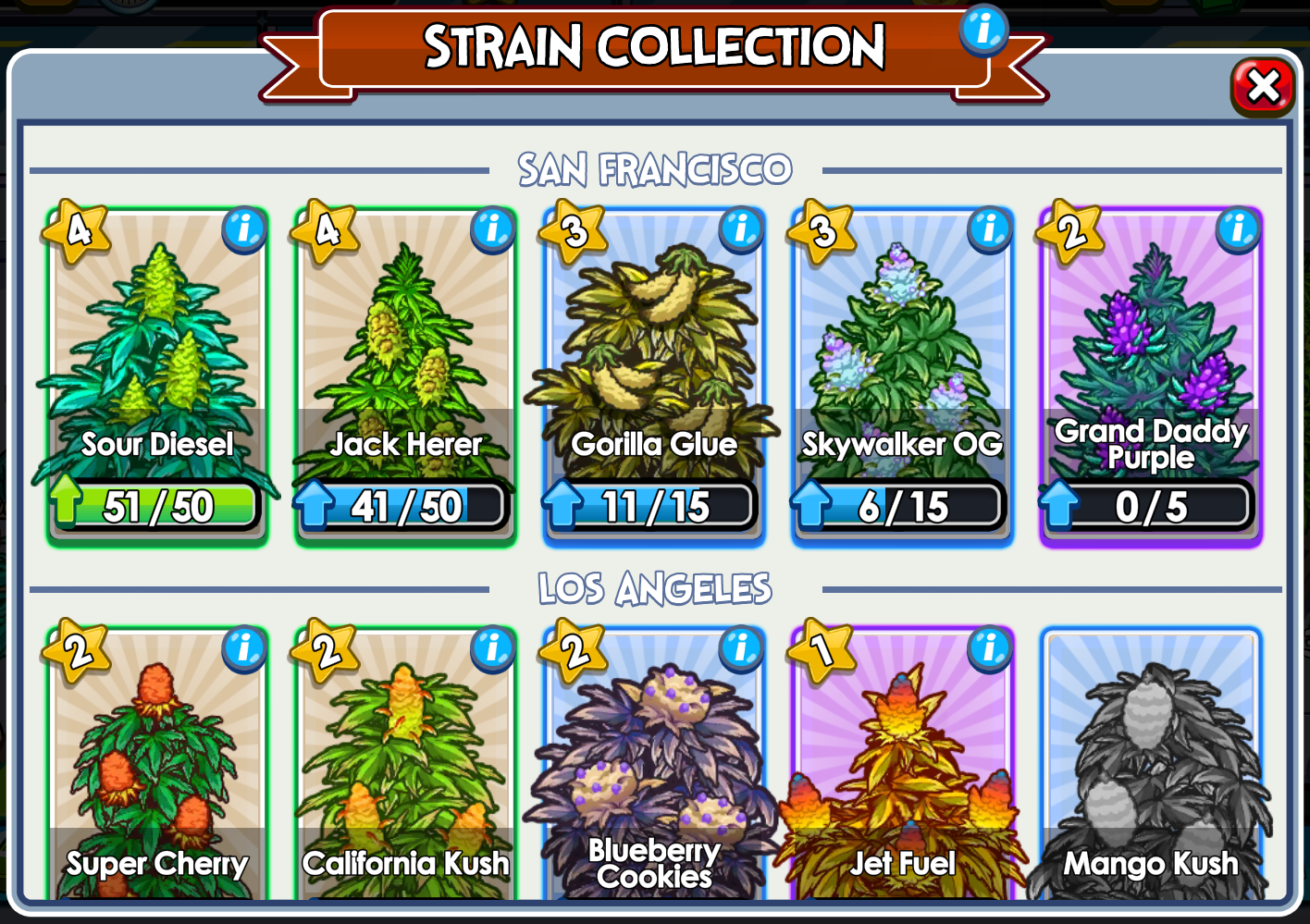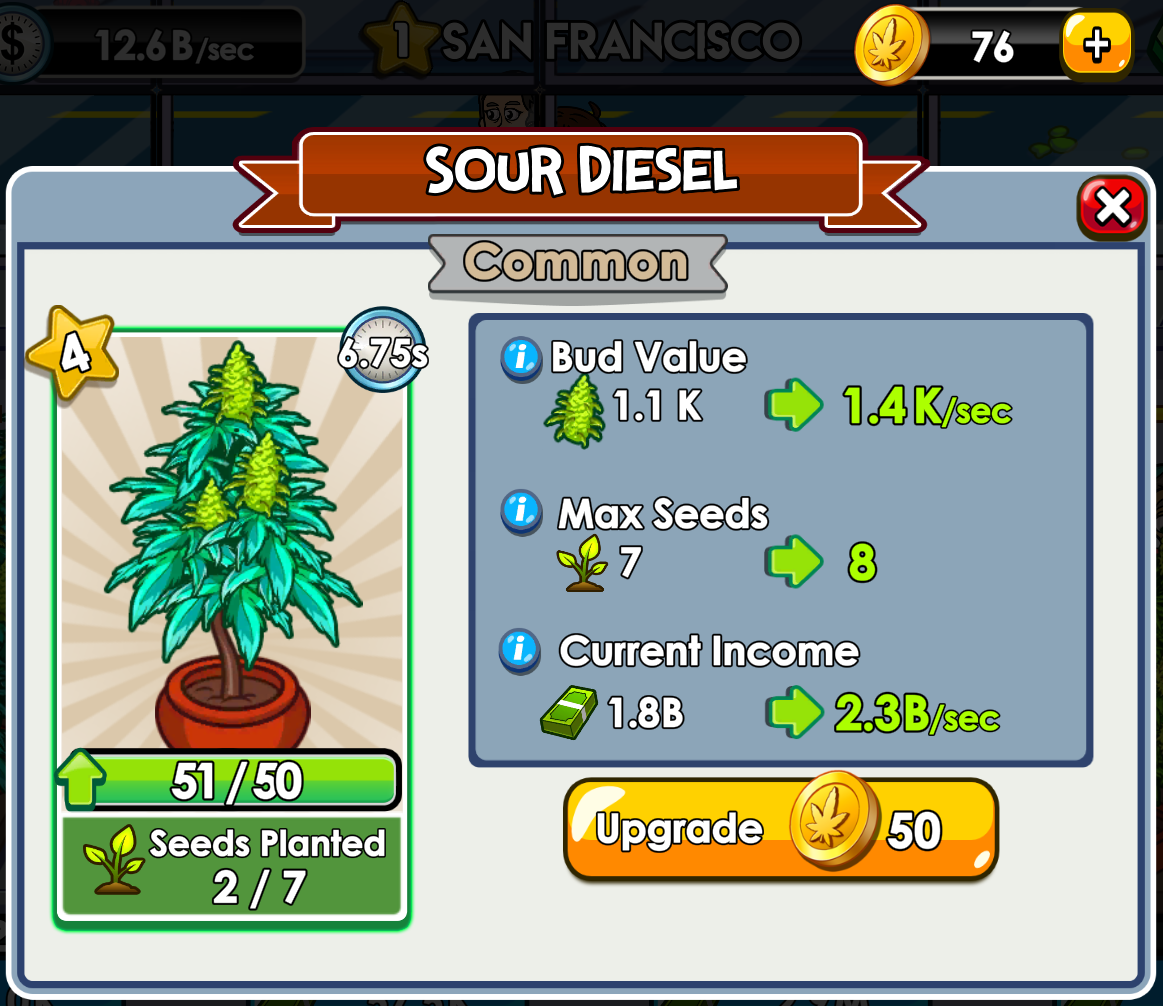 If you would like to upgrade any of the managers you have active on the different parts of the floor, simply tap the green button displaying their current level beside their facial icon. This will open that Managers level window as shown below. It will display the Manager that is currently active, their level, as well as stat increase for the next level. Upgrading your Managers will require the use of your Profits; the amount for the next upgrade will be listed in the orange button at the bottom.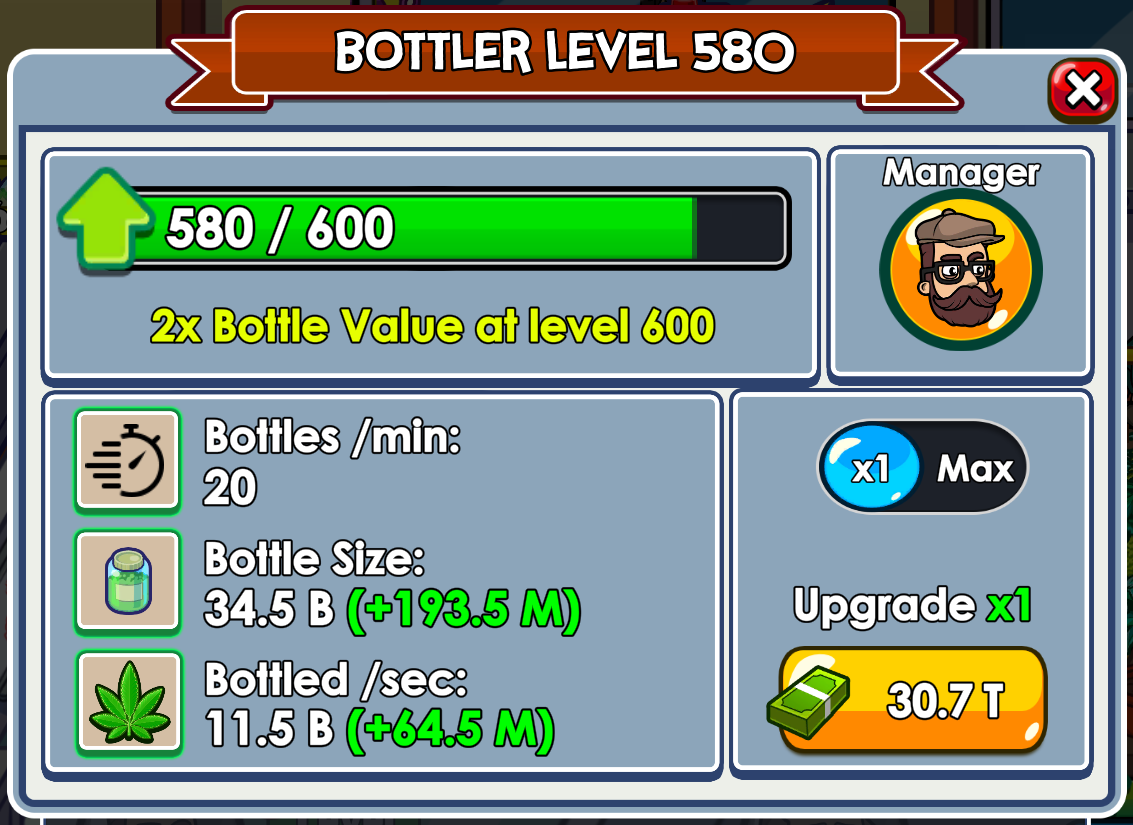 Locations
Once you've made a sizable profit, it will soon be time to expand your empire! By tapping the Globe icon on the left of the game screen, you open up the world map. You can see here all the places you have or can unlock. To unlock a new location, you will need the required funds, listed for each one. Your operation will expand first throughout the United States, then through Canada, and then onto Europe.
You can also join any open Tournaments, as well as check view your Trophy Room from this screen. At the bottom you can go to our News page by clicking the newspaper icon, as well as collect all Profits and renovate existing locations by using the Cash and the Star buttons in the bottom left left corner.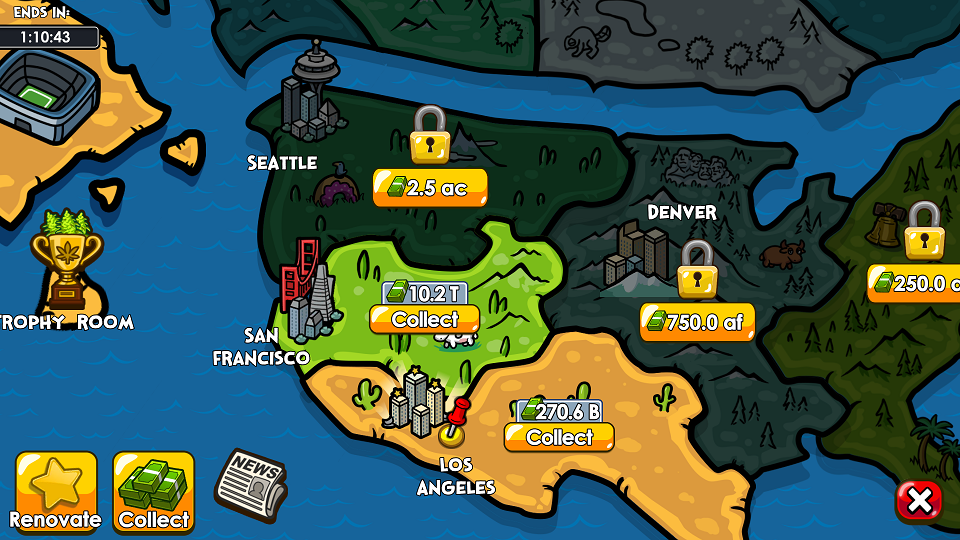 Renovations
Speaking of renovating! To make each location earn even MORE money, you can renovate them when the option becomes available. This will be indicated by the Star icon. Not only will renovating earn you more profits by increasing the Profit Multiplier, but you will also unlock more rooms to plant in!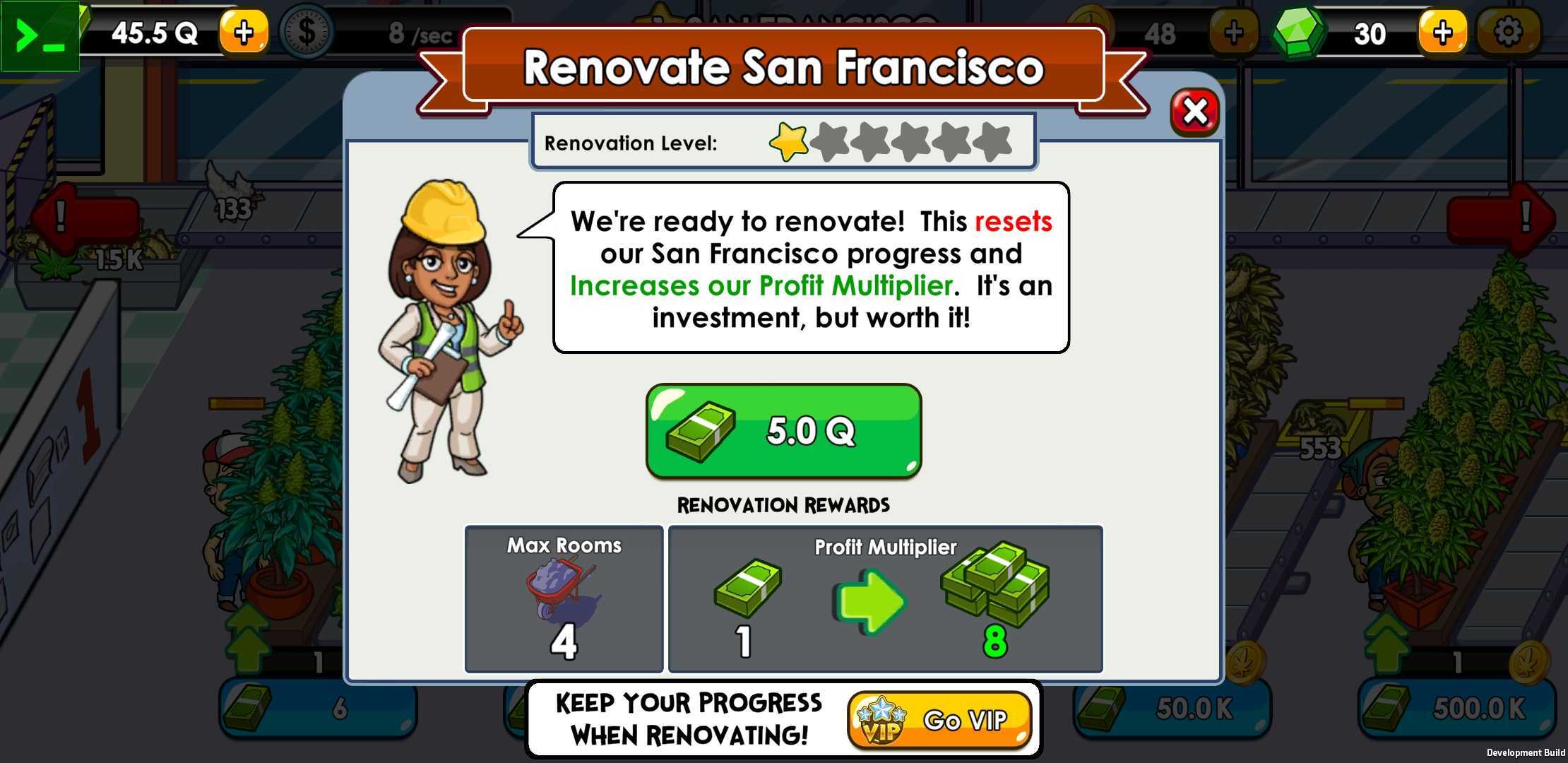 *Note: All seeds will be returned to your Strain Menu after renovating a location, and all tables will need to be replanted unless you've signed up for a VIP subscription.
Goals
Our Goal system has been updated! Completing specific tasks will earn you points towards your Company Goals. You can now earn daily & weekly prizes by completing as many goals as you can. Each Goal completed will earn you points, which you can see in the top and bottom left corners of the menu.
To view your Goal progress, click the blue book icon in the bottom left corner of the game screen. This will bring up the menu displayed below.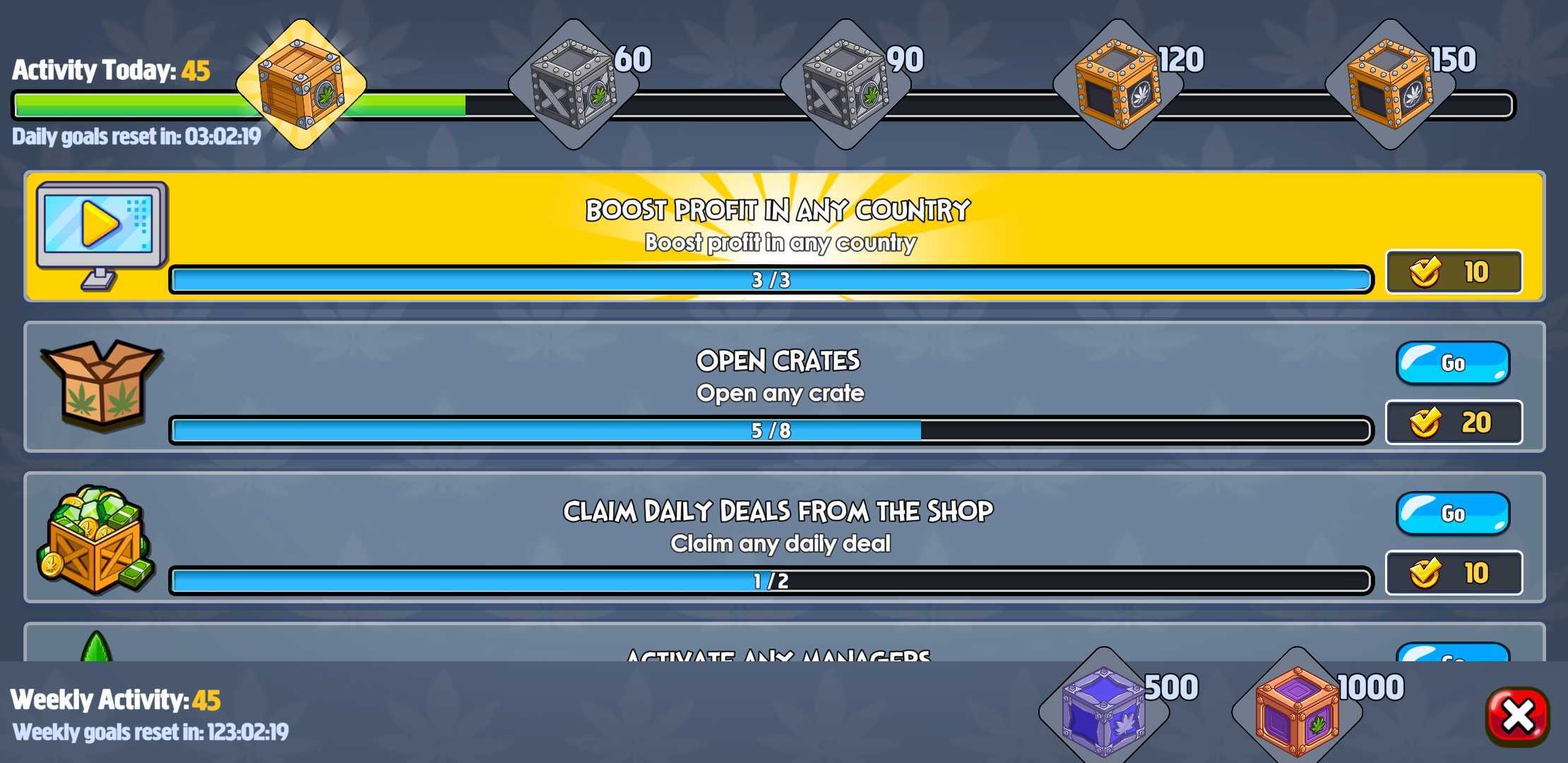 Each goal is listed with your progress, as well as their corresponding rewards. It will also show how much time you have left before you receive your next free Crate, on the left side. Once you have completed a Goal, a timer will begin at the bottom on the menu to indicate when the next Goal will be added to your list.
Daily Rewards
Daily Rewards can be collected every 24 hours. If you tap the Calendar icon in the top left corner of the game screen you will open up the Daily Rewards menu. On this screen you will see all your past and future Daily Rewards for 30 days. You will also see at the bottom how much time you have left before you are able to collect your next Daily Reward. If you collect but do not receive your Daily Reward, please contact our Support team for assistance!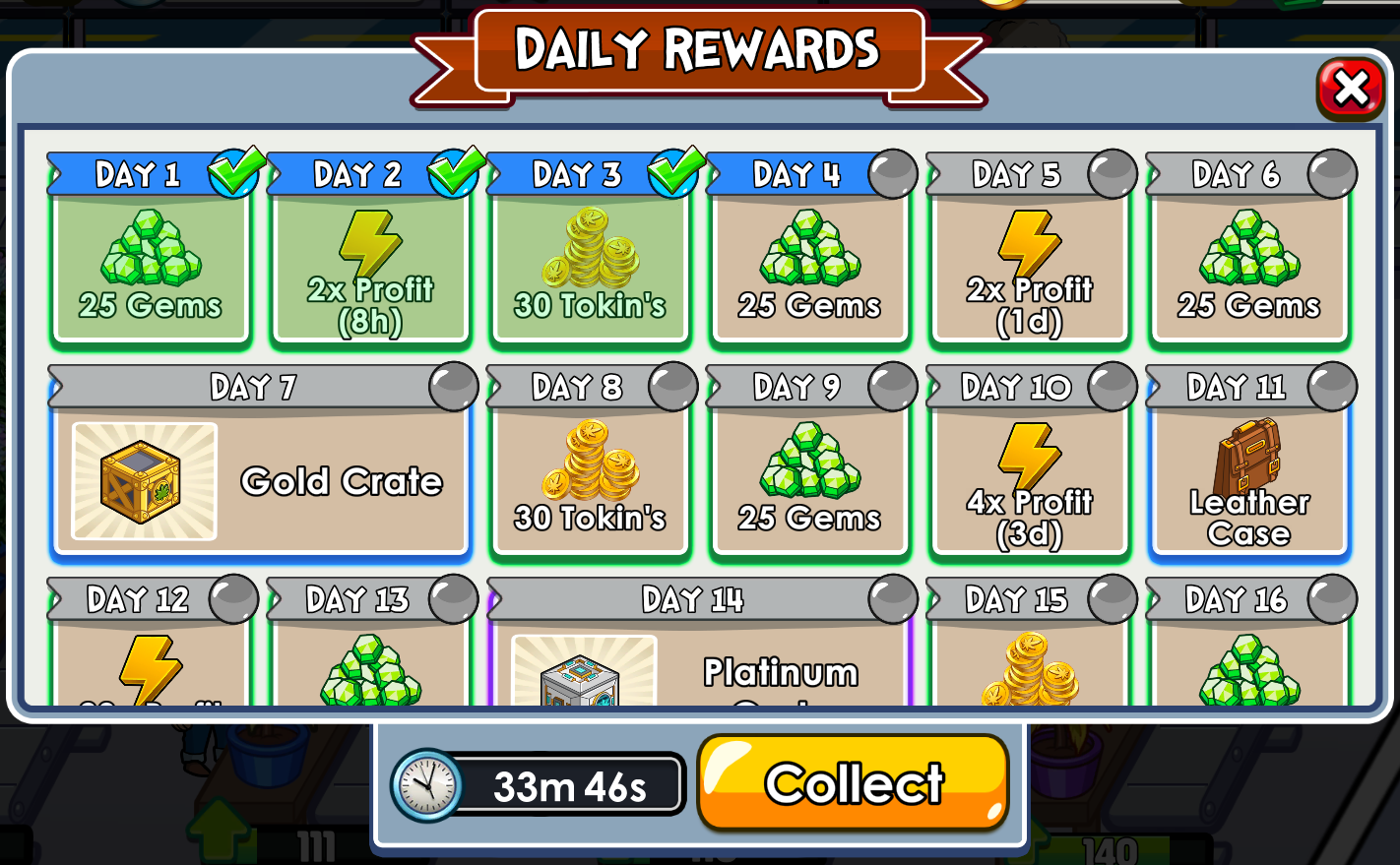 Trades
Feeling a bit short on Seeds or Tokins? Michelle's got your back... for a price!
Occasionally players will see her appear offering to trade. Maybe you have more Tokins but not enough seeds? Here you can trade some of your excess for things you may actually need. Players are limited to the trade on offer, but will have plenty of opportunities for other trades multiple times a day!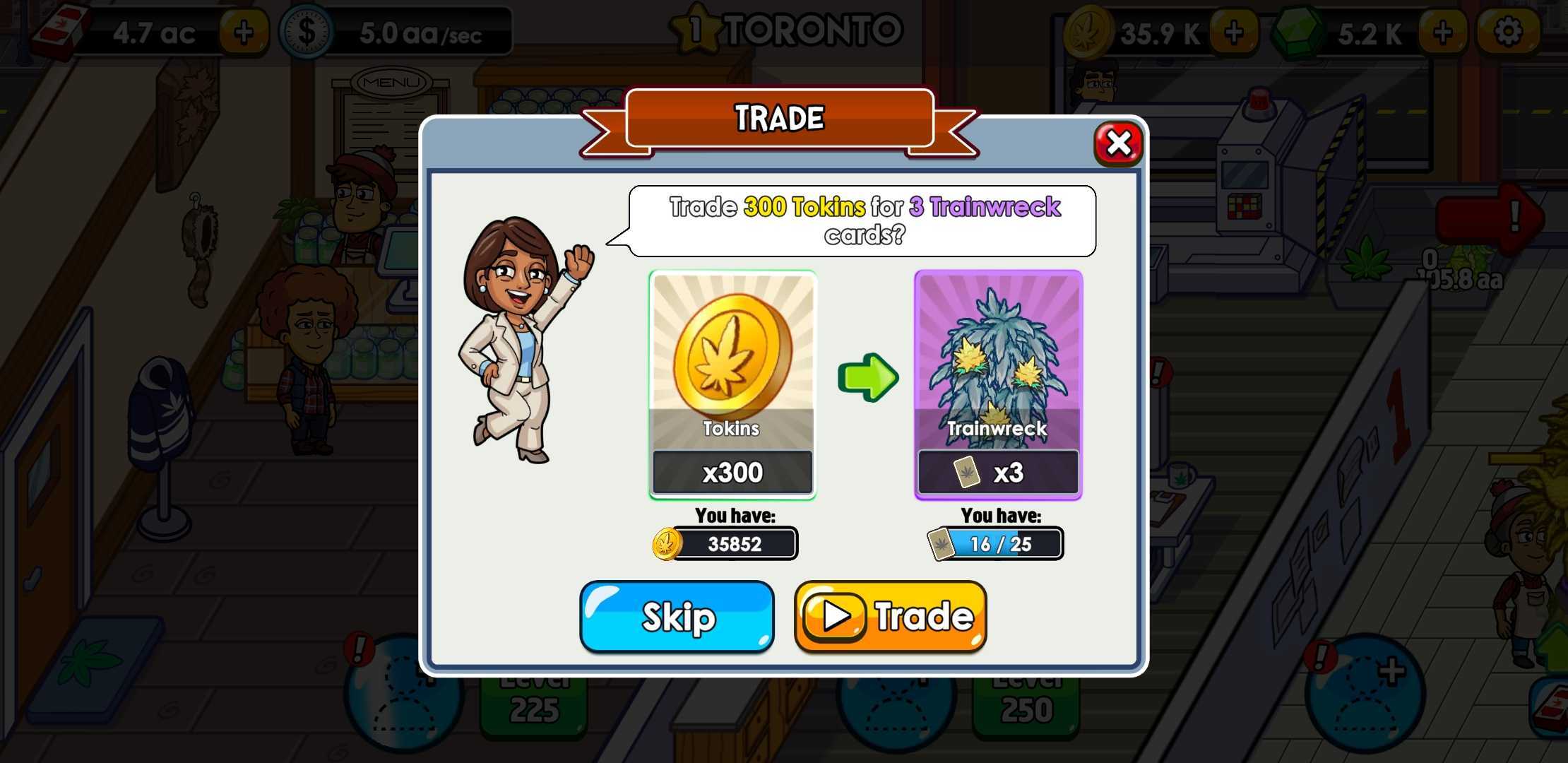 The Research Lab
We've rolled out a new feature Entrepreneurs. The Weed Inc Research Lab! You can now earn Research Points that can be used to upgrade the Skill Tree, giving your Dispensaries even more of an edge. For more details on Research Points and the Skill Tree, check out our Research Lab help article.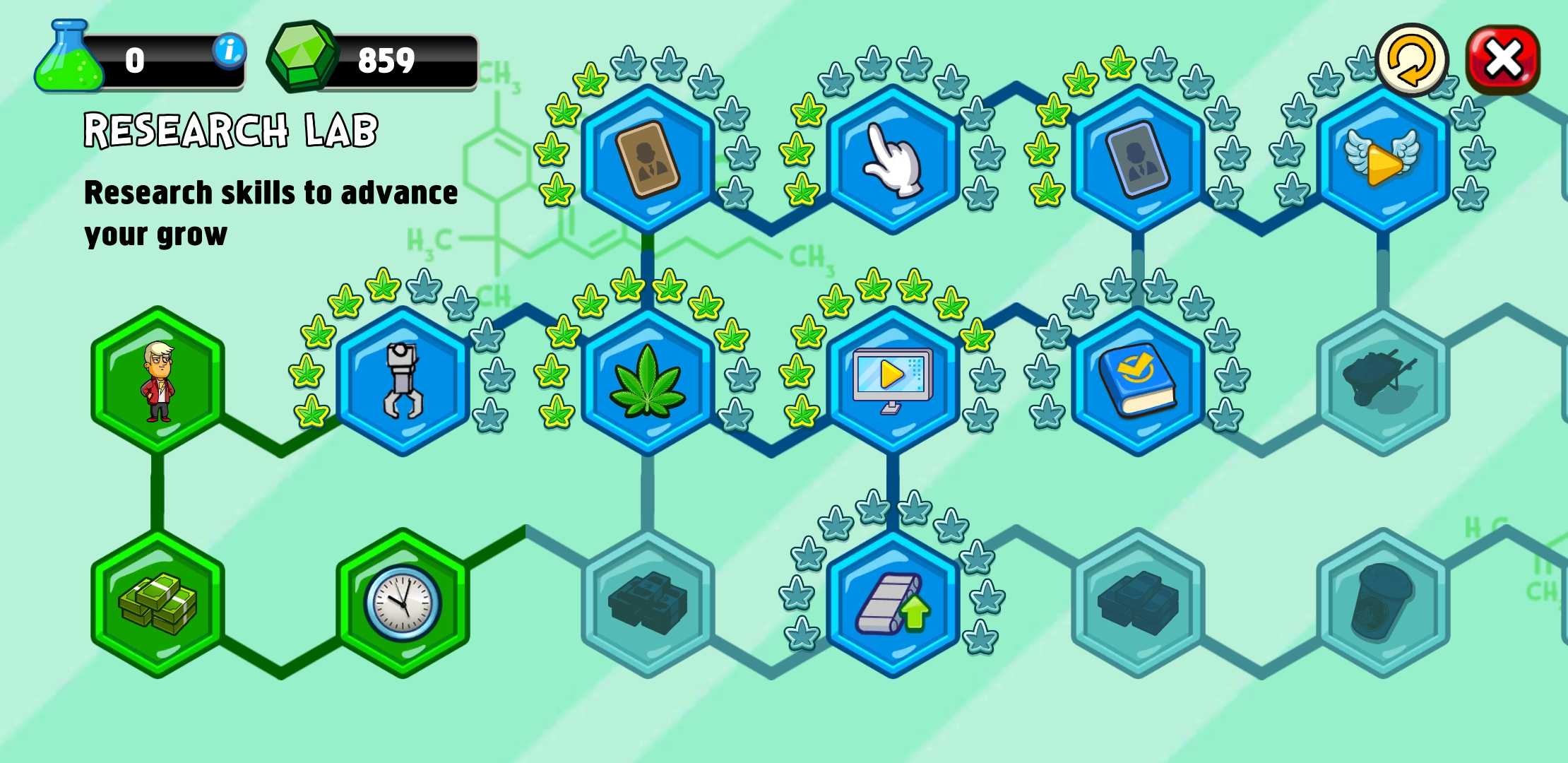 Player Profile
We have a new feature! Players can now access their Profiles from the Friends menu.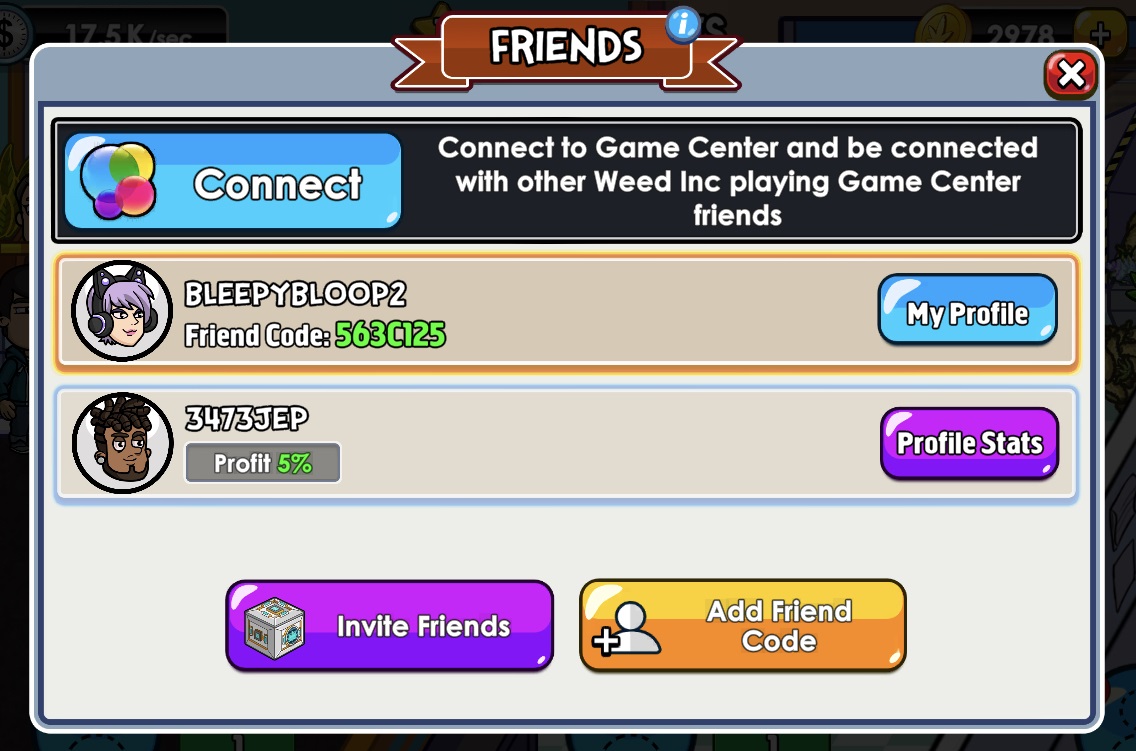 Once a player opens their profile, they can check all their game stats, change their avatar to any Manager they've unlocked in the game, and even change their Player Name. The name change feature will cost 10 Gems per change. Players can even look at the profiles of any friends they have added to the game!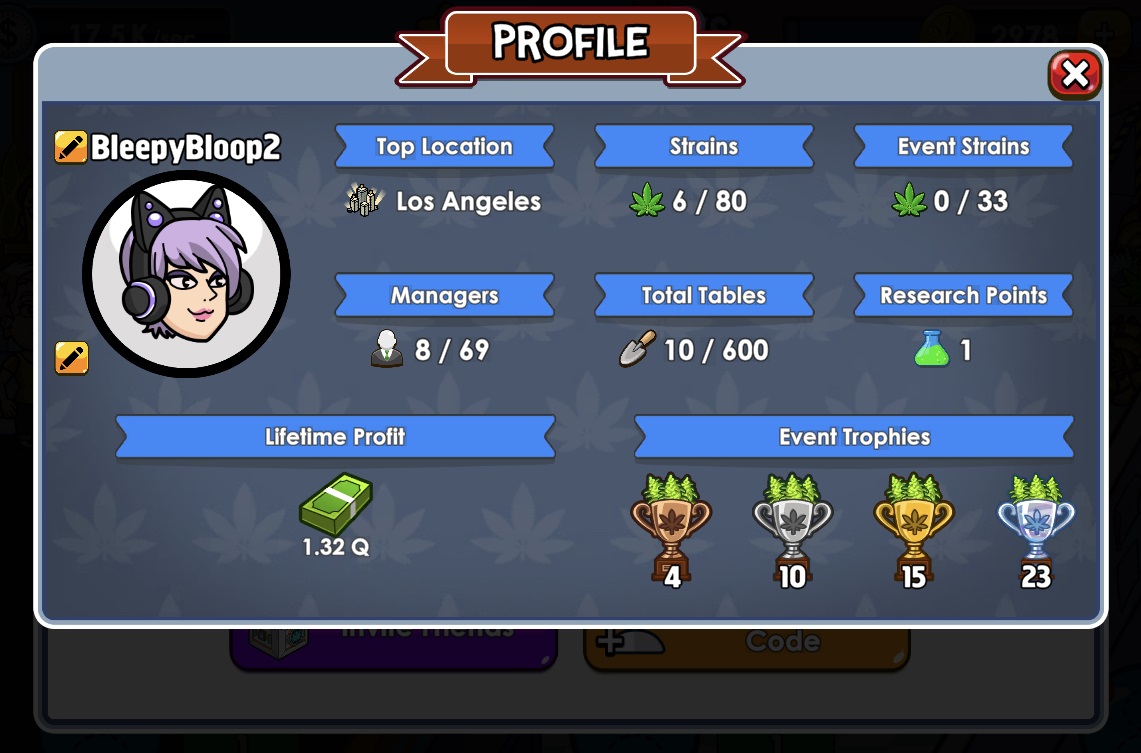 Settings Menu - Now With All New Languages!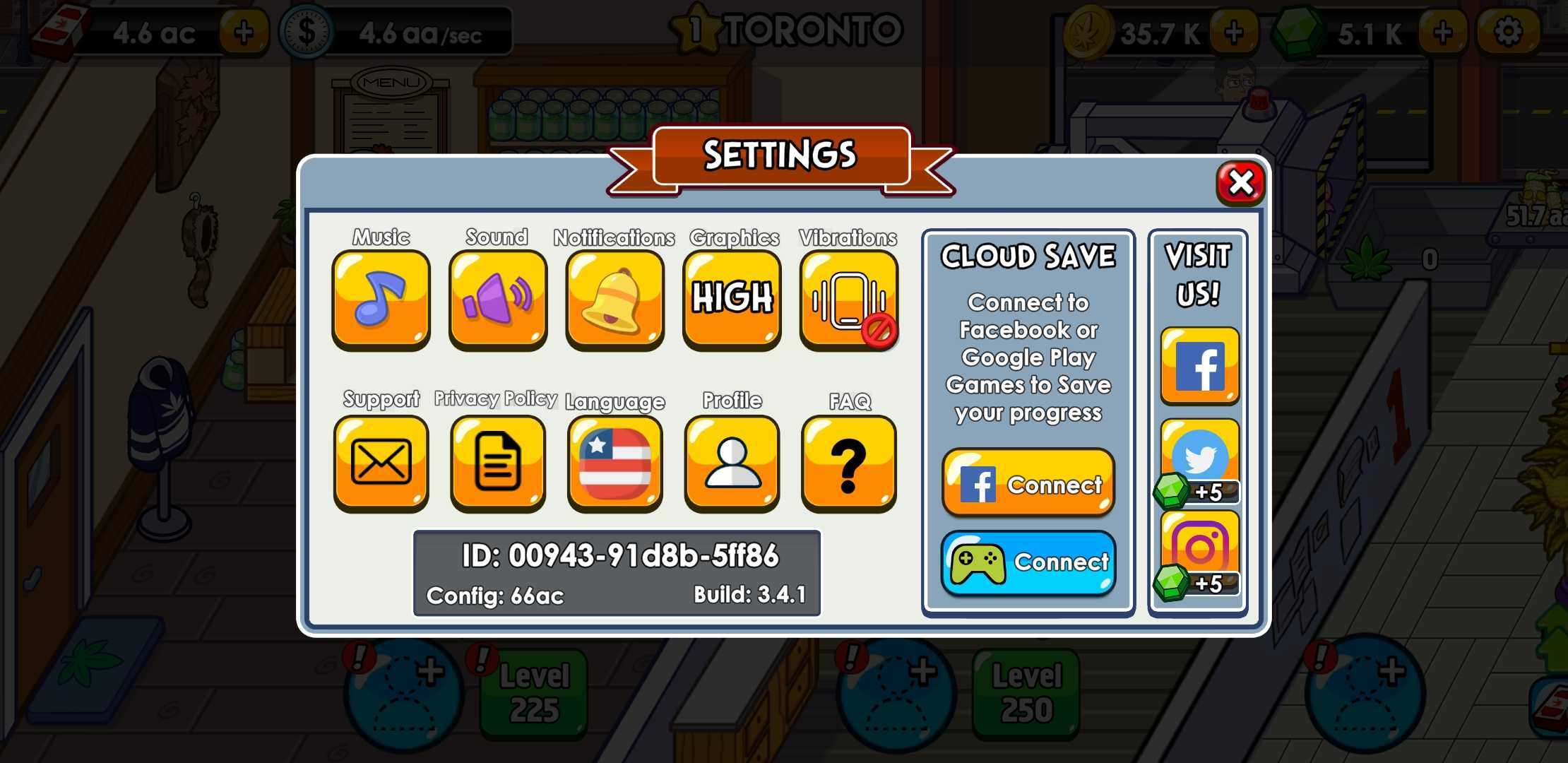 Welcome to the Settings menu. From here you can change your notifications settings, sound, contact Support, back up your progress and even change your language! That's right, we now offer French, Italian, German, Spanish & Portuguese in addition to English for our international players!!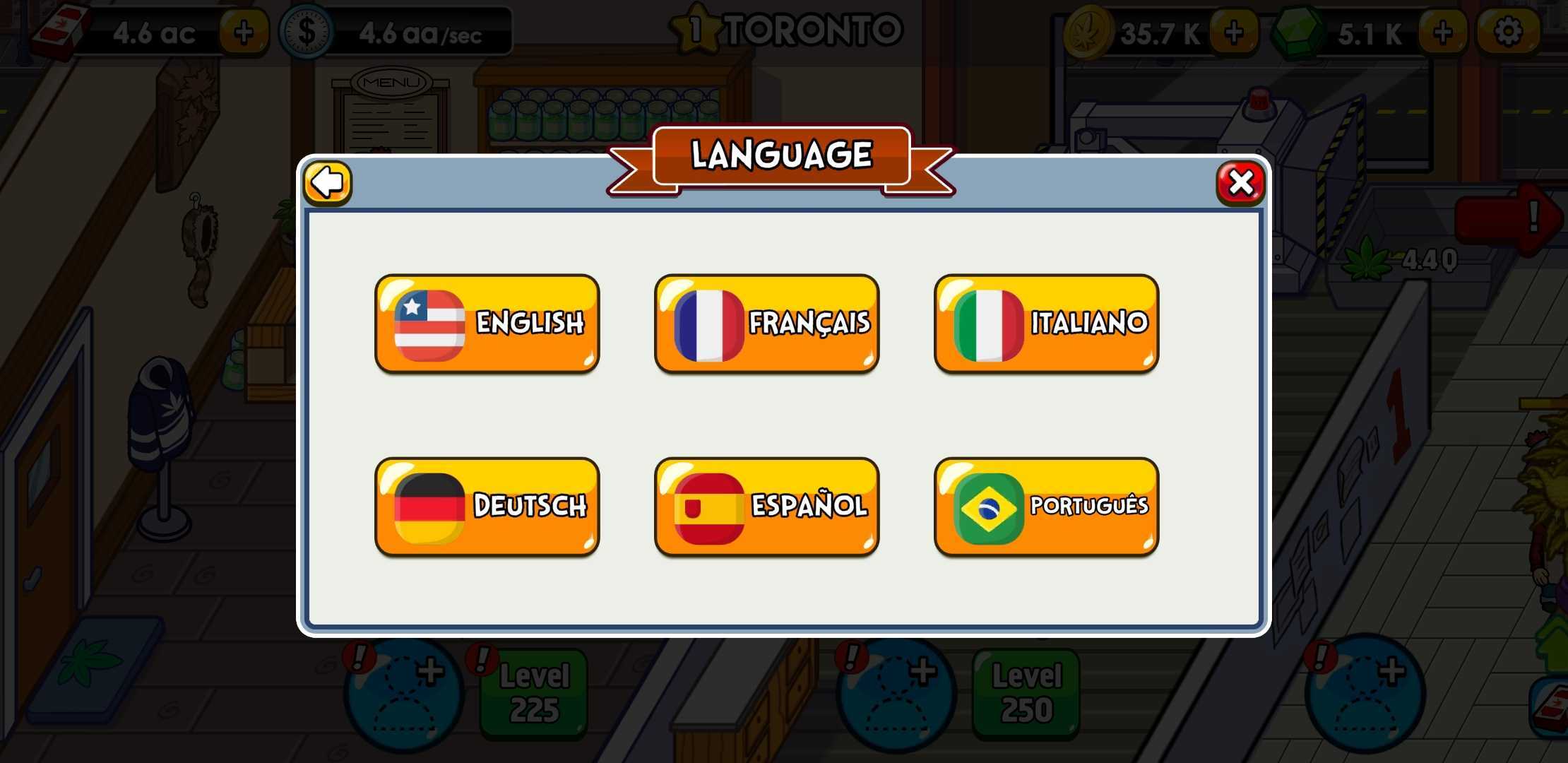 If your device is set to display any of these seven languages, you should automatically start the game in that language. However if you are still seeing the game in English and wish to change it, you may easily do so now from the Settings menu. Simply open the Settings menu, click on the Language button and select your preferred choice!