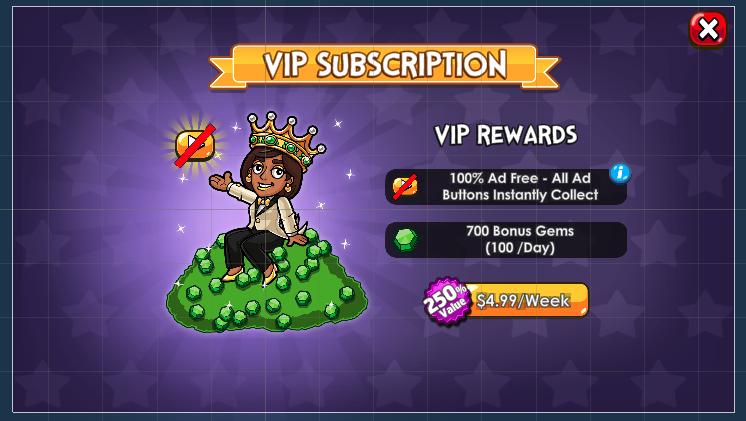 Good news Entrepreneurs! We've introduced a new way for our players to skip watching videos by becoming a VIP. You may have noticed a new button on the left side of the game screen. This is the new VIP subscription option. But wait, there's more! You will also receive 700 Gems as part of your weekly subscription.
Should you decide to cancel your VIP subscription, here are the ways to do so for both Android & iOS:
Android:
Follow the instructions in the following link https://support.google.com/googleplay/answer/7018481?hl=en&co=GENIE.Platform%3DAndroid
iOS:
Open the Settings app.
Tap your name.
Tap Subscriptions.
Tap the subscription that you want to manage.
Tap Cancel Subscription. (Or if you want to cancel Apple One but keep some subscriptions, tap Choose Individual Services.) If you don't see Cancel, the subscription is already canceled and won't renew.
For more information, https://support.apple.com/en-us/HT212052
If you have any questions about the VIP subscriptions, please contact our Support team to let us know!